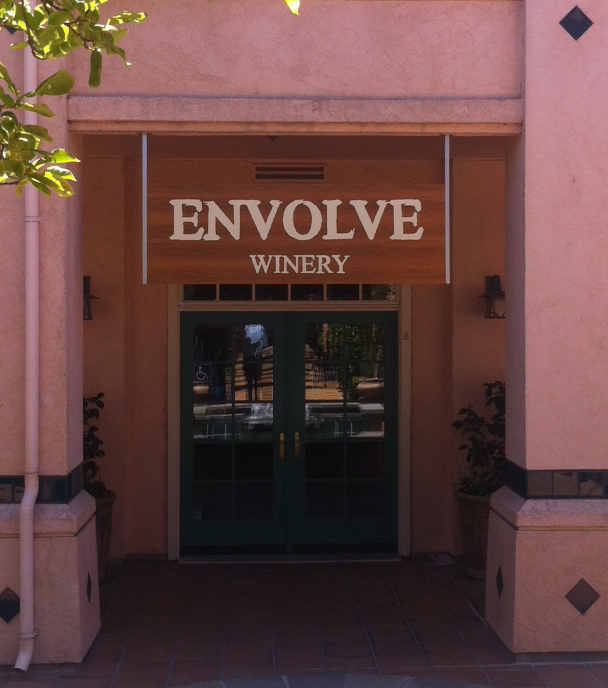 Envolve is a relatively new venture and opened its first tasting room on the Sonoma Plaza last July. It's a partnership with childhood friends Mike Benziger, Danny Fay and Ben Flajnik.
Many people are familiar with Ben Flajnik because he starred on the television show 'The Bachelor.' He was billed as 'the bachelor winemaker from Sonoma.'

The E! network recently announced that its new programs under development include a show called, "Young Sonoma." There hasn't been any word as to when it will air, but the series, assuming it comes to fruition, will follow winery folks from Sonoma Valley, including Mike and Kate Benziger, Danny and Collette Fay, B.R. Cohn Winery's Vallerie and Tasha Cohn, and Flajnik.

According to one report, "The series goes inside the day-to-day drama that comes from living in a small town, working with friends and family, as well as being local and national celebrities."

I sampled some Envolve wines the other day: they weren't too shabby – there's excellent wine backing up the hype. The whites are a strong point. The 2012 Sonoma Valley Sauvignon Blanc made with grapes from George MacLeod's vineyard is fat. The Sonoma Mountain Syrah and Grenache Rosé is tasty and refreshing. The lineup includes an elegant Russian River Pinot Noir. The 2010 Envolve Puma Springs Bordeaux Blend – though just two barrels were produced – has powerful, silky tannins. The old-vine Primativo has nice texture with a chocolate malt thing going on. Rounding out the lineup, is a nice crisp, if pricey, sparkler from Carneros.

The venture is still relatively small but has ramped up quickly – it produced somewhere on the order of 13,000 cases last year – less than half of under the Envolve Label, which is produced in limited quantities from some special sites. The more popularly priced Epilogue line could be expanded, however. Epilogue includes a Sauvingon Blanc and a red blend. Chardonnay is the biggest SKU, with roughly 5,000 cases produced.

Celebrities have long been associated with the wine business. Some are more directly involved in the actual winemaking and blending process than others, but reality show celebrities are pretty new.
One of the more successful recent celebrity wine launches was Skinny Girl. Skinny Girl introduced 3 varietals of wine last March and according to a report by Wines & Vines, it was the highest selling new wine of 2012 by far - in just nine months.
While most consumers are intimidated by wine, they look up to celebrities and relate to people on reality shows. Granted, Bethany Frankel already had a margarita mix and the wine in the bottle is nothing special - but with her name attached to the brand, Skinnygirl is recognizable. Long before Skinny Girl wine, Bethany Frankel was on a reality show. Her fame drove sales after she was out of the limelight.

The new Young Sonoma "reality" show will focus on Flajnik, his friends, and the wine business. It could also help market the winery brand to millions. Imagine the possibilities. Epilogue could be poised for considerable growth.

We know that women account for most wine purchases, but marketing wine to women can be tricky. Not very many wine companies are good at it. Many remember the failure of Beringer's White Lie. There's a fine line between creating a brand identity women will embrace and showing women that they're being marketed to. As John Gillespie with Wine Opinions puts it, "The trick is to make a product with it's own quality and own appeal and market it in such a way that it perhaps offers some charm, but doesn't say, 'Hey you little girl, this is for you.' Women have a tremendous radar about this."
Envolve and Epilogue will likely appeal to women. I don't have any data to back it up, but Ben Flajnik was probably one of the most talked about celebrities in 2012 among the 21-35 female demographic.
Lindsay Newbill comments:
Congrats to the Envolve team! It's exciting to watch a winery grow into the millennial market with such rapid sucess.
Danny Fay comments:
Thanks for taking the time to taste through our wines and hear our story Cyril. Although most people come in because of Ben's national exposure, they leave understanding the passion of our family and friend circus called Envolve Winery. Cheers!