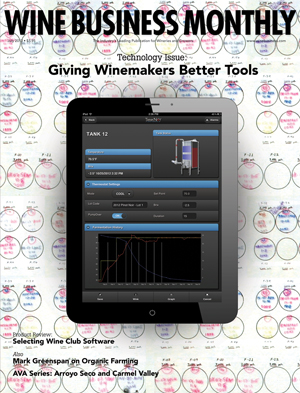 We just sent our July 2013, otherwise known as the Technology Issue, to the printer! This issue is all about the tools that will make the jobs of winemakers, vineyard managers and tasting room managers much easier.
Here's a sneak peak:
Lance Cutler led an industry roundtable with three Napa and Sonoma winemakers, who talked about how technology has revolutionized the way the cellar works.
Mark Beringer of Artesa Vineyards & Winery said: "[New technology] allows you to use your time wisely. I would rather be out in the vineyard tasting grapes or tasting from fermenters than pushing a bunch of paper. It allows me to look at things quickly, make decisions and make adjustments, and then move on, so in that sense it may help you make better wine. You get more sleep during harvest with these systems."
Charlie Tsegeletos of Cline Cellars said: "Without these systems we'd be doing a lot more calculating and putting in a lot more hours. Just figuring out composition alone would be more difficult. These things will track a barrel of wine even if you spread it around to 20 different tanks. Everything you do is represented down to .0001 percent."
Theresa Dorr offers a comprehensive review of all the factors a tasting room should consider when choosing their wine club software. Nearly 20 companies' products are compared.
Curtis Phillips walks you through tank controls, and discusses what we learned about the topic from our 2013 Equipment Survey respondents.
Plus plenty more!
You'll have to wait until July 1 to see the full issue, but you can get your subscription now!