The Sonoma Valley Vintners & Growers Foundation (SVVGF) awarded $10,000 in scholarship funds to the college bound children of Sonoma Valley Winery or Vineyard employees.
This year's scholarship recipients and their affiliations include:
Ruben Armenta, Archbishop Hanna High School - La Prenda Vineyard Management
Joshua Banks, Maria Carillo High School - Chateau St. Jean
Halli Dobson, Sonoma Valley High School - Larson Family Winery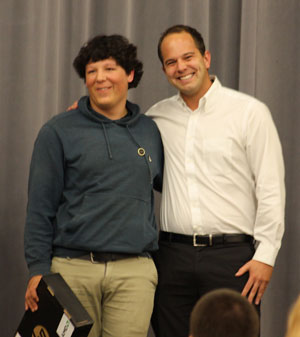 Ruben Armenta
In addition to the cash scholarship awards, Pacific Office Automation generously donated a new laptop to outstanding student, Ruben Armenta. Pacific Office Automation is a top level sponsor of Sonoma Valley Vintners & Growers Alliance and proudly prints the Sonoma Valley Winery Map.
The SVVGA Scholarship Committee includes: Brian Shepard, Chair – Jack London Vineyard; Jeff Bundschu – Gundlach Bundschu Winery; Pat Stornetta – Leveroni Vineyards; and Tish Ward – Atwood Ranch.
Over the past nine years, the SVVGF has awarded just over $100,000 to deserving high school seniors who have at least one parent employed by a winery or vineyard within the Sonoma Valley appellation.