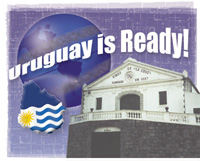 I've been a fan of Tannat for a long time – since visiting Uruguay twelve years ago. Tannat is a big bold tannic wine and seems to blend well with everything – Tannat with Merlot, Tannat with Cabernet, Tannat with Syrah, and so on.

So, it's good to see Uruguay getting some press, more interest from importers, and promoting wines through Wines of Uruguay.

Two new pieces were published today – In the San Jose Mercury News, Laurie Daniel writes about the new investment underway in Uruguay.
Laurie quotes Paul Hobbs, who is consulting down there, as saying
"There's not much traction in the U.S. market."

Appellation America, meanwhile, just posted an interesting piece on Tannat from Uruguay and in North America too, concluding:
Adventurous readers would be advised to be on the lookout for Tannat. It may not be readily available but is well worth seeking out.
(By the way, Two Tannats have been featured on the WBM Hot Brands list in the past: Lone Madrone, and Cambiata. Check them out here and here).
Blake Gray just visited Uruguay, - he came across a reserve Pinot Noir/Tannat - and called it "one of the more interesting blends you'll ever taste." Blake gave his impression of what Tannat tastes like:
As with most red grapes, Tannat's character is in the hands of the winemaker. There are potent 16% alcohol versions and racy, savory versions. There's unoaked, very oaked, moderately oaked. There's Tannat that's tannic like tarbrush and fresh like cherry juice. Even though Uruguay as a nation makes half as much wine as a single winery (Concha y Toro) in nearby Chile, the styles of single-variety Uruguayan Tannat vary like the styles of Syrah in France
I hear some other noted wine bloggers were recently in Uruguay. We'll have an update on Uruguay too, in an upcoming Wine Business Monthly.

When I returned from Uruguay in 2001, I wrote a little piece that ran on the cover of WBM. The headline was "Uruguay is Ready." I'm still getting some good-natured grief around the office for running it on the cover, though, in part because Uruguay wasn't really so ready at the time. We didn't hear about wines from Uruguay for awhile.
In 2006, we were hearing that Uruguay was still ready.
So, anyway, it may just be that Uruguay is finally ready - to export more wine and make some headway in the crowded but desirable U.S. market, that is.