Hailey and Janet Trefethen accept the BRIT Award for excellence in sustainable winegrowing at the organization's annual Fête du Vin Wine Dinner and Auction in Fort Worth, Texas.
This just in from Mimi Gatens, Marketing Manager, Trefethen Family Vineyards:
Trefethen Family Vineyards has achieved a milestone in its sustainability program by becoming one of the few California wineries to be 100 percent solar-powered. This month, Trefethen flipped the switch on its latest solar installation: more than 1,500 panels generating nearly 564,000 kilowatt hours annually – the equivalent of eliminating 389 tons of CO2 emissions or taking 76 cars off the road.
Hailey Trefethen, who along with her brother, Loren is the third generation of Trefethens to embrace the winegrowing life (her grandparents founded Trefethen Vineyards in 1968 and her parents, John and Janet released the first Trefethen wines in 1973), said, "Becoming 100 percent solar-powered fits perfectly into our philosophy of sustainability and our continual efforts to reduce our footprint. It enables us to close the loop further and become even more self-sustaining."
Trefethen has been at the forefront of the sustainable farming movement since Gene and
Katie Trefethen began growing grapes on a cluster of farms surrounding their historic, 19th-century winery in southern Napa Valley. Gene was instrumental in establishing the Agricultural Preserve in Napa County by encouraging local residents to vote for its passage and was an early pioneer of sustainable practices, including his development of a rainwater collection and recycling system that replenished Trefethen's reservoirs. Over the past 45 years, the Trefethen family has quietly and without fanfare created a model program of sustainable winegrowing designed to minimize the use of chemical agents, conserve natural resources, and provide job security, living wages and benefits to its workers.
"When we started in the wine business all those years ago, no one in the wine business was talking about sustainability," said Trefethen Family Vineyards CEO Janet Trefethen. "But I was raised on a rice farm and knew that if you wanted to live off the land, you had to respect and care for it and its resources. We've been doing that since 1968."
In addition to solar powering its vineyard and winery operations, Trefethen adheres to a host of other sustainability practices, including recycling wastewater for irrigation; using deficit irrigation to reduce water usage; transforming winery waste (grape seeds, skins and stems) into compost; restoring riparian areas and streams; employing natural methods of weed, mildew and pest control (bats, hawks and barn owls diminish pest populations); planting cover crops to enhance soil health; harvesting at night rather than mechanically cooling the grapes; maintaining a fleet of electric and soy-based biodiesel fueled vehicles to reduce fossil fuel emissions; opting for soy inks on bottle labels; and providing year-round jobs and full benefits for agricultural workers, along with extensive employee health and education programs.
In recognition of these efforts, Trefethen's vineyards and winery have been certified sustainable by the California Sustainable Winegrowing Alliance and the Napa Green program. This past October, Trefethen also won the prestigious International Award of Excellence in Sustainable Winegrowing from the Botanical Research Institute of Texas (BRIT®). BRIT is an international plant research and learning center focused on conservation, knowledge sharing and plant diversity. It conducts extensive global research, including major projects in Europe, South America and the Pacific Islands.
"Trefethen's outstanding sustainable programs show a commitment to the land, the local community, the wine industry, and its market," says Dwight Cumming, BRIT's sustainable winegrowing judging committee chairman. "I applaud Trefethen's ongoing and advanced sustainable programs . . . ."
Adds Dr. Sy Sohmer, BRIT's president and director, "Trefethen's operations and business philosophy best mirror BRIT's core principles of conservation, sustainability and wise stewardship of the land. We are very proud to bestow our international award to such a progressive winery."
"Sustainability and commitment to the environment while making the finest wines possible has always been our passion," says Janet Trefethen, who, with Hailey Trefethen, accepted the BRIT award at the organization's annual Fête du Vin Wine Dinner and Auction in Fort Worth, Texas. "Receiving this international honor reinforces our commitment to the land and the people who work it."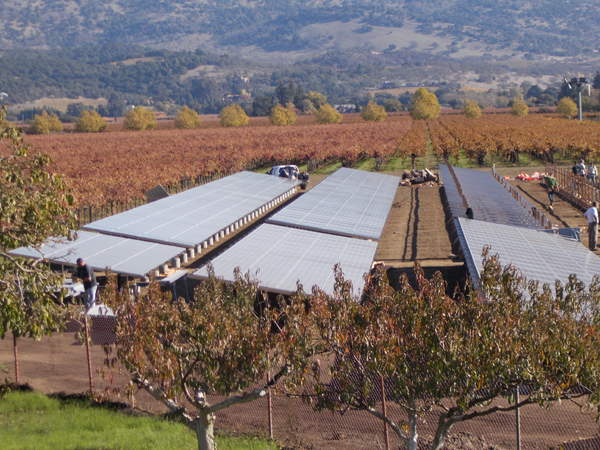 Solar field under construction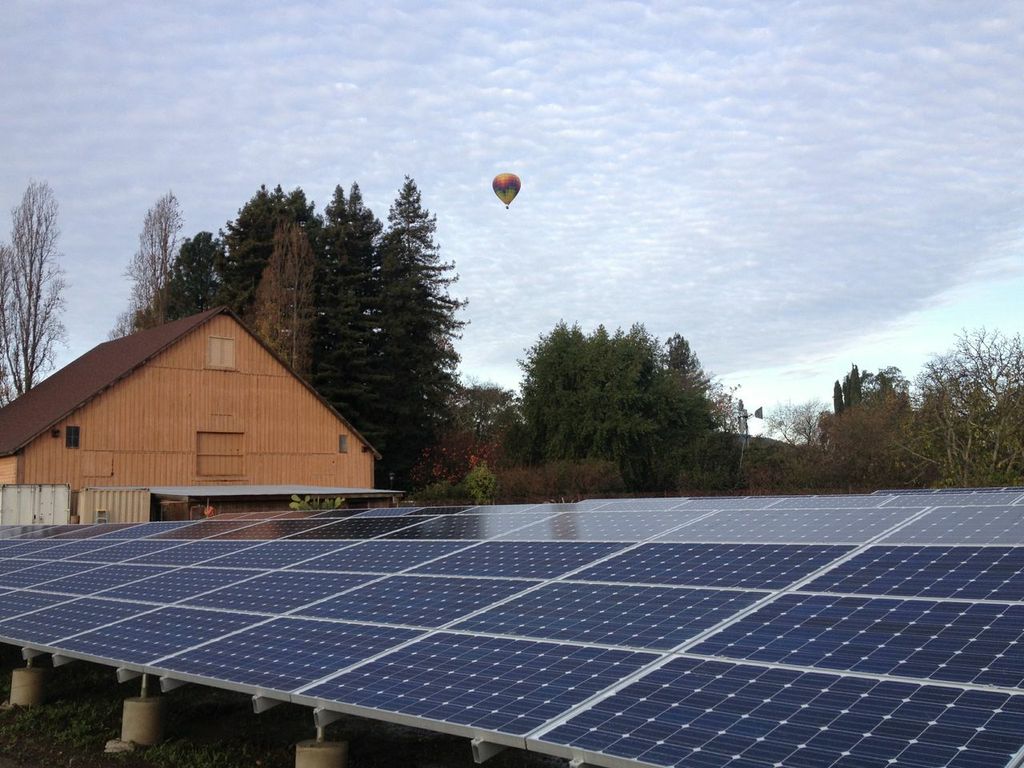 With this last array of solar panels, Mother Nature hits a trifecta at Trefethen as the family finishes conversion to be 100% powered by the sun; wins an international award and becomes certified sustainable through the California Sustainable Winegrowing Alliance. 1,500 solar panels power all the operations at Trefethen Family Vineyards. The reduction in CO2 emissions is like taking 76 cars off the road.