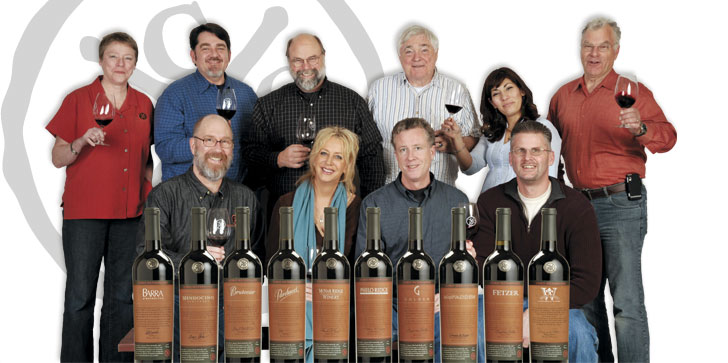 This just in:
Ten diverse vintners from separate regions of Mendocino County have united to create and launch their own collaborative wine collection."Coro" means 'chorus' in Italian and Spanish, and Coro Mendocino is now releasing the 10th Anniversary Coro Wine.

Coro Mendocino is a class of ultra-premium wines made to showcase the rich heritage and unique characteristics of Mendocino County. Made entirely in Mendocino County from County fruit, each Coro wine shares a juried quality standard and a trademarked package.

"This is a milestone year for Coro, and this 10th anniversary launch could not be done in any other part of the world," said Dennis Patton, winemaker for Golden Wines. "We actually taste each other's wines and share constructive advice. That is remarkable in the wine world. We did this to prove that we can and do work together in true collaboration, and that our wines are world-class."

According to Scott Schneider, president and CEO for Visit Mendocino County, Coro is a central part of the county wine and personality story. "We are all about unique experiences, wine and people. Coro is a living example of this lifestyle and community. And of course, it is an industry first."

Each Coro wine must contain between 40-70 percent Zinfandel and adhere to strict production protocols set by Consortium Mendocino. The 2010 vintage was made by ten wineries: Brutocao, Claudia Springs, Fetzer, Golden, Mendocino Vineyards, McFadden, McNab Ridge, Parducci, Philo Ridge, and Ray's Station.

The Coro Tenth Anniversary Collection will formally launch on Saturday, June 22, 2013 at the Little River Inn in Mendocino County. An exclusive VIP Tasting of Library Magnums will happen on Friday, June 21, also at Little River Inn. For more information, visit www.coromendocino.com or call 707.937.5942.

Known as America's Greenest Wine Region, Mendocino County features more organic, biodynamic and sustainable winegrape production than any other region in the United States. Home to 91 wineries, the county boasts more family-owned wineries and grows more varietals than any other county in California, is home to the oldest organic vineyards and winery in United States.