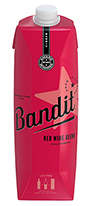 This press release just in from Trinchero Family Estates:
Trinchero Family Estates today announced the stylish new look of Bandit®, a top selling producer of Premium wine in Tetra Pak packaging. The newly designed Tetra Pak packages will be available in all states next month.

Bandit wines are all about personality and enjoying the outdoors with its convenient, eco-friendly Tetra Pak packaging and bold flavors. Available in Pinot Grigio, Chardonnay, Merlot, Cabernet Sauvignon and a Red Blend—the first in its category, also launching in May—Bandit wines come in 1-liter and 500-milliliter Tetra Pak packages and are priced at $9 and $5, respectively."

"This new package launch is particularly important to us because the consumers who enjoy Bandit are among the most curious wine enthusiasts. We want them to feel inspired to explore the world, and are rewarded with a small, but exciting indulgence," Wendy Nyberg, senior director of marketing for Bandit, said: The new design elements will resonate with wine drinkers—especially Millennials—due to Bandit's new, brightly colored Tetra Pak packaging, strong brand messaging, easily readable logo and user-friendly info printed on the sides and backs. The wines are accessible, in both price and style."

Bandit is the top-selling 1-liter brand in the market, and the brand's 500-milliliter SKUs are growing, with sales up 23.7 percent*.

"Premium wine in packaging material from Tetra Pak is one of the fastest-rising wine categories in the US. We have stayed relevant with consumers by producing exceptional-quality wines in attractive and convenient Tetra Pak packages. Our 1-liter Pinot Grigio, for example, is the number-three dollar volume SKU in the Tetra Pak category—and growing at 35.5 percent*," states Nyberg.

*Source: Nielsen Scantrack Data: Ttl XAOC, 52 weeks ending 03/30/13.
Have you redesigned your wine packaging lately?