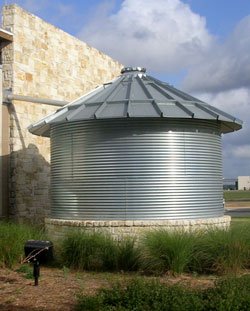 I cannot understand why more people do not think of harvesting this wonderfully pure and free resource, especially in light of the water issues (and lack thereof) facing many regions of the wine industry today. A GAO report now identifies 36 states facing imminent water shortages.
I recently returned from WIVI (Wine & Viticulture Symposium and Trade Show) in Paso Robles. I had been asked to conduct some power point presentations and since I knew this region is facing some serious shortages decided to address monitoring of water usage in their wineries. As the saying goes, "You cannot manage what you do not measure."
Flow meters are the tools here to establish your benchmarks and help determine the amount of water an efficient winery needs to produce wine. With that, a perfect segue would have been to discuss rain water harvesting.
Generally the topics of energy savings and green-sustainability eventually address rain water. Unfortunately most people still consider rain harvesting as a 55 gallon poly-drum, under the down spout, for their tomatoes. I'm talking about serious containment up to 100,000's of gallons per season.
Here are the numbers:
• A 1,000 square foot roof in a one inch rain event captures roughly 600 gallons
• My 2,200 square foot roof in Sonoma, with a seasonal average of 28 inches of rain will harvest almost 37,000 gallons of water. How big is the roof on your winery? Do the math.
Part of the problem for some is that rain water has always been lumped in with grey water or runoff and so local municipalities are reticent to consider it for process water. Things are beginning to change.
When I last wrote about harvesting I had enjoyed an extensive interviewed with an unquotable EPA official in Washington, D.C. who categorically stated, "That a properly designed rain catchment system could easily exceed all national standards for what comes out of any municipal tap, anywhere in the country." Pretty heady stuff.
The good news is the EPA has issued a municipal handbook (EPA-833-F-08-010) to start redefining rain water as part of their green and sustainable initiative. Even better in other interviews I learned the UPC (Uniform Plumbing Code), the IPC (International Plumbing Code) and the IAPMO (International Association of Plumbing and Mechanical Officials) have all signed off on new guidelines for rain harvesting. We are finally headed in the right direction.
System designs are now available for a building department's review which will specify everything from proper roofing materials, to plumbing conveyance, filtration, and NSF-61 certified tank specifications for potable water containment. And tanks can be above or below ground, steel, concrete or corrugated. I looked at ballpark numbers here in Sonoma County and found containment can easily be under a dollar per gallon for 35,000 gallons and then drops dramatically as the gallonage increases.
Storage can start small and grow to accommodate the winery needs. An efficient winery will use roughly five or less gallons of water to produce one gallon of wine.
Tanks are now designed with architectural considerations for height and width, low profile or even covered with wood siding or even stone features.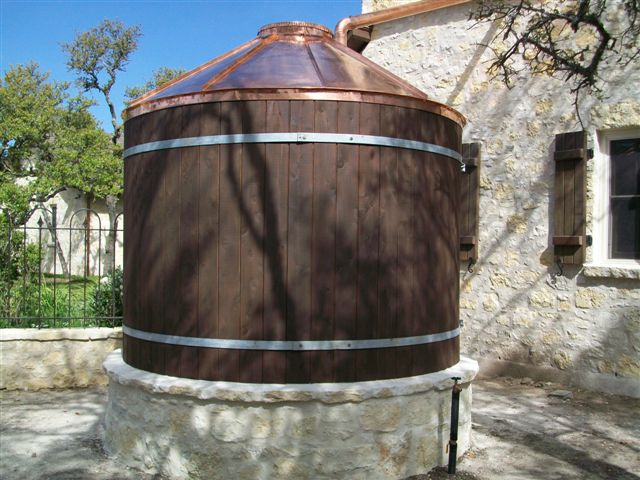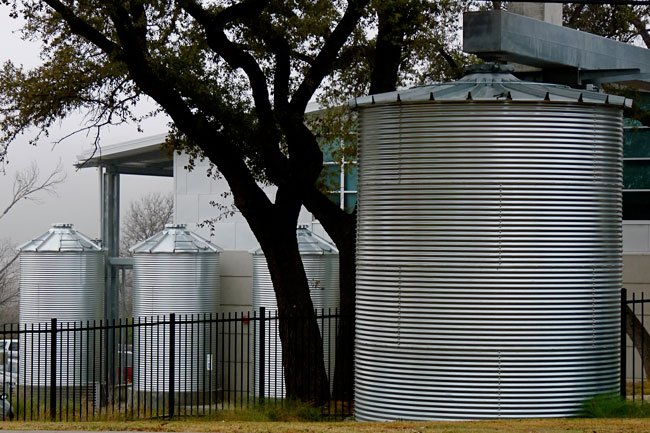 To begin planning a rain harvest project start by contacting the Tempe-based group American Rainwater Catchment Systems Association (www.arcsa.org). These are the pros who can direct you to consultants throughout the U.S. The association conducts seminars throughout the country on a continual basis. The site also has plenty of in-house information to download.
As a final note wineries might consider visiting ARCSA's National Conference this November in Austin. Among other things the seminars will discuss updated government regulations and the tradeshow will be exhibiting the latest in construction materials, filtration for potable water and containment designs. The answers are out there.