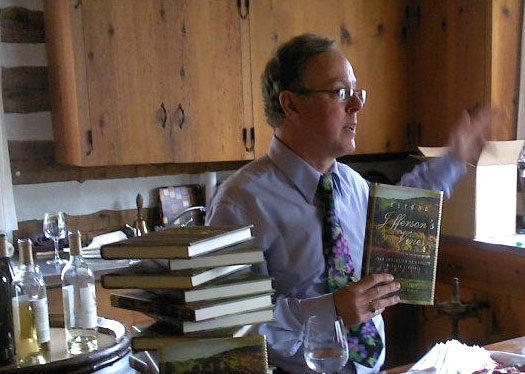 Pictured above: Author Richard Leahy outlining his new book to Virginia wine media at Paradise Springs Winery on March 25. Photo from www.richardleahy.com.
Richard Leahy, author of "Beyond Jefferson's Vines: The Evolution of Quality Wine in Virginia," will talk on the history of the Virginia industry and share his knowledge of the characteristics that make Virginia wine unique in "Straight from the Vine: The History of Wine in Virginia" at the Library of Virginia on Friday, April 5.
Schedule of Events: 5:30 PM Exhibition Opens, Wine and Hors d'oeuvres Reception; 6:15 PM Featured Presentation; 7:00–8:00 PM Tastings and Reception.
To learn more about Leahy's book and upcoming book signing appearances, visit www.richardleahy.com. Leahy has written on Virginia wine since 1986. Now, with his forthcoming title, "Beyond Jefferson's Vines," (Sterling Epicure/May 1, 2012) As noted on the website, Leahy, regional editor for the "Oxford Companion to the Wines of North America," has written the essential book on Virginia wine, covering its history, interviews with the state's top wine industry members and members of state government, with updates on the latest industry developments.