by Patricia M. Roth | April 3, 2013 | 12:25 PM

It might sound weird but I'm always excited when I see an email from Planalytics VP Evan Gold. The graphics are informative, colorful and, yes, about the weather. Yet the messages provide more than a forecast.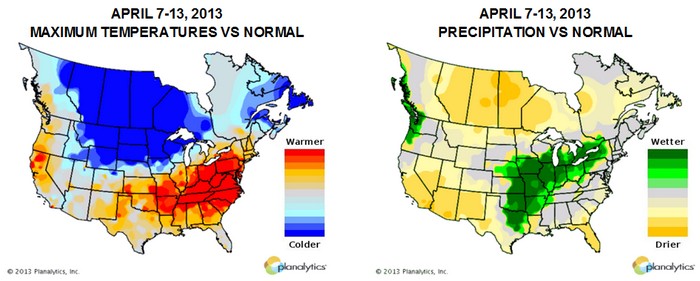 Here's how the company describes itself:
As the pioneer and premier provider of Business Weather Intelligence, Planalytics gives companies an edge over competitors by translating weather data into powerful insights that are used to maximize the opportunities and minimize the risks presented by changing weather. Planalytics brings measurable benefits to clients in the form of higher sales, improved margins and/or greater market share.
Among the industries Planalytics delves into is agriculture, restaurants and retail. Their client list is interesting. I didn't see any wineries but I did see a major glass manufacturer and a crop insurance company (do you need it?).
From Planalytics' message, a preview of next week:

On the heels of a cold, wet, and snowy March that compared to the warmest on record in 2012, many have been wondering "Where Is Spring?" While the calendar declared March 20th the official start to Spring, consumers, particularly those in the Eastern two-thirds of North America, remain weather-weary as temperatures have been trending well below normal. For those that are looking for warmer weather, changes are afoot that will quickly flip consumers into a Spring mindset.
Beginning this weekend and continuing through most of next week (April 7-13), many major markets in the Northeast, Mid-Atlantic, lower Midwest, Southeast, and South Central regions will experience what will feel like a dramatic warm up as temperatures rebound and rise to above normal levels. New York City, for example, which currently is experiencing temperatures in the 40s and low 50s, will see the mercury rise into the mid to upper 60s for several days next week. The same trend will be prevalent throughout the Northeast and lower Midwest. Several markets in the Southeast and South Central region will top 80°F next week.
This warm up will have consumers thinking and purchasing Spring products including home improvement items such as lawn & garden care, exterior paint, and yard clean-up. Expect demand for Spring apparel to rise for categories such as T-shirts and sandals, as well as cold beverages, consumables, and allergy relief.
With the warmer temperatures, conditions also become more conducive for severe weather. Rain and thunderstorms are expected throughout much of the East at various times over next week. Severe thunderstorms , including hail, tornadoes, and strong winds initially generate over the Central and Southern Plains and slowly advance towards the Southeast by the end of the week.
Elsewhere, the West Coast will continue to remain warmer than normal, keeping demand for Spring products favorable.

So... how does the weather affect your tasting room traffic?
Wine Business Monthly's 2013 Tasting Room Survey will be published in our April issue. To read the 2012 Tasting Room Survey Report, please go here.