Congressman Jared Huffman (D-San Rafael) visited Quivira Vineyards & Winery in Dry Creek Valley to present the winery with his Sustainable North Coast certificate in recognition of Quivira's work in restoring salmon habitat and healthy waterways. This was the first sustainability tour by Huffman as a member of Congress; he regularly recognized outstanding sustainable local businesses during his tenure in the California State Assembly.
"We are very honored to receive this recognition from Congressman Huffman. All of the efforts here, from the Biodynamic and organic winegrowing to the restoration of Wine Creek and Dry Creek, are very much a part of our DNA at Quivira," said Pete Kight, proprietor of Quivira Vineyards.
"And while we are certainly pleased that these endeavors reflect our environmental responsibility, what is just as important is why we do it. Taking the approach we do also makes good business sense. Following these types of practices is the best way to build a sustainable business. And part of that comes from producing the best wine you can from your vineyards, something that farming Biodynamically, we believe, makes possible."
Quivira Vineyards and Winery was founded in Dry Creek Valley in 1981. Quivira has advanced Biodynamic and organic farming of grapes and uses onsite solar panels to power almost 100 percent of its operations. In 2012, Quivira partnered with the Sonoma County Water Agency and the United States Army Corps of Engineers on the first stage of a six-mile enhancement of Dry Creek Coho salmon habitat. Last summer, project partners created a side channel on Quivira property that allows young coho and steelhead to escape fast-moving water during high-winter flows.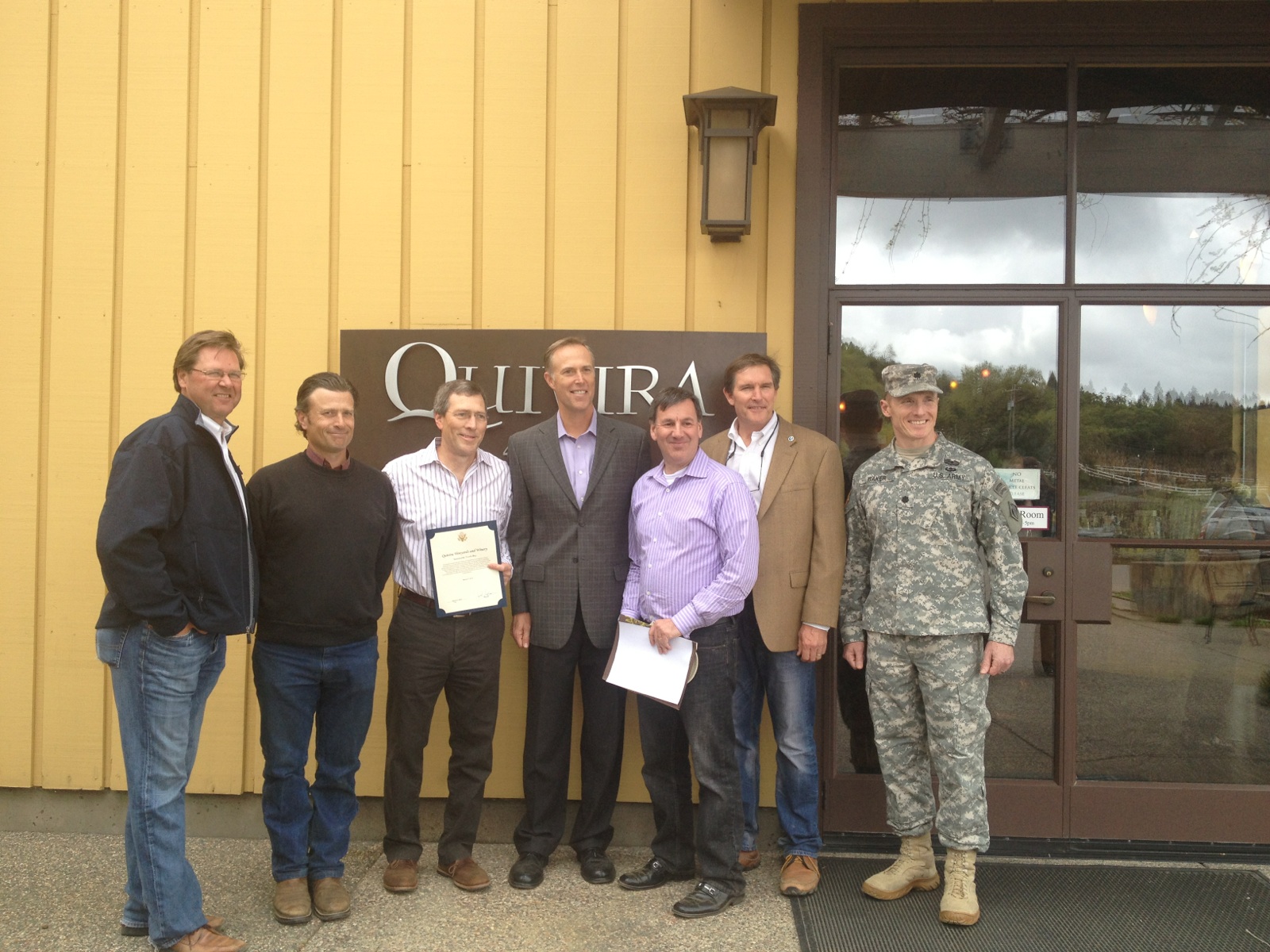 Pictured (left to right) are: Grant Davis, GM Sonoma Water Agency; Ned Horton, Quivira vineyard manager; Dan Leese, GM of Quivira; US Rep. Jared Huffman; Andrew Fegelman, marketing director of Quivira; Bob Coey, National Marine Fisheries Service; and Lt. Col. John Baker, commander of the San Francisco District Army Corps of Engineers.
Below, another take from the event (different order l-r):