In listening to the WiVi general session panel yesterday about the state of the wine industry on the Central Coast and the off-beat perceptions consumers east of the Mississippi have about the region, I couldn't help but think about the growers who are deeply connected to their farmland in ways that marketers and investors are not. As Jerry Lohr, president of J. Lohr Vineyards & Wines, said, "We vintners sell a bottle at a time, and that takes a lot of personal effort."
At the same time, panelists addressed some pressing questions, such as: How do you define the brand that you want the Central Coast to represent? The panel included: Michael Heintz, senior director of marketing for E&J Gallo Winery; Mark Couchman, president of Silverado Premium Properties; and Emily Wines, a master sommelier and director of wines for Kimpton Hotels and Restaurants. You can read more about the general session on winebusiness.com.
Heintz is in charge of marketing for the super premium business for Gallo (above $12 on retail shelf), primarily in California. He showed Gallo's vineyard holdings in California and on the Central Coast, stating, "We have a number of key assets that we use to fuel our brands – Edna Valley being one of them, Bridlewood a little bit further south, and a select number of vineyards from the Santa Lucia Highlands all the way down to Santa Ynez Valley. We just purchased the Courtside Cellars facility; that was a big addition for us in terms of allowing us to produce the wines at scale and at quality locally. It's clear that the Central Coast is important to us. We put our money where our mouth is, so to speak."
On launching Edna Valley across the country, Heintz said, "The further East you go, the less clear California becomes in people's minds. Certainly the Central coast follows suit. The Central Coast to them is explicitly not Napa and not Sonoma, since they don't know where it is, but they know it's not Napa and Sonoma. It's less than Napa and Sonoma. It's something else.
"So I think there is a big opportunity here. How do we define the brand we want the Central Coast to represent in the eyes and mind of the consumer? It is not easy to do. How do we position the Central Coast and drive our businesses forward and make it what we know and believe it can do? We have a gap here. In terms of consumer perception, in geographic terms, we have to tell people where we are; we have to tell people what we do; we have to find a way to communicate how we do it and what is special to people. And I don't think we've cracked that code yet."
Couchman said they, too, struggled with "the term, Central Coast. When we made our first investment in 1998 in Santa Barbara County, when we said the word Central Coast nobody knew what we were talking about. We said the word Santa Barbara and everybody knew what we were talking about. We made our next investment in Monterey County; they knew Monterey but not Central Coast. Our company continues to grow and I'm proud to say we continue to grow in the Central Coast. We just purchased another large holding in Monterey County and are planting grapes in Monterey and Paso Robles...
"It's interesting when you go to the East Coast and talk to people who are not Californians, their perception of this state is very limited. If they've traveled to California, they've been to Southern California and the Bay Area, and Napa and Sonoma are high on their list.
"Some things I am concerned about on the Central Coast: one of the issues is trying to continue to send a message and specify it more clearly. As an investor and grower, we deal with challenges of regulation everywhere in the state, and I think we're starting to see some of the regulatory agencies in the counties on the Central Coast getting a little tougher, even tougher than we've seen on the North Coast. Overall, we love the Central Coast. Over half of the acres we grow are invested on the Central Coast, and we don't see any reason why that won't continue.
"I encourage you to continue to get the message out about the quality of the wines and the quality of the experience. It seems like in the 15 years I've been coming here, the growth and the quality of the growth has been tremendous."
Wines, whose perspective comes from her background as a buyer, an educator and a consumer, said: "Overall the Central Coast has amazing wines. It's a great place for growing great quantities of very good wine but one of the challenges it does face is this risk of becoming really generic. The thing I worry about with the Central Coast is where the identity is.
"You could say the Central Coast is so big that it would be difficult to give it a singular identity, and then I think about other big wine regions like Marlborough or Mendoza or Willamette Valley, so it makes me wonder: what is that thing the Central Coast could hang its hat on?"
Panelists focused a good deal on the challenges and opportunities facing the Central Coast; following the Q&A, they were asked: "Where do you see the Central Coast in five years?"
"I definitely see prices going up," Couchman said.
"I hope not," Heinz said, laughing.
"I think it could go one way or another," Wines said, "…the perception for bulk wine and value or the other direction where specific AVAs are starting to stand out around the country and the world."
Couchman: "I think it has a very bright future and capability to maintain a very strong price-quality ratio. But at the same time, there are some wonderful iconic wines being made on the Central Coast; and they should be higher priced and they will create more of the halo effect."
Heintz: "There is a lot of opportunity here to tell great stories, and I think gatekeepers and sommeliers are looking for and broadcasting those to my circle of friends. I do see risks: How do you define the Central Coast and allow the original AVAs and sub-AVAs to flourish? Look at Sonoma's new conjunctive labeling campaign. With more promotional organization going on around the world, there is more attention demanded from the media so there is less opportunity for us to get our brands mentioned in PR efforts.
"We must find way to stand out in a unique way and connect with the millennial generation and do it in a way that earns us the right to capture the attention of the media. I think the Central Coast is in an interesting time in its lifecycle to capitalize on that with all the quality you guys are putting in the bottle right now."
Jerry Lohr: "I think we should not try to publicize the Central Coast so much but publicize the appellations and great wines of the Central Coast. This is not an easy area to grow grapes. The vines stress, and we make some really good wines. We have to learn how to make and market those good wines and have the guts to ask appropriate prices for those wines. The identity is not going to be Central Coast any more than it's North Coast or Central Valley. As you know, we vintners sell a bottle at a time, and that takes a lot of personal effort."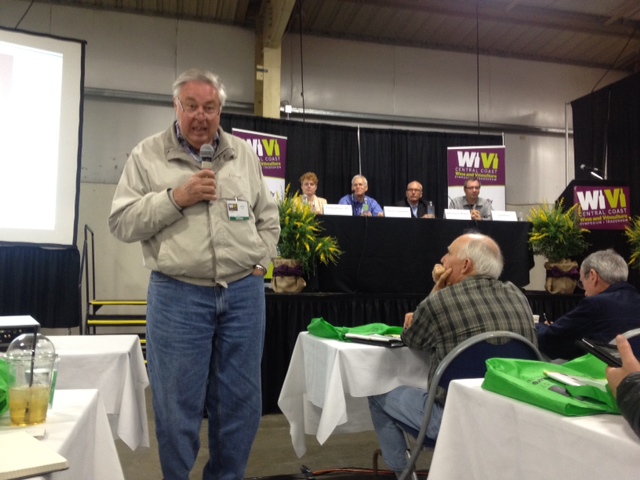 Jerry Lohr answers a question following the presentation; panelists shown in background (l-r): Emily Wines, Mark Couchman, Michael Heintz, moderator and Wine Business Monthly editor Cyril Penn.