We've been hearing a lot about Red Blotch (Grapevine red blotch-associated virus) lately, and we're bringing you the latest information in Wine Business Monthly. In February, two stories are dedicated to this disease; the authors are Mark Greenspan and Lucie Morton. In April, look for an in-depth piece by James Stamp and Alan Wei.
Mark Greenspan writes in his WBM column, "Meet Red Blotch":
"The virus is something called a geminivirus. This class of virus only infects plants and is characterized by twin particles. These are serious viruses, which are associated with Cotton Leafroll Disease, a serious economic problem."
He asks: Why should we be worrying about it?
"Mysore Sudarshana, a researcher in plant pathology at UC Davis, said that affected vines have fruit that are about 3 to 6 degrees Brix lower than unaffected vines. He said that this is more than the leafroll suppression of Brix accumulation. I'm not sure why that would be, but from what I've seen, it seems to progress atypically along the shoot faster than the development of leafroll symptoms."
Lucie Morton, an independent viticulturist based in Virginia, gives us an insider's perspective on how suspicious symptoms led her to find out their cause. Be sure to read her Insight & Opinion piece, "On the Trail of Red Blotch Virus: View from the East." One clip:
"...in 2011, Dr. Fuchs contacted me and said, indeed, the vines I had left with him did show a new virus, and he was studying it. In fact, he had found two new strains of the new virus in this material. From then on, I knew we were on the path to figuring this out. The July 2012 issue of the Journal of Virology contained his 'genome announcement' – Complete Genome Sequence of a New Circular DNA Virus from Grapevine."
In April's Wine Business Monthly, James Stamp of Stamp Associates Professional Viticultural Services and Alan Wei, lab manager for Agri-Analysis, write in detail about Red Blotch-associated Virus, covering identification, symptoms, possible routes of infection, and much more.
Meanwhile, Alan Wei recently shared three photos (below) taken by one of his customers in early December. The cultivar is Cabernet Sauvignon clone 7 on rootstock O3916. The first vine looks normal for the season. The second vine has speckled red leaves. The third vine has completely red leaves.
Dr. Wei points out:
"We conducted 19-virus extensive panel analysis of these three samples. For Red Blotch-associated Virus (RBaV) analysis by conventional PCR, we found one sample gave no band, one gave a band of weak-to-intermediate intensity and one gave a strong-intense band on the DNA gel. The DNA copy numbers of RBaV were determined independently by Dr. Sudarshana's lab at UC Davis/ARS .

"The severity of symptoms does seem to correlate with the viral DNA copy numbers. If you see similar vines in the field, please let me know, as this is a critical piece of information to satisfy the modern version of Koch's postulates – to correlate the viral gene copy number with the disease severity of the host."
Contact Dr. Wei at apwei@agri-analysis.com or 1-800-506-9852.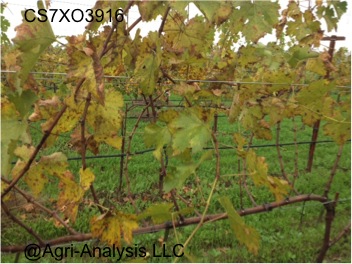 Sample #1. Normal and green foliage: RSP and RSP-Sy were positive. RBaV and 16 viruses were negative. No PCR gel band of RBaV was observed by conventional PCR; the relative DNA copy number of RBaV was zero by quantitative PCR (qPCR).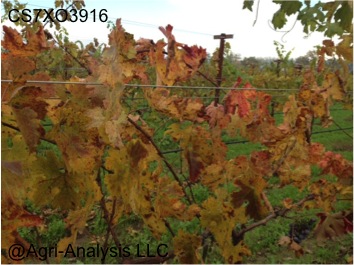 Sample #2. Speckled red foliage: RBaV was positive. All other 18 viruses were negative. A weak-to-intermediate PCR band of RBaV was observed by conventional PCR; the relative DNA copy number of RBaV = 200+/- by qPCR.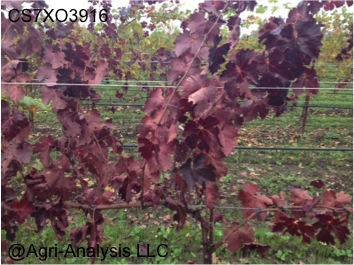 Sample #3. Complete red foliage: RBaV was strongly positive. All other 18 viruses were negative. A strong PCR band of RBaV was observed by conventional PCR; the relative DNA copy number of RBaV = 80,000+/- by qPCR.
To subscribe to Wine Business Monthly, go here. You can also read articles online, currently at no charge.