Wine Trade Has Spain on the Brain
Wine Opinions just completed a tracking study of 902 U.S. wine consumers and 297 members of the wine trade about usage, preferences, sales, and the market position of wines imported to the U.S. from every major wine producing country and region. The reports include tracking data and analysis of sales and market trends for imported wines by country and region.

One thing that jumps right out when one looks at the reports is the obvious enthusiasm for Spain, especially in the trade. Here's one example, a slide showing how the trade views imported red wines priced under $20 in terms of quality.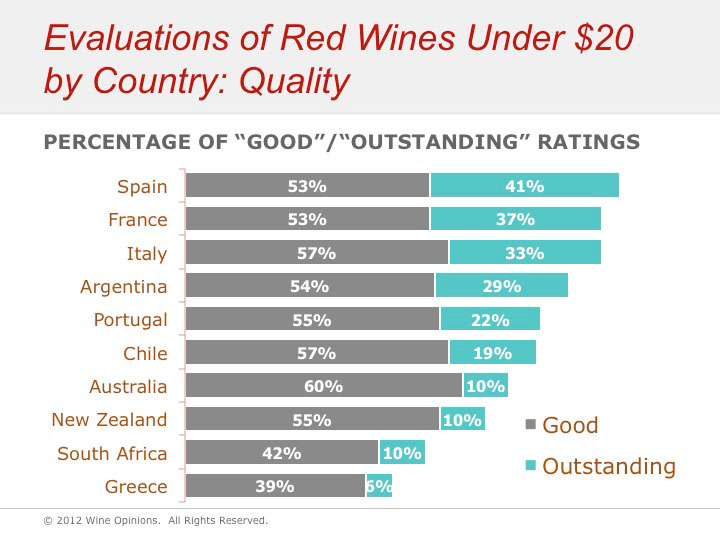 It is interesting how responses to some questions differ between consumers and members of the trade in the two reports. There's a series of three slides in the reports asking similar questions of consumers and the trade. For consumers, those slides ask "how likely to buy" for a white/rose under $20, or red under $20, or a red priced at $20-$50, by country. Corresponding slides for the trade ask "how likely to recommend" for a white/rose under $20, or red under $20, or red $20-$50, by country. Italy comes out better than Spain in the consumer slides, but Spain is ahead of Italy in the trade slides.
The gap in terms of the percentage of people in the trade saying they would likely recommend wines from Spain versus some other countries carried a high degree of statistical significance in the survey.

John Gillespie of Wine Opinions showed some of the slides at the VinItaly conference in New York last week, to point out that the trade sentiment is a leading indicator of where consumers will be going in the next year or two, because the trade can sell wines they are enthusiastic about. "It's clear that Spain is now on the 'radar screens' of the trade in both the over and under $20 red wine categories," he said.

As the slide below shows, Spain scored very well in terms of awareness of promotional campaigns too, particularly among the trade. Awareness of promotional campaigns by country varied between consumers and the trade but keep in mind some of these campaigns are geared more toward one, the other, or can target both consumers and the trade.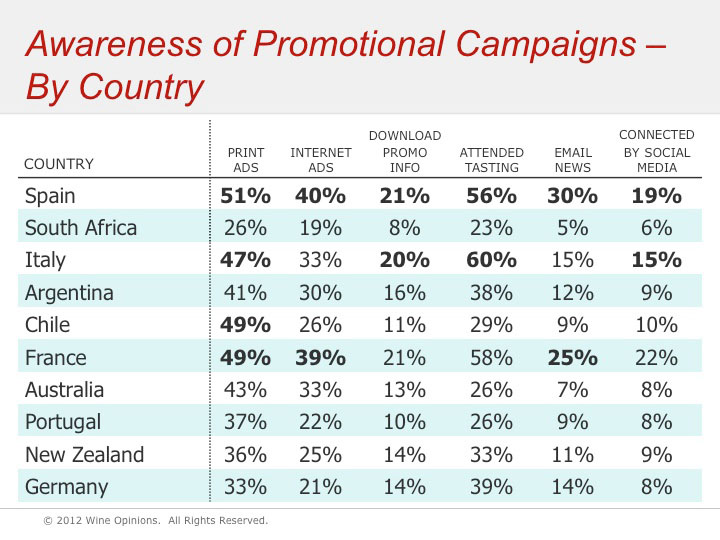 In all cases, awareness of recall was higher for print advertising than for internet advertising.

Gillespie said the reports also provide more evidence of how important consumers who purchase wines priced at more than $20 monthly or more often are – the so-called high-end wine purchasers. It's a small group that's responsible for 90 percent of wine purchases priced above $20 so it's easy to dismiss them as "the high end folks." That same group also accounts for about 40 percent of all wine sold between $10 and $20, though – making them an extremely important segment – what Gillespie calls high-value wine consumers. That holds true whether one is talking about domestic wine sales or about imports.

"The attitudes and behaviors of this particular group are really, really, important to everyone in the wine trade," Gillespie said.

The 47-page trade report may be purchased for $900. The 51-page consumer report may be purchased for $1,900. The reports are offered together for $2,400 and may be purchased online at WineOpinions.com. Contact: Sherri Fidel (SFidel@WineOpinions.com)