Amorim Cork America, a U.S. subsidiary of the world's largest cork producer, marked a milestone Friday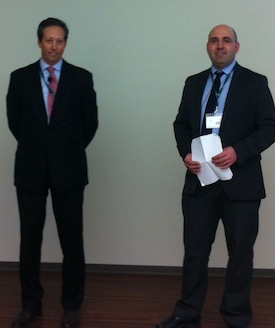 with an open house commemorating opening a new sales and distribution facility for North America in Napa.

Chairman and CEO Antonio Amorim welcomed guests, making a few remarks, saying the new facility demonstrates the company's commitment to cork and the U.S. market. "This is a very special moment," he said.

The new facility is huge – 50,000 square feet. Amorim, which launched operations in North America in the late 1980s, had been leasing a facility that was half the size.

Mr. Amorim (with the red tie on the left - Amorim Cork America GM Pedro Fernandes is on the right) had just attended the Unified Symposium in Sacramento and noted how positive the outlook for growth there had been, in contrast to the current state of affairs in Europe. "If there's growth (in the market), we have room to grow," Mr. Amorim told me. "We wanted to have our feet on the ground."

Mr. Amorim spoke briefly about the cork industry, saying it has done its homework in the past decade, investing in technology and new products. He said cork has gained market share since 2007; that consumers perceive wines outfitted with cork closures are better wines; and said wineries get better prices when their wines are sealed with natural cork.

Naturally, Mr. Amorim thanked folks for coming. He also specifically recognized and thanked two long time employees who were with the company when it launched U.S. operations as Cork Associates: Jack Squires, who retired in 2008, and Daryl Eklund, now with Demptos Glass.

"If you want to place some other orders, we are here." Mr. Amorim said wryly.

I took a quick tour of the facility.
Among other things, Vince Rose, director of sales and marketing for Amorim Cork America, discussed the Medcork Machine (pictured) used in quality control.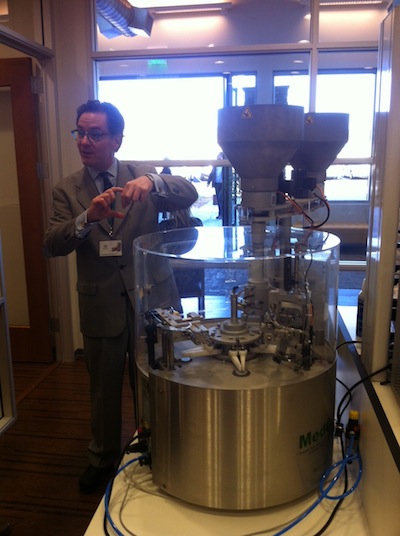 * The new finishing and storage plant can store 50 million to 60 million corks at a time. There are 5,000 corks in a bag, and 80,000 corks per palate.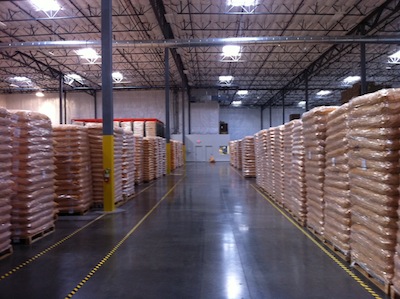 * There are 25 printing machines that can print 1.5 million corks per day.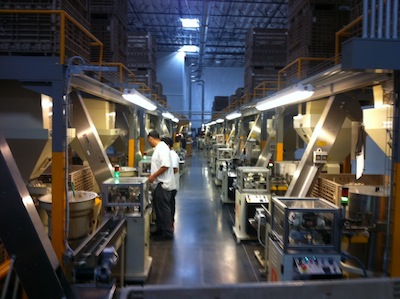 * Corks lose a little bit of their moisture content during shipping from Portugal so are rehydrated in the moisture room, a controlled environment set to 80 degrees and 80 percent humidity. Ozone is used to ensure no mold develops in the moisture room.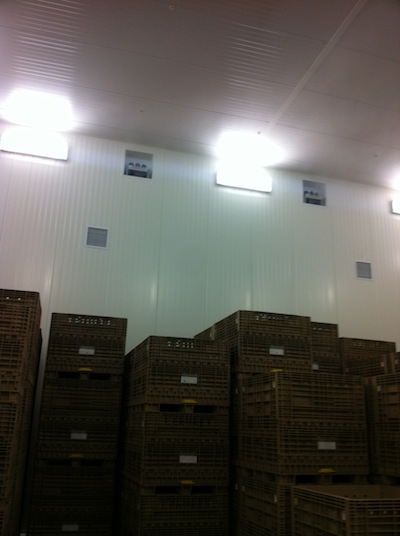 * Later the corks are coated. There are three types of coating, depending on the type of closures: natural cork; micro-agros and one plus ones; or sparkling wine stoppers. Machines that looks like a giant clothes dryers are used for the coatings. The TMK50 is the biggest and can handle 40,000 to 50,000 corks in a cycle.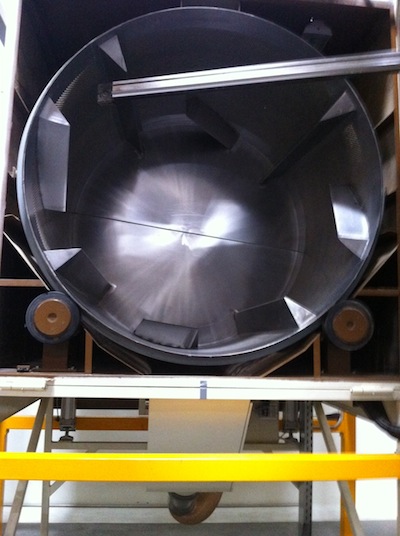 * Another machine counts the corks.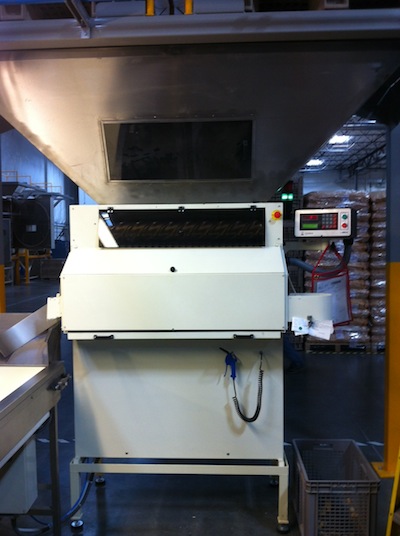 * There are 'eco-boxes which hold 30,000 corks. They can be broken down flat, and come back to the factory to be used again.