For the tenth year, Wine Business Monthly has compiled its list of the Top 10 Hot Brands.
The Hot Brands list is our chance to honor wineries that are innovative, curious, adventurous and, of course, delicious. These winemakers can be trailblazers or traditionalists (and are often both), but most of all, these are people who have dedicated themselves to crafting the best wines possible from their unique sites.
We've found ourselves quite taken with each of these brands this year. These are, as we like to say, wines that we'd serve to winemakers.
This year, we are releasing the Top 10 Hot Brands in alphabetical order.
Wine Business Monthly will be serving these wines to winemakers, grape growers and industry members at our annual gathering Bottle Bash during the Unified Wine & Grape Symposium. Tuesday, Jan. 29, 5:00-8:30pm at the Pyramid Alehouse in Sacramento.
Troon Vineyard
2011 Vermentino, Applegate Valley, Southern Oregon
Southern Oregon Winery Challenges Itself With Experimental, Pioneering Spirit
In Southern Oregon's Applegate Valley, Troon Vineyard owner and vintner Chris Martin aims to be a pioneer, carrying on an experimental spirit that goes back to the winery's earliest days. In 1972, Troon Vineyard's founder, the late Dick Troon, was among the first to plant vines in this Rogue Valley sub-region. He was also among the first to plant Zinfandel, still a rarely-found variety in Oregon. When the Martin family purchased the winery in 2003, they firmly believed in maintaining Troon's "fun cutting edge."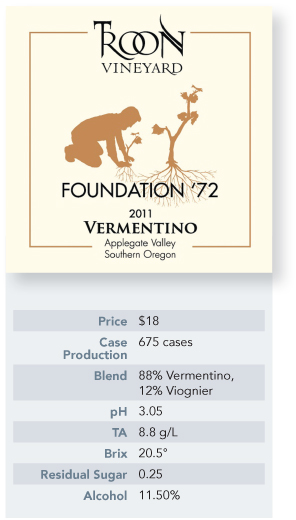 "There's a couple things that I've always believed in my life," said Martin. "I think people want to be associated with winners, and I think that people want to be associated with things that are new and interesting. For the consumer, there is an excitement with things being new and different. To me that's what keeps life interesting, as a grape grower, as a winemaker and as a consumer. We always want to be on the fun cutting edge. We don't want to fall into the rut of saying, 'Oh, we're making another 1,000 cases of Cabernet this year.' How exciting is that?"
Shortly after acquiring the winery, Martin began expanding the winery from 30 total acres to 100 acres. He also added more than 30 acres of new vineyards, augmenting the 10 existing acres planted primarily to Zinfandel and Cabernet Sauvignon, and dramatically increasing the diversity of the plantings to the current 23 different varieties. Production also increased, rising to 10,000 cases today under the direction of winemaker Herb Quady (who also makes wine under his Quady North label).
Martin had one initial regret, though: he did not think he would be able to grow a favorite variety that he'd tasted a few years before on a trip to Italy. "I had tried Vermentino off the west coast of Italy in Sardinia," said Martin. "I really loved it, but a little old Italian man there told me, 'You can't grow it because it has to see the ocean.' I was a little downtrodden when I got [this property] because I couldn't grow Vermentino. We couldn't see the ocean; we're 60 miles from the ocean. But I was heartened again in 2005 when I went to the Unified Wine & Grape Symposium and tried Vermentino from Tablas Creek down in Paso Robles. That vineyard site wasn't by the ocean and the wine still had some great complexity, and it had some character to it. So I decided in 2006 to graft some old Chardonnay vines to Vermentino."
---
The full story on Troon Vineyard ~ and all our Hot Brands ~ will be available in our February 2013 issue of Wine Business Monthly. You can find it here starting Feb-1st. Or come by our booth #1324 to get your FREE copy.