Introducing the 2012 Top 10 Hot Brands ~ Red Caboose Winery
January 28, 2013

For the tenth year, Wine Business Monthly has compiled its list of the Top 10 Hot Brands.
The Hot Brands list is our chance to honor wineries that are innovative, curious, adventurous and, of course, delicious. These winemakers can be trailblazers or traditionalists (and are often both), but most of all, these are people who have dedicated themselves to crafting the best wines possible from their unique sites.
We've found ourselves quite taken with each of these brands this year. These are, as we like to say, wines that we'd serve to winemakers.
This year, we are releasing the Top 10 Hot Brands in alphabetical order.
Wine Business Monthly will be serving these wines to winemakers, grape growers and industry members at our annual gathering Bottle Bash during the Unified Wine & Grape Symposium. Tuesday, Jan. 29, 5:00-8:30pm at the Pyramid Alehouse in Sacramento.
Red Caboose Winery
2009 La Reina Tempranillo, Meridian, Texas
Father-Son Team Steered by Centuries-old Techniques for Sustainability Today
When Red Caboose Winery proprietor Gary McKibben was a third-year architecture student at Cal Poly, San Luis Obispo, he was given an assignment to design a winery. The project piqued his interest, though he continued his architectural career following his graduation from Cal Poly. Decades later, McKibben found himself with an opportunity to design and create his own winery. "It was an accident," he said.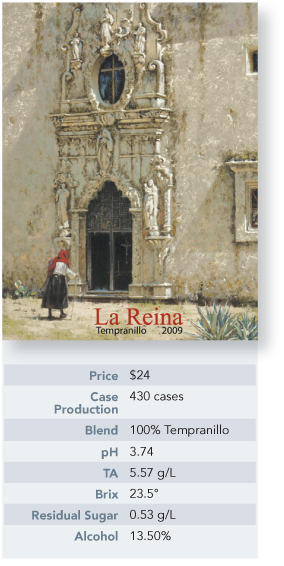 Several years ago, McKibben was looking to buy some property for his family near his Texas home in Dallas, a ranch location for cattle farming and recreation that was also close to the state's urban cities. He found it in a ranch located in Meridian, Texas, about 90 miles southwest of Dallas and 130 miles north of Austin. "When I bought the ranch, I didn't buy it with the intention of planting grapes or building a winery," he said. "But there were all kinds of varieties of native grapes growing on the ranch. That sparked my interest, going back to when I was at San Luis Obispo.
"The native grapes just inspired us, " he continued. "I got really interested and started researching the American vitis labrusca. I discovered that more of them grow naturally in Texas than any other state in the union. So I go, 'Wow, this is a great state! Let's start planting vinifera.' So we did!
"That's how all this happened, 40 years later," said McKibben. "It was a father-son project. We bought a ranch in Texas and we decided we wanted to get into the wine business." McKibben's son, Evan McKibben, is now the Red Caboose winemaker and vineyard manager. "Evan and I, we just kind of learned this together. I'm an architect and he's a hockey player. He decided at the age of 18 he didn't want to pursue hockey anymore, and that's when we planted the first 100 vines. We took off from there."
After initially seeking out technical (and, ultimately, confusing) instruction through grape growing seminars and winemaking break-out sessions, McKibben determined that he and Evan needed to start over with the basics. "So we discarded all of that technology that was available and we went to the half-price bookstores and antique bookstores," he said. "We wanted to know how they made wine 100 years before electricity. We really like to look back in time to see how they were doing things and to apply those principles to what we're doing today. Someday, maybe we'll have a sophisticated filter and all that, but for now we believe just rack it off a few more times and put it in oak and let it sleep."
Red Caboose currently has 16 acres of vines planted to mostly Mediterranean varieties, which thrive in the hot, sunny and short growing season in Texas. The winery's Tempranillo has proven itself particularly adept, with the La Reina label becoming a standout for the brand. Red Caboose is also known for its Port, Tempranillo-based blends and Viognier. The winery produces around 5,000 cases per year, but there are plans to increase production over the next several years.
---
The full story on Red Caboose Winery ~ and all our Hot Brands ~ will be available in our February 2013 issue of Wine Business Monthly. You can find it here starting Feb-1st. Or come by our booth #1324 to get your FREE copy.