Introducing the 2012 Top 10 Hot Brands ~ Milbrandt Vineyards
January 25, 2013

For the tenth year, Wine Business Monthly has compiled its list of the Top 10 Hot Brands.
The Hot Brands list is our chance to honor wineries that are innovative, curious, adventurous and, of course, delicious. These winemakers can be trailblazers or traditionalists (and are often both), but most of all, these are people who have dedicated themselves to crafting the best wines possible from their unique sites.
We've found ourselves quite taken with each of these brands this year. These are, as we like to say, wines that we'd serve to winemakers.
This year, we are releasing the Top 10 Hot Brands in alphabetical order.
Wine Business Monthly will be serving these wines to winemakers, grape growers and industry members at our annual gathering Bottle Bash during the Unified Wine & Grape Symposium. Tuesday, Jan. 29, 5:00-8:30pm at the Pyramid Alehouse in Sacramento.
Milbrandt Vineyards
2009 Traditions Merlot, Columbia Valley, Washington
Fourth-generation Farmers Creating a Diverse New Legacy
For more than 40 years, brothers and fourth-generation farmers Jerry and Butch Milbrandt have worked the land at their family's Columbia Valley farm in Eastern Washington. Dedicating themselves to growing row crops, orchards and planting a vineyard—let alone owning a winery and producing wine—was not in their plans. The wine industry, however, found the Milbrandts.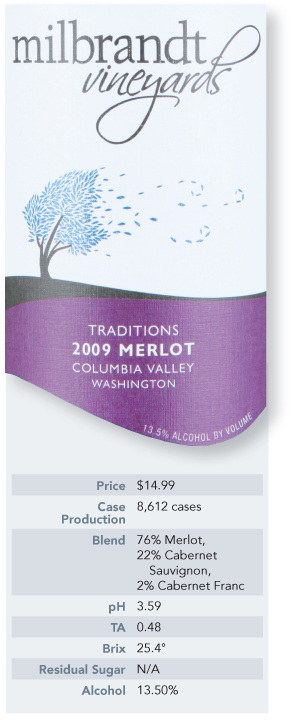 "We were farming most everything you can in the Columbia Valley—potatoes and apples and all of the above," said Butch. "In 1996, with the cold issues they had and the freeze, some of the larger wineries were looking for more growers. Since we'd been farming for a long, long time, we got a contract to grow grapes for one of the larger wineries."
Currently, they have about 2,300 acres planted to vine in the Columbia Valley and a total of 13 vineyard sites. Most are located in the warm Wahluke Slope AVA, with a few white-focused sites in the pending Ancient Lakes AVA.

Milbrandt described their entry into wine as "a farming decision" that gave the brothers an opportunity to expand their operation and diversify their crops. "Typically, farmers plant whatever is in demand. If the price of wheat goes up, you buy wheat. If the price of corn goes up, you buy corn," he said. "Grapes at that time looked like an opportunity to have a cash flow from a crop. We had been planting orchards for years, so we were totally familiar with the infrastructure that goes into a crop like this. We were willing to make that investment." The pair were fully committed to growing grapes, though, including selling off other properties to invest in new vineyard sites.
With their fruit garnering immediate accolades, the Milbrandts soon found themselves selling fruit to as many as 50 Washington wineries. "We became fairly well known as a vineyard source," said Milbrandt. "We got to thinking, our name was on the front and back of a lot of labels, so we thought we must have some traction, in the Northwest anyway." They'd also noticed a gap in the Washington market for a custom crush and bottling facility.
In 2005, the Milbrandts built the winery, processing 250,000 gallons in the first vintage and 3 million gallons today. In 2007, they launched their own Milbrandt Vineyards label, currently producing 60,000 cases across four tiers (including special club-only releases), under the guidance of director of winemaking Joshua Maloney. Meanwhile, farming remains a vital part of the Milbrandts' business.
---
The full story on Milbrandt Vineyards ~ and all our Hot Brands ~ will be available in our February 2013 issue of Wine Business Monthly. You can find it here starting Feb-1st. Or come by our booth #1324 to get your FREE copy.