For the tenth year, Wine Business Monthly has compiled its list of the Top 10 Hot Brands.
The Hot Brands list is our chance to honor wineries that are innovative, curious, adventurous and, of course, delicious. These winemakers can be trailblazers or traditionalists (and are often both), but most of all, these are people who have dedicated themselves to crafting the best wines possible from their unique sites.
We've found ourselves quite taken with each of these brands this year. These are, as we like to say, wines that we'd serve to winemakers.
This year, we are releasing the Top 10 Hot Brands in alphabetical order.
Wine Business Monthly will be serving these wines to winemakers, grape growers and industry members at our annual gathering Bottle Bash during the Unified Wine & Grape Symposium. Tuesday, Jan. 29, 5:00-8:30pm at the Pyramid Alehouse in Sacramento.

Jefferson Vineyards
2010 Cabernet Franc, Charlottesville, Virginia
Succeeding in Vineyards Where Our Forefathers Faltered
As one of history's great wine enthusiasts, Thomas Jefferson famously cultivated not only an interest in fine European wines amidst his colonial community, but had great hopes for vineyards grown on land surrounding his Monticello estate near Charlottesville, Virginia. Without disease-resistant rootstock, pesticides or modern equipment, however, the ventures proved impossibly difficult. Though, it is on these resurrected vineyard sites that Jefferson Vineyards now sits, on land with a rich American and winemaking history.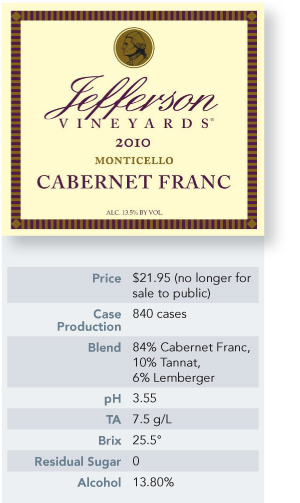 In 1774, an Italian physician, vintner and grape grower by the name of Philip Mazzei came to Monticello to visit with his friend Jefferson. Taken with the area and convinced he could successfully plant vineyards there, Jefferson gave Mazzei several hundred acres on which he would start Virginia's first commercial winemaking operation.
"The plan was that he got Jefferson and [George] Washington and several others to invest in a winery, but it never panned out," said Andy Reagan, winemaker and general manager at Jefferson Vineyards. "Mazzei planted a vineyard, but there were weather problems and there was a lack of pesticides and knowledge of the climate. Then the Revolution started and the winery just never happened."
It wasn't until 1981 that winemaking would again occur. The property's current owners (who have had the parcel in the family since the late 1930s) replanted vines on several sites previously identified by Jefferson and Mazzei for vineyard production. With roughly 23 acres currently under vine, Jefferson Vineyards primarily grows Viognier, Pinot Gris, Chardonnay, Cabernet Franc, Cabernet Sauvignon and Petit Verdot.
Grape growing in Virginia can be difficult, with pest and disease pressures coupled with notoriously uneven weather. "At every step of the season there is a challenge you have to worry about," said Reagan. "You have to worry about late frosts, then humidity and rain, and rain during flowering. Then you have what usually ends up being a really long, hot, humid summer which makes you have to be on the ball with canopy management. Then you have to worry about hail storms, then deer and turkeys and all sorts of other birds—or tourists. Then come harvest time you have to worry about hurricanes or tropical storms. It's always something to raise your blood pressure a little bit."
The 2010 Cabernet Franc is a stand-out wine, a product of an ideal growing season. "There was almost no rain, just long, sunny, hot days," said Reagan. "We were really fortunate; there was a rainy cold snap in August that allowed the seeds to ripen and catch up to the sugars, which were flying through the roof. In the vineyard, we were focused on canopy management and yields. We always keep our yields down to 1 1/2 to 2 tons per acre. Other than that, we're just careful making sure that we did the right thing in the vineyard while we go through. Cabernet Franc, actually, more so than with other varieties, we went through and dropped more fruit throughout the year. We go through those blocks about three or four times to drop fruit."
---
The full story on Jefferson Vineyards ~ and all our Hot Brands ~ will be available in our February 2013 issue of Wine Business Monthly. You can find it here starting Feb-1st. Or come by our booth #1324 to get your FREE copy.