For the tenth year, Wine Business Monthly has compiled its list of the Top 10 Hot Brands.
The Hot Brands list is our chance to honor wineries that are innovative, curious, adventurous and, of course, delicious. These winemakers can be trailblazers or traditionalists (and are often both), but most of all, these are people who have dedicated themselves to crafting the best wines possible from their unique sites.
We've found ourselves quite taken with each of these brands this year. These are, as we like to say, wines that we'd serve to winemakers.
This year, we are releasing the Top 10 Hot Brands in alphabetical order.
Wine Business Monthly will be serving these wines to winemakers, grape growers and industry members at our annual gathering Bottle Bash during the Unified Wine & Grape Symposium. Tuesday, Jan. 29, 5:00-8:30pm at the Pyramid Alehouse in Sacramento.
Hidden Ridge Vineyards
2007 55% SLOPE CABERNET SAUVIGNON, SONOMA COUNTY, CALIFORNIA
Dramatic Ridge-top Vineyard Defies Traditional Descriptions
Tucked away at 1,700 feet on the Sonoma County side of Spring Mountain, but not quite within the boundaries of the Sonoma Valley, lies a unique ridge-top vineyard. Two miles from the Napa County line, and accessible only by helicopter, four-wheel-drive vehicles or on foot, these 55 acres of grapes planted on a 55 percent slope are the source of Hidden Ridge Vineyards' wines.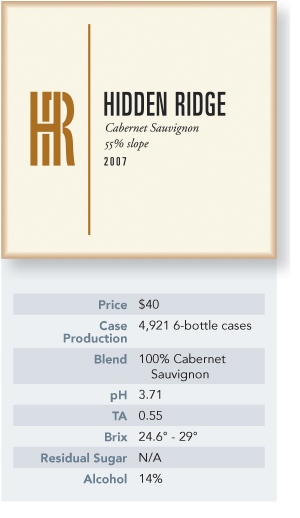 When the husband and wife team of Lynn Hofacket and Casidy Ward were looking for an undeveloped property in the early 1990s, it was with the intention of building a house. Hofacket in particular wanted a home with acreage, something similar to his childhood farming ranch in their native Oklahoma. When they arrived at the property at the end of the ridge, a location so remote their realtor refused to accompany them because of the time it would take and his belief that the couple "couldn't do anything" with the site, Hofacket was immediately taken with it.
"The minute Lynn gets here, he thought this was just so pretty that we had to buy it," said Ward. "And I was looking around thinking, 'But we are in the middle of nowhere!'"
After they completed the purchase, the couple considered what (and how) to build a home on the site but decided they would also like to do "something additional" with the property. Hofacket kept returning to the idea of a vineyard site. "At first, I didn't really seriously consider that it could be done," said Ward. "He kept saying that the dirt is really pretty good out here. I just thought originally that it'd be way too hard. But we were lucky enough to go to Europe one year, and one of the places we went to was the Mosel Valley in Germany. You could just look at them and say, 'Gee, I guess in Europe they have been planting places like this and making good wine, so it isn't impossible.' I had to be a little bit more open-minded about it.
"Lynn's a very practical guy, and he thought, 'Why couldn't we get it planted? Just get some equipment and we'll do it.' And that's pretty much what he did," said Ward. When planning the vineyard sites, Hofacket determined the boundaries by heading downhill in his tractor. When it began to slip, he would back up a bit and mark that as the end point.
At the steepest spots, the vineyards are planted on a 55 percent slope, about roughly equal to a black diamond ski run. In more geometric terms, it's somewhere between a 25- and 30-degree angle. "You can think about it as advanced skiing, advanced grape growing," said Ward. "We just think about it as athletic farming. We could have done an easier project, but then we wouldn't have anything that was as unique as this." This uniqueness led to the 55% Slope's selection as a 2012 Hot Brand.
---
The full story on Hidden Ridge Vineyards ~ and all our Hot Brands ~ will be available in our February 2013 issue of Wine Business Monthly. You can find it here starting Feb-1st. Or come by our booth #1324 to get your FREE copy.