In the January issue of Wine Business Monthly, writers shine a light on Cabernet Sauvignon: making it, growing it and selling it.
Lance Cutler interviews nine winemakers from three regions for a Varietal Focus about Cabernet Sauvignon. You may have read his other pieces featuring: Syrah, Pinot Noir, Chardonnay and Zinfandel. They have drawn a lot of positive feedback from winemakers, and we're excited to bring you another compelling piece.
More about the story from editor Cyril Penn:
This month's issue includes a Varietal Focus on Cabernet Sauvignon from Napa's hillsides, Napa's valley floor and from Washington.

These varietal focuses center on a single grape variety through interviews with distinguished winemakers from distinctive regions. They involve tastings where winemakers talk about what clones and rootstocks they used, what soil types they were planted on and how microclimates influence the variety. They discuss what they are doing to best express terroir. We seek to determine which fermentation techniques lend themselves to which styles and to delineate the unique characteristics of each variety.

In addition, columnist Mark Greenspan writes about growing Cabernet, Jennifer Thomson covers supply, and the monthly retail sales analysis brings you the numbers from Nielsen.
David Freed, chairman of the Silverado Group, said:
"Cabernet, from your perspective and ours, is hot and getting hotter."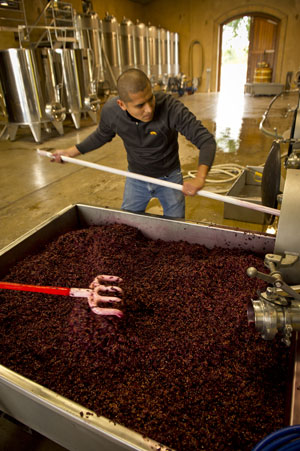 Pictured above: Figgins Family Wines Estates, Walla, Walla, Washington