At the European Wine Bloggers Conference in Izmir, Turkey, the general tone and presentations were much higher and better thought out than the U.S. Wine Bloggers Conference. There was more focus and a higher level of presentations. No speed pouring. It was a fascinating program, in part because of its location. The EWBC was held the night of the 7th and the 8th, 9th and 10th of November.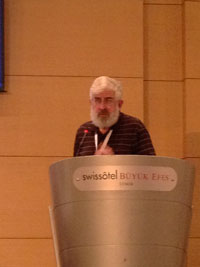 Patrick McGovern
The best two presentations had a minor link; the origins of where wine was first produced. The first was a presentation by Patrick McGovern PHD, a chemist and archeologist, and José Vouillamoz, a grape geneticist and co-author of the new Wine Grapes book, with Jancis Robinson MW and Julia Harding MW.
Dr. McGovern began with his presentation. He showed slides on uncovering an Iron Age (700-750 BC) Royal tomb where they found evidence of grape wine production. Areas of Turkey, he said, go back with wine to 8500 BC, and they have goblets from that time they are now analyzing.
He said we know the Hittites in 1500 BC had a wine culture. He posed the question, "Is the homeland of viticulture in eastern Anatolia?" He said there were other areas like Armenia and Georgia that also had a long history with wine production.
Dr. Vouillamoz the grape geneticist supposed that two to three percent of wild vines were hemaphrodidic, and he found a hemaphrodidic plant in eastern Turkey. He thought that grape domestication probably began in SE Anatolia and the transCaucasia area; the Fertile Crescent. He said there are plant remains that date back to 8000BC in the Fertile Crescent. But he reinforced that the most likely place for grape domestication is in SE Turkey (Anatolia).
He put up a chart showing the Pinot Noir is a likely parent for Syrah, Lagrein and Teroldego.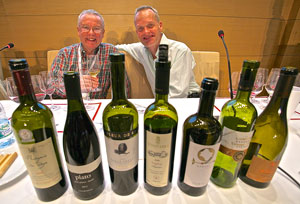 Charles Metcalf and Tim Atkin MW
He summarized that the grape was likely domesticated in the near East: Eastern Turkey, Georgia or Armenia, or all of them. There are only a small number of possible genetic combinations with vinifera. And he concluded that with the obscure indigenous grape varieties; save them, and drink them.
The related session was a tasting, led by Charles Metcalf and Tim Atkin MW, with wines from Turkey, Armenia, Lebanon, and Georgia; The Fertile Crescent.
The wines that surprised most of the crowd were the Armenian wines. As most of the group had not tasted an Armenian wine before (Jamie Goode likely the odd exception), most of the audience was surprised and impressed with them.