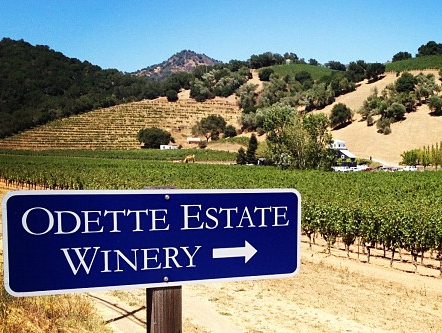 If you've been reading the wine news, you may remember that The PlumpJack Group, which owns PlumpJack Winery and CADE, just renamed the old Steltzner winery in Napa's Stags Leap district and opened to the public: They're calling it Odette Estate. The group, led by Gordon Getty and California Lieutenant Governor Gavin Newsom, with John Conover, general manager, plans to develop a new Stags Leap wine brand.

They purchased the property back in February but coming up with a new name for a winery takes time. So many names are already taken and then one needs to make sure there aren't any obvious trademark issues.

Gordon Getty loves wine. He's passionate about wine, music, and economic theory. Now 78, he's J. Paul Getty's son and writes operas. Getty wrote an Opera called PlumpJack and in 1994, when the partners opened their wine shop in San Francisco, they used PlumpJack, who is Jack Falstaff, a roguish kind of character. Jack had gout, ate too much and drank too much – he was thus nicknamed PlumpJack.

"It ended up being a great name," Conover says. "If you went to a focus group, they'd tell you it was the worst name ever, but for us it was the right name."

That name has since been used with the PlumpJack Squaw Valley Inn, at the PlumpJack resort, at the Carneros Inn, and with PlumpJack winery in Oakville.

CADE is the group's winery on Howell Mountain and that name was pulled from Shakespere too: Within the plays, wines were shipped from Bordeaux to London in barrels or casks: One would purchase wines from the CADE – a wine vessel.

Odette was chosen because of a Shakespere tie-in and because of Getty's love of music. Odette is a minor character that appears in Henry the Fifth in the last scene. Additionally, Princess Odette is the lead ballerina in Tchaikovsky's Swan Lake – and according to Plumpjack marketing director Christian Oggenfuss, Odette is a central character in one of Proust's novels. Finally, he says, Odette Kahn was one of the judges at the famed Paris Tasting in 1976 and is said to have tried to retrieve her ballot and to recall her vote because she was dismayed at having voted for American wine over French wines.

Oggenfuss said Stags Leap wines have a more "feminine" feel to them than do wines from Oakville or Howell Mountain so the name reflects the femininity of the property and also its strength. "This is a character that is feminine yet strong in all these literary and music works," he said.
They've been busy sprucing the winery up too. Here are some pictures of the process that we came across via twitter.