Friday, July 6, 2018
by Eric Jorgensen | July 6, 2018 | 8:14 AM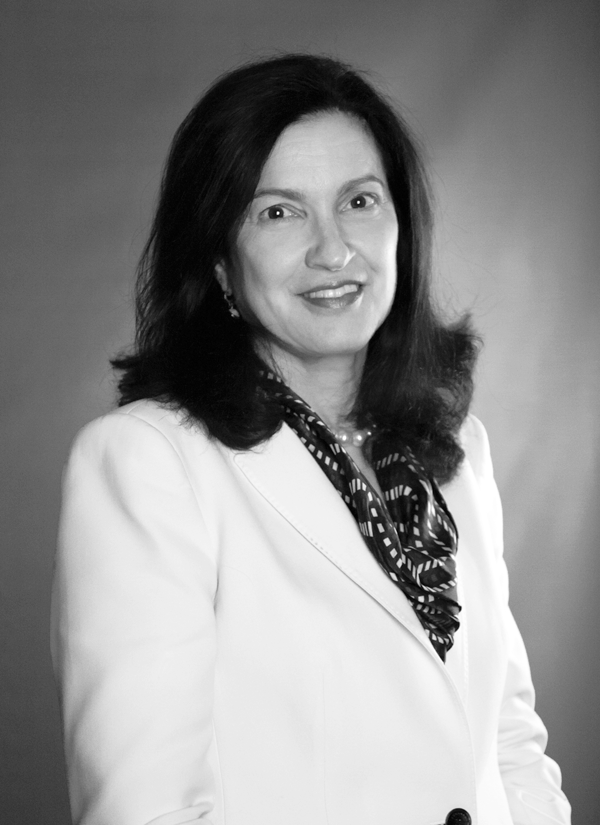 Magareth Henriquez, CEO of Krug Champagne, shared lessons she has learned about how to market, communicate and sell luxury products at a recent gathering at the San Francisco Wine School. Ms. Henriquez described coming to Krug Champagne in 2008, the year of the Financial Crisis. Sales for Krug Champagne dropped 35 percent in 2008 and another 40 percent in 2009.

With a background in marketing Consumer Packaged Goods (CPG), Ms. Henriquez tried to apply lessons she'd learned in marketing mass-market products. She quickly discovered, however, that she could not market Krug like a mass-market product and had to change her approach.

A colleague suggested two books: Luxury Management by Jean-Noël Kapferer and V Bastien (English version of Luxe Oblige), and Luxe by Christian Blanckaert. After reading these books and studying all the information she could find about marketing luxury products, Ms. Henriquez learned that marketing luxury products has nothing to do with consumer need. Luxury brands almost always are tied to an individual, usually the founder, who goes beyond what others are doing with a particular product. She further realized that Krug's employees knew little about the founder's vision--the reason for being. It is critical for the person marketing the brand to understand the vision and the dream of the person that founded the company and to communicate that dream and vision within the company and to the market.

With these insights, Ms. Henriquez started remaking the marketing at Krug. The first task was to do extensive research to find out as much as possible about Joseph Krug, the founder of Krug Champagne.

Joseph Krug was making champagne in the first half of the 19th century. In that time, the quality of the champagne produced each year varied greatly, depending on the quality of each year's harvest. Joseph Krug's dream was to produce a great champagne every year, regardless of the climate. Joseph Krug achieved his goal by fermenting wines separately from each vineyard and holding back some wines from individual vineyards from different years. These wines from previous harvests of different vineyards were then blended with the current year's selected wines to create the fullest exression of champagne each year, resulting in a great champagne every year.

Another change made by Ms. Henriquez was to provide transparency in terms of composition of the blends.

To this end, she created the Krug ID. Each bottle of Krug is equipped with an ID Code on the back label that can be entered into the Krug website. When the ID Code is entered, detailed information about the blend is revealed. For instance, the ID Code for the bottle of Krug Grande Cuvee 160th edition is ID 214025. Entering this code on the Krug website shows the Grand Cuvee 160th edition is a blend of 121 wines from 12 years (the oldest, 1990; the most recent, 2004). The website also reveals the seasonal challenges that led to the 160th edition's creation, with excerpts from cellar master Eric Lebel's notebooks.

Ms. Henriquez believes buyers of luxury products won't buy luxury products they don't understand. By communicating Joseph Krug's vision and providing transparency into how that vision is achieved with each new edition of the Grand Cuvee, as well as with every bottle of Krug, Ms. Henriquez has allowed her customers to understand Krug Champagnes. And they are buying it.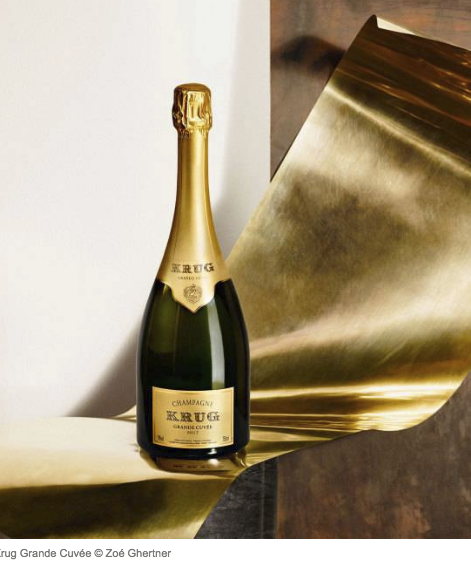 Friday, June 1, 2018
by Erin Kirschenmann | June 1, 2018 | 6:28 PM

More than 2,000 vintners, industry members and wine lovers joined together on a beautiful Friday afternoon at Charles Krug Winery for the annual Napa Valley Barrel Auction, setting new fundraising records. As winemakers poured samples of their (mostly) 2016 Cabernet Sauvignon straight from barrel, eager bidders placed their bets for single cases of that wine once released--all in the name of charity. Proceeds from the Napa Valley Vintners auction, as well as from the main Auction Napa Valley Live Auction Celebration, benefit community health and children's education nonprofits.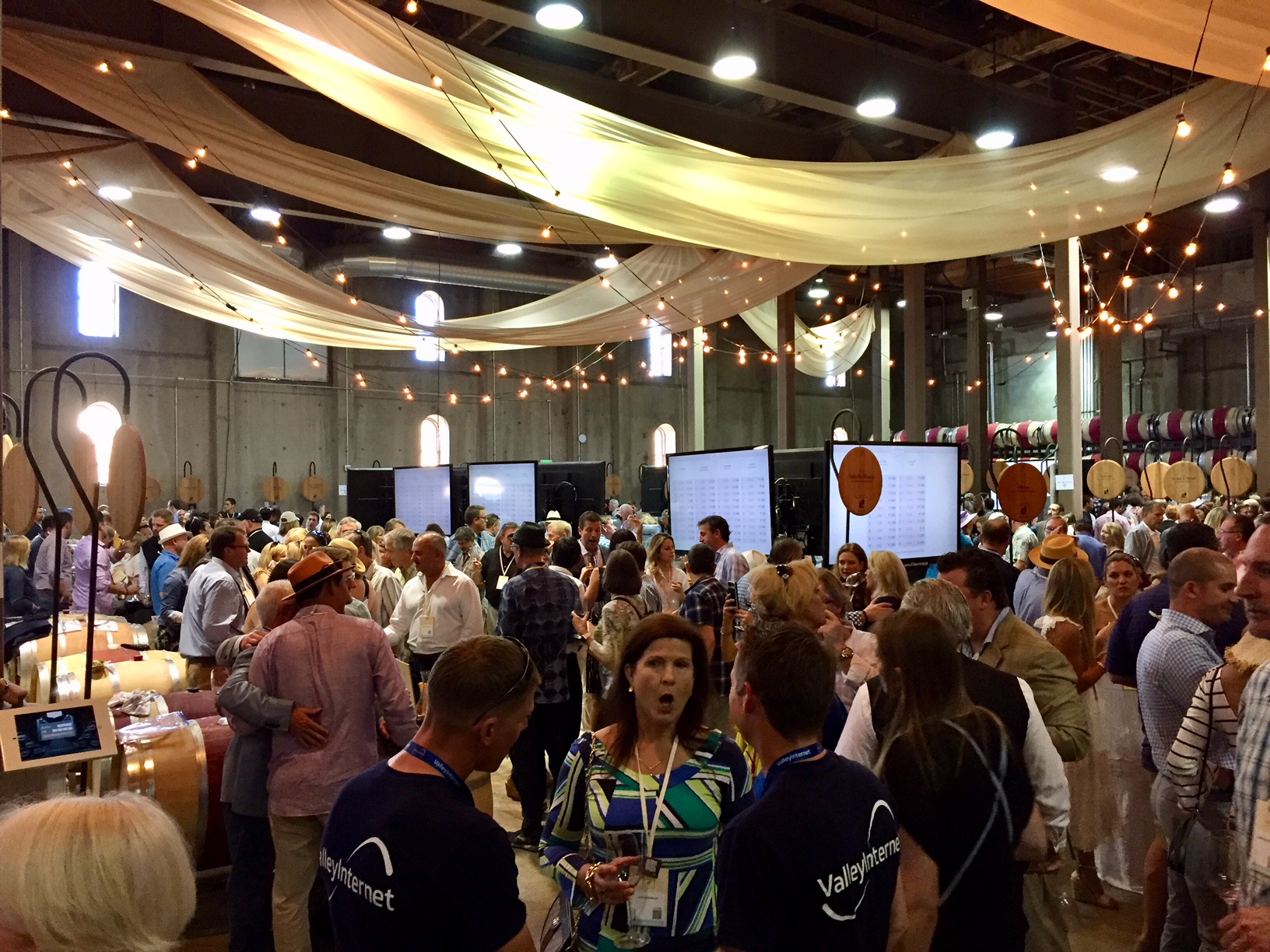 Of the 110 wineries which donated a barrel of wine to charity, these were the top 10 lots:
VGS Chateau Potelle - $114,300
Cardinale - $68,900
Staglin Family Vineyard - $54,150
The Mascot - $47,200
Spottswoode Estate Vineyard & Winery - $45,450
Joseph Phelps Vineyards - $43,450
Continuum Estate - $42,350
Shafer Vineyards - $40,800
Chappellet Vineyard - $38,550
Covert Estate - $34,000
Wednesday, May 30, 2018
by Kerana Todorov | May 30, 2018 | 7:30 AM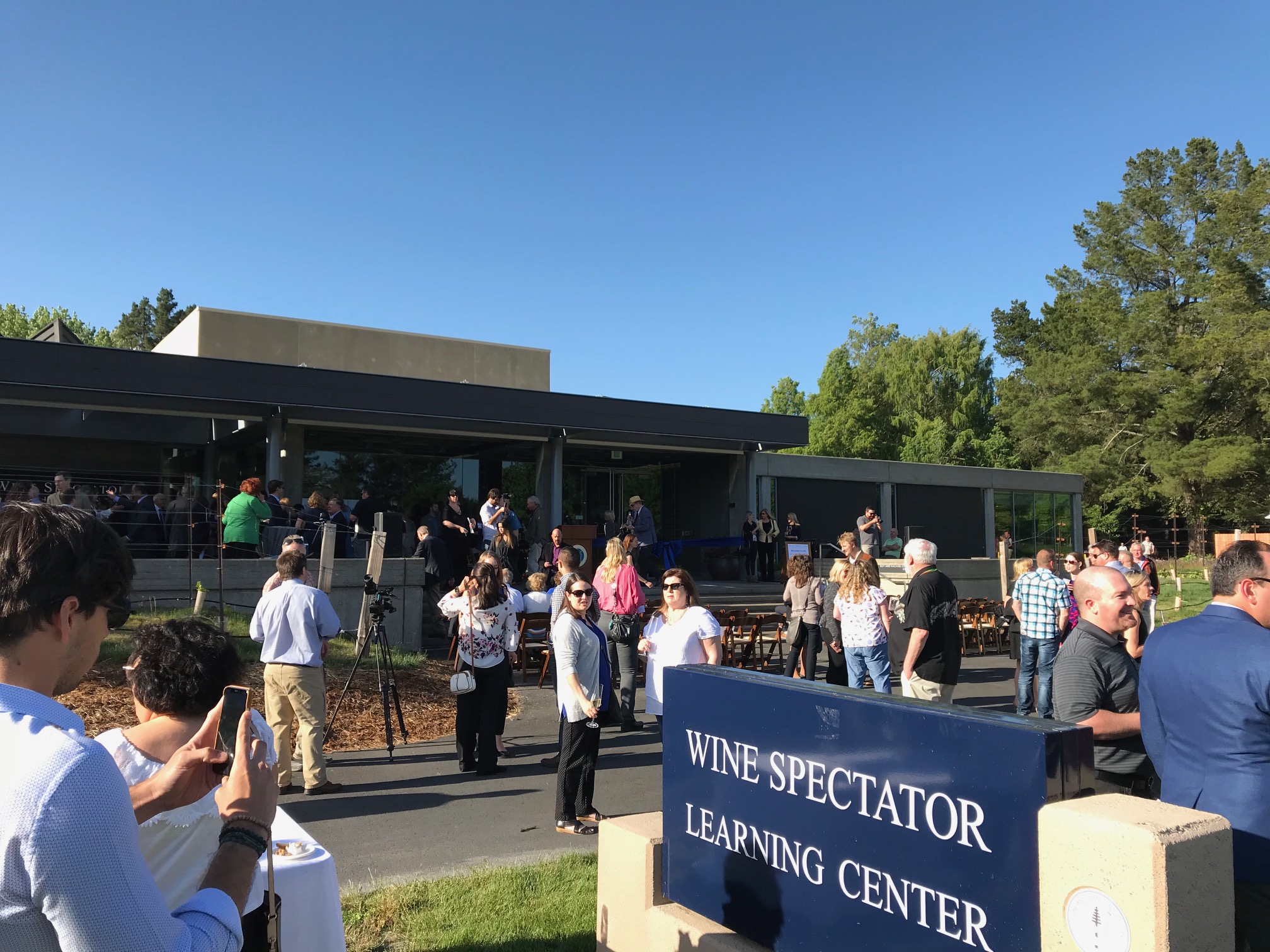 The Wine Business Institute is moving into a new home at Sonoma State University, its first dedicated building since it was established more than two decades ago.

On Tuesday, the school celebrated the grand opening of the $11 million Wine Spectator Learning Center at the former University Commons building on campus with sparkling, cheers and speeches. The 15,000-square-foot building features classrooms designed for group learning, tastings, and equipped to host virtual guests.

Ninety-percent of the costs of the two-year renovation project were covered with private donations, including $3 million from the Wine Spectator Scholarship Foundation.

"Our vision is to be the global leader in wine business research and education," Ray Johnson, executive director of the Wine Business Institute, told the crowd gathered in front of the new Learning Center.

"And today we have a home, a place, a learning center that really is fitting for such a vision. It's the place from which we can now realize this vision," Johnson added.

The institute is a division of Sonoma State's School of Business and Economics. The school has conferred more than 1,000 undergraduate degrees focusing on the business of wine since 1998; 50 master's in business administration in wine business since 2008; and another 112 Executive MBAs since 2012.

"We are quite pleased to say that Sonoma State is the premier university in the country for the study and research of the business of wine," Sonoma State University president Judy Sakaki told the guests.

U.S, Rep. Mike Thompson, D-St. Helena, presented a plaque with the remarks he made on the House floor to honor the Wine Spectator Learning Center.

Thompson said the wine industry represents $180 billion a year in economic activity. "That's important for agriculture. It's important for our environment, our economy, jobs, taxes and it's important for our way of life."

The data generated from research will help public policy makers, Thompson said.

"The research aspects of what's going to take place in this building, is not only going to help the wine community, it's not only going to help the business aspect, but it's going to help public policy folks as well," Thompson said.

"Our wine business programs exemplify the university's commitment to meet local workforce needs. Clearly, in our region, with nearly 450 wineries, there is an interest and demand for individuals who are knowledgeable, experienced and can successfully run a wine business."

Marvin Shanken, editor and publisher of Wine Spectator Magazine, told the students "Get crackin'!"

He also joked that his one contribution was to insist that students have a place to eat in the building.

He thanked the donors and the magazine's staff for their contribution to journalism over the past 40 years. "This is our building too," Shanken said.

Gary Heck, owner of Korbel Champagne Cellars, who envisioned the program 22 years ago, led the toast to the Wine Business Institute and the Wine Spectator Learning Center, as dignitaries gathered to cut a blue ribbon and allow the guests into the building. "Cheers everyone!"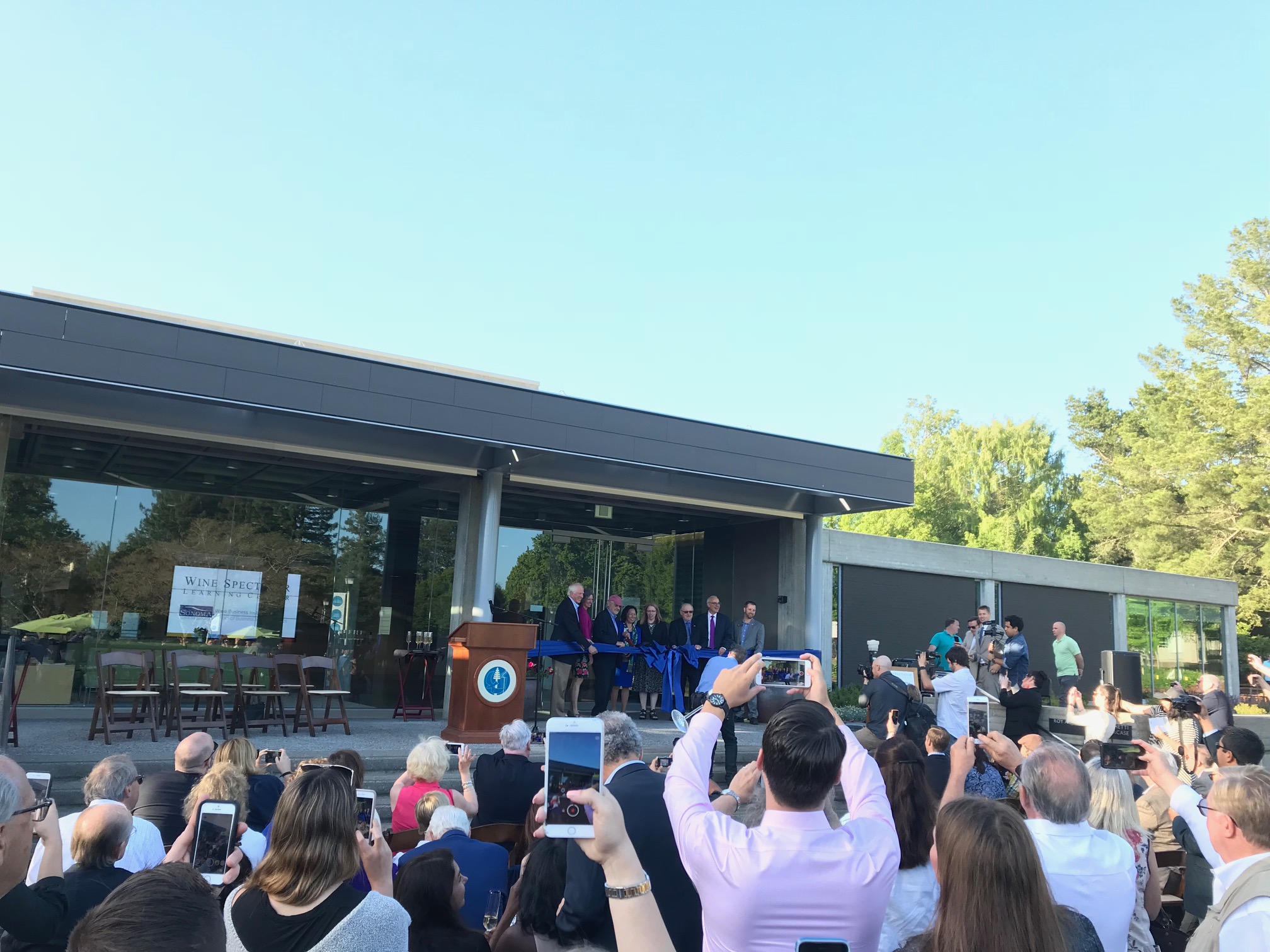 Tuesday, May 8, 2018
May 8, 2018 | 3:30 PM

WSWA's 75th Annual Convention & Exposition kicks off with a historic look at the stories that make up WSWA, followed by the opening remarks from WSWA President & CEO Craig Wolf.

Monday, May 7, 2018
by Kerana Todorov | May 7, 2018 | 2:00 PM

Napa County residents and other visitors on Saturday headed to vineyards they see every day but do not stop by. They were invited to take part in "Afternoon in the Vineyards," an event Napa Valley Vintners and Napa Valley Grapegrowers sponsor every year.

One such stops was Starmont, a Merryvale Family of Wines property visible from Highway 29 off Stanly Lane in Carneros. About 50 acres of planted vineyards surround the winery.

While the winery was built in 2006, its tasting room only opened in July 2015.

"It's an opportunity to extend a little extra for our local people so that they know more about us and try the wines," said Toni Hunt, of Merryvale, at Starmont.

Starmont is a little off the beaten path, she said. "We try to get local people here."

"Afternoon in the Vineyards" is also a way to advertise the Napa Green, an environmental program for wineries and vineyards.

Michael Costley, viticulturist and vineyard operations at Merryvale Family of Wines, led tours to the sustainable vineyard behind Starmont, pointing to owl boxes, the weather station he routinely repairs and the solar panels visible on the winery's roof. There is no Roundup use at Starmont, he said.

Other vineyards on the "Afternoon in the Vineyards" tour were: Luna Vineyards; Baldacci Family Vineyards; Alpha Omega; Clos Pegase and Duckhorn Vineyards' Three Palms Vineyard off the Silverado Trail near Calistoga.

"it's an incredible site," said Duckhorn viticulturist Courtney Preston after leading the last tour of the vineyard planted in 73.66 acres of Merlot, Cabernet Sauvignon, Petit Verdot, Malbec and Cabernet Franc. "I love showing this vineyard to people," Preston said.

Duckhorn Wine Co. in 2015 purchased the 83-acre vineyard which brothers Sloan and John Upton had planted in 1967.

Preston focused Saturday's conversations on viticulture. The visitors were engaged. Questions ranged from the physiology of the vine to watering, nutrition, soil and vineyard health. "I just love having the community come out here," Preston said.

Among the visitors at Three Palms Vineyard were Chaz and Tonya Lemmon of American Canyon in south Napa County.

The Lemmons take part in "Afternoon in the Vineyards" and other community events sponsored by the Napa Valley Vintners, including "Morning in the Winery." The last "Morning in the Winery" was in January.
On Saturday, the Lemmons said they enjoy learning about the wine industry.

"It's fun because every time you go you learn something new," said Chaz Lemmon, a chemical engineer.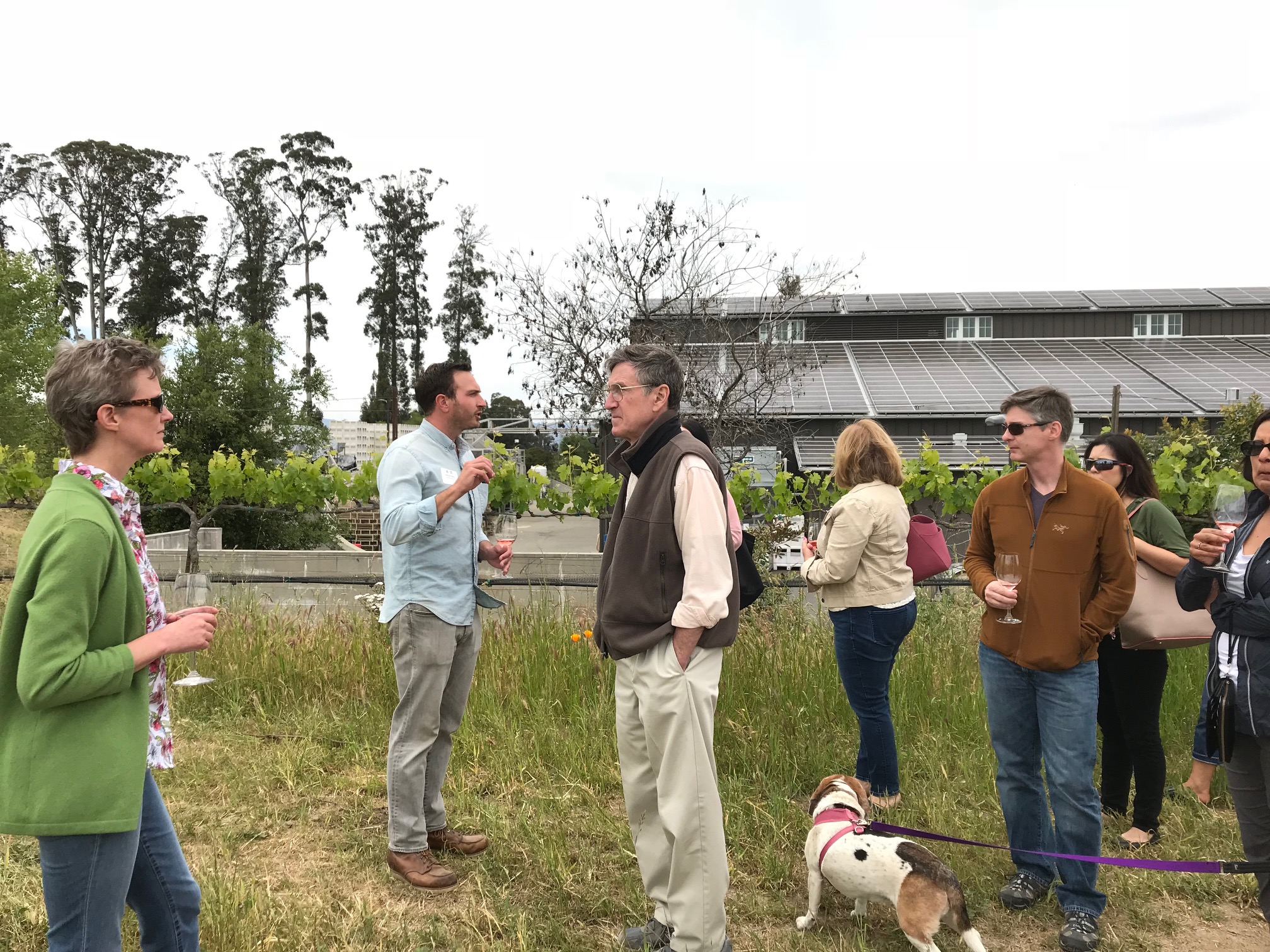 Michael Costley, viticulturist and vineyard operations at Merryvale Family of Wines, second from left, leads visitors to tour Starmont in Carneros during "Afternoon in the Vineyards." The event invites members of the community to visit vineyards close to home.
by Kerana Todorov | May 7, 2018 | 7:09 AM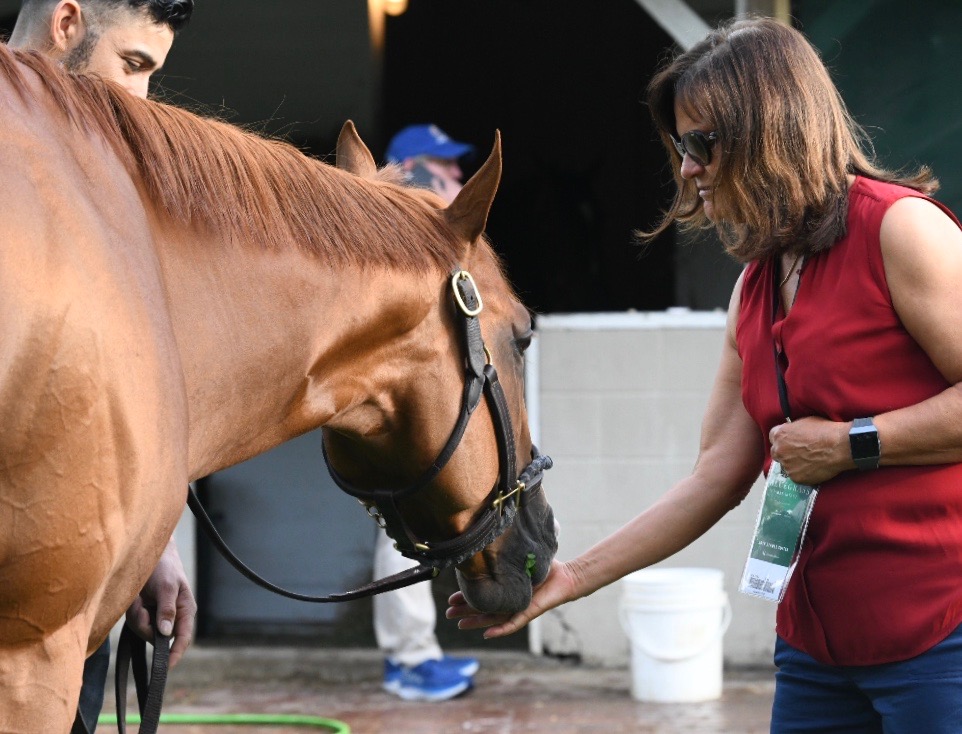 Jackson Family Wines' owner Barbara Banke said she was a little disappointed but proud this weekend after her horse, Good Magic, crossed the finish line at the 2018 Kentucky Derby in second place.

Her horse had created a buzz among the horse racing writers for days ahead of the race. But in the end, Justify, a colt with three straight wins this year, crossed the finish line 2 ½ lengths ahead of Good Magic to win the 144th Kentucky Derby as rains drenched Churchill Downs. Banke was rooting for Good Magic from the owners' box.

"We were jumping up and down," Banke said Sunday. "I was a little disappointed not to win."
Still, Banke said, she is very proud of Good Magic. "He's a very good horse."

Good Magic has been on a stride. He won the 2017 Breeder's Cup Juvenile at Del mar after finishing second in the Champagne Stakes at Belmont.

He will now rest until he's ready for the next race. The Kentucky Derby is only open to 3-year-old horses.

Good Magic was bred and raised at Banke's Stonestreet Farms in Kentucky before the horse was sold at auction. Banke, who maintained 50 percent ownership, co-owns Good Magic with E Five Racing Thoroughbreds.

Good Magic was following in his father's footsteps Saturday when jockey Jose Ortiz led him out of the gates at Churchill Downs.

Banke has had three horses at the Kentucky Derby, including Good Magic's father, Curlin. A two-time Horse of the Year, Curlin finished in third place at the Kentucky Derby in 2007. Curlin also won the Preakness and the Breeder's Cup Classic that year and was second in the Belmont Stakes.

As it turns out, Curlin also sired two other horses that competed in the 144th Kentucky Derby – Vino Rosso and Solomini.

Banke, who was scheduled to fly home to California Monday after a week in Kentucky, enjoys the Kentucky Derby's weeklong activities. "You see a lot of friends," Banke said Sunday before hosting a party for 50 guests at Stonestreet Farms.

While Kentucky is bourbon country, Banke did bring her own wines, including Stonestreet and Jackson Estate wines.
May 7, 2018 | 7:00 AM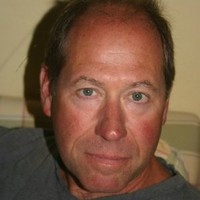 Rod Smith, one of the first American newspaper and magazine writers specializing in fine wine, passed away on May 3.

Smith wrote for publications such as the the San Francisco Chronicle, Los Angeles Times, and Wine & Spirits. He won two James Beard Awards for wine writing.
The following announcement was sent out by his family over the weekend:
With heavy hearts, the family of Rod Smith announce his sudden passing on May 3, 2018.

A noted wine and travel writer, Rod was born in Portland, Oregon and grew up around the country with his family. He graduated from Pomona College and moved to San Francisco intent on becoming a writer. He became interested in wine just as Northern California wines were becoming world famous, and wrote about vintages and varietals for the San Francisco Chronicle, the Los Angeles Times, Wine & Spirits and other publications.

He published two books: Private Reserve: Beaulieu Vineyard and the Rise of the Napa Valley and The Art of Terroir: A Portrait of California Vineyards. He was also the recipient of a James Beard award for magazine writing in 2000.

Rod loved literature, art, music, nature and Giants baseball. He will be truly missed. He is survived by his wife Catherine, children Helen and Rocco, mother Anona, sister Terri, brother Brad and numerous nieces, nephews and friends.

A memorial service will be held Wednesday, May 9 at 2:00 at St. Paul's Episcopal Church, 209 Matheson St., Healdsburg. Reception to follow at the Bartolomei Ranch, 7000 Giovanetti Road, Forestville.
Thursday, April 19, 2018
April 19, 2018 | 7:43 AM

The Supreme Court of Canada issued its ruling this morning in a case challenging restrictions on interprovincial trade and declined to remove barriers to allow winery direct shipping to customers across Canada. In a case that was specific to beer, the court said provinces have the right to restrict trade for a number of reasons.
Miles Prodan, President & CEO of the British Columbia Wine Institute, told Wine Business Monthly the industry will continue negotiating with individual provinces, saying, "We've been fighting this for a number of years and will continue. ... We find it ironic that we are one of the only wine producing countries in the world where we can't sell wine directly to our countrymen."
The British Columbia Wine Institute expressed it's dissappointment in a news release, saying:
The British Columbia Wine Institute and its members today expressed disappointment with the Supreme Court of Canada's ruling on Her Majesty the Queen v. Gerard Comeau. The case challenged restrictions on interprovincial trade, an issue the BCWI and the Canadian Vintners Association (CVA) has been working on for over a decade.

This morning at 9:45 a.m. (EST) the Supreme Court of Canada has ruled on Her Majesty the Queen v. Gerard Comeau. The ruling states the following: Section 121 does not impose absolute free trade across Canada.

"The Court's ruling today is disappointing for the BC wine industry." Said Miles Prodan President & CEO of the BCWI. "We will continue our work both directly and through the CVA with the federal / provincial / territorial governments' Alcoholic Beverages Working Group, industry, governments and the provinces to remove the barriers and allow winery direct shipping to customers across Canada."

"We respect the Court's rulng but are disappointed at this missed opportunity to remove interprovincial trade restrictions," said Dan Paszkowski, President & CEO of the CVA. "Removing restrictions would have opened the door to allowing consumers to order wine for direct delivery to their home from any Canadian winery located in any province. We call that Direct-to-Consumer, it is something nine out of 10 Canadians believe should be permitted, and we now eagerly await the provinces making this choice available to their citizens."

In October 2012, Gerard Comeau of New Brunswick purchased beer and spirits in Quebec and drove back to New Brunswick. He was charged with possessing liquor purchased from outside the province in quantities that exceeded the province's prescribed limit, an offence under section 134 of the New Brunswick Liquor Control Act. The trial judge held that section 134(b) of the Liquor Control Act constitutes a trade barrier (violating section 121 of the Constitution Act, 1867) and dismissed the charge against Mr. Comeau. The case subsequently made its way to the Supreme Court.

"It's important to recognize that interprovincial trade barriers affect a range of industries, including wine." Says Paszkowski

Unfair interprovincial trade barriers have impeded Canada's wine industry growth and prevented consumers from purchasing the Canadian wines of their choice.

"This morning's ruling is disappointing for our industry. Every wine producing nation in the world has direct sales within its own country" said Tony Stewart, Proprietor & CEO of Quails' Gate Winery. "Canada needs to correct this so that we can start to create a level playing field with the rest of the world."

Canada's wine industry had seen the ruling as a way to open the doors to direct-to-consumer wine purchases across the country, something consumers believe should be done.

Direct-to-Consumer wouldlead to important growth for the country's highest value agricultural industry. Indeed, free interprovincial trade would positively impact the economy across the country. Industry research shows that for every $1.00 spent on Canadian wine in Canada, $3.42 in Gross Domestic Product (GDP) is generated across the country.

Monday, April 16, 2018
April 16, 2018 | 6:45 AM

Recipients of the 2018 Green Medal Awards - Bogle Vineyards, St. Supéry, KG Vineyard Management, Cakebread Cellars - were honored at a ceremony at the California State Capitol last Wednesday.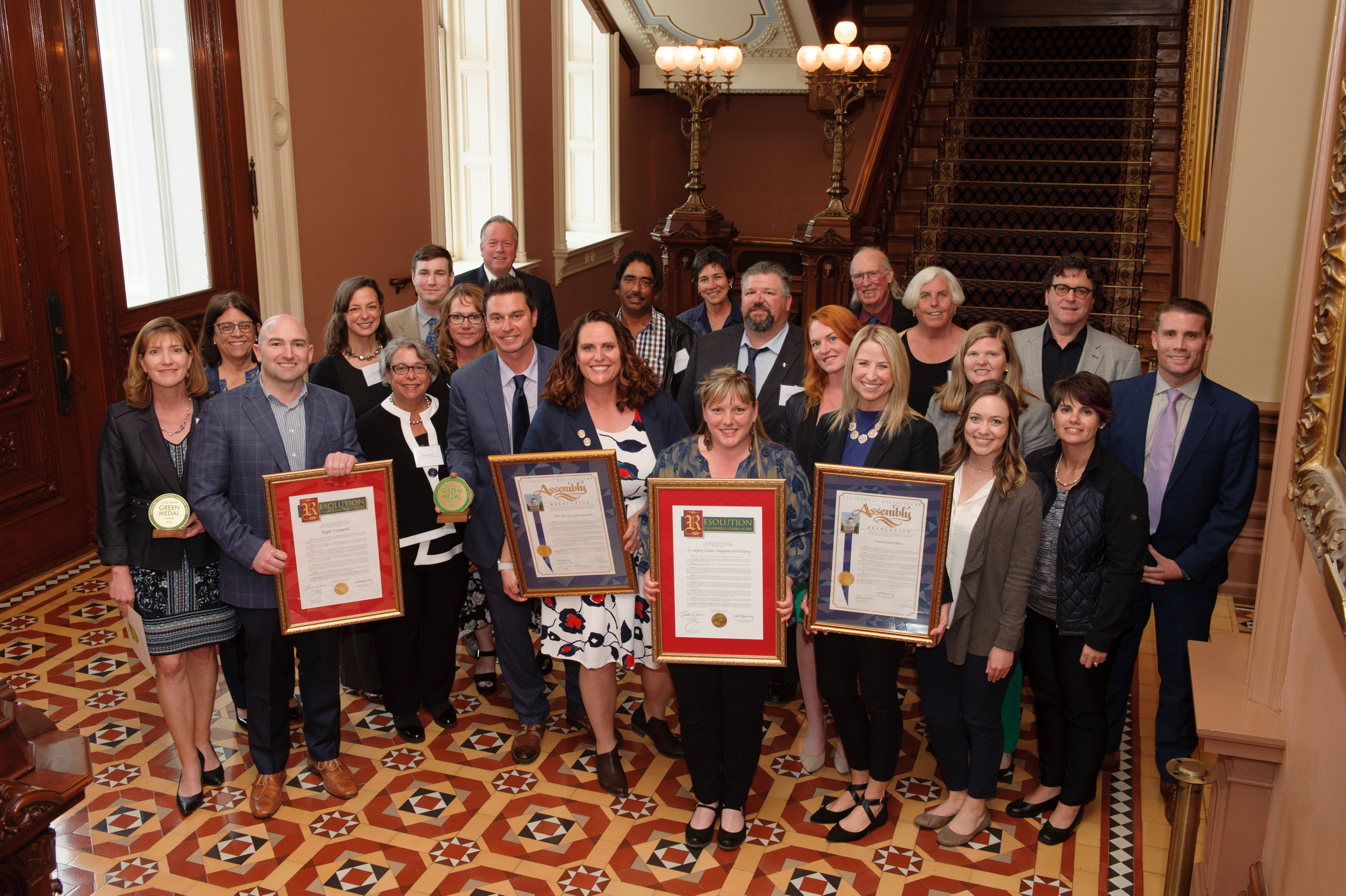 Monday, April 2, 2018
April 2, 2018 | 11:04 AM

Sunset Magazine will not be hosting the Sunset International Wine Competition this year.
In an email to wine judges, marketing director Heather Bowden said:
Sunset has gone through a lot of changes in the past few months; a private equity firm in Los Angeles bought Sunset last November, and we are in a phase of reimagining, rebuilding, and strategizing. At this time we've made the difficult decision to take a temporary pause on our International Wine Competition. Wine is still very much at the core of Sunset, we will continue to highlight it this year and possibly debut a consumer wine experience, and hope to revisit and reimagine a brand-new slate of wine programming next year.