Wednesday, October 11, 2017
October 11, 2017 | 12:00 PM

October 11, 2017

Statement from Karissa Kruse, President of Sonoma County Winegrowers:

"Today, the fires continue to burn out of control, power and cell service is spotty and access around Sonoma County is still highly restricted. With more than 90% of the winegrape harvest completed in Sonoma County, many growers in safe zones are heading out today to begin picking the remainder of their crops provided they can get their grapes to their winery destination. In fact, some Chardonnay, likely the last to be picked in Sonoma County this year, was harvested this morning in the Russian River Valley and I am pleased to report the grapes were of excellent quality and were able to get to a winery in Napa Valley. On a positive note, given how late it is in the season, the concern of smoke taint on the grapes currently on the vine is low. This assessment would be much different had the fires occurred in late July or early August.

We have only confirmed that Paradise Ridge Winery in Santa Rosa has been destroyed. We have been unable to obtain accurate updates from Sonoma Valley as most of that area is still under evacuation orders. Please know that the Sonoma County wine community has been overwhelmed with the positive thoughts, prayers and support we have received from across the county and around the world. It gives us the strength to stand strong and know our communities will survive."
October 11, 2017 | 9:09 AM

A series of wildfires ignited by dry conditions and strong winds late Sunday has impacted numerous areas in California including Mendocino, Napa and Sonoma Counties. According to Cal Fire, some 17 large wildfires continue to burn across the state of California and have consumed over 115,000 acres. Fetzer Vineyards' employees and their families are accounted for and safe, and our winery and nearly 1,000 acres of Mendocino County vineyards remain out of harm's way. Regions most severely impacted by fire in Mendocino County are the northerly Redwood Valley and Potter Valley areas, where a fire called the Redwood Complex has consumed 21,000 acres as of today and remains active. Fetzer Vineyards' headquarters is located in the Hopland area, more than 20 miles south of this fire, and is not under threat at this time.

Status of Grape Harvest
As of today, Fetzer Vineyards has harvested a significant portion of grapes to be picked this harvest season and we continue to process fruit for the 2017 harvest at our Hopland winery. Scheduling and coordinating remaining picks is a priority, and we are following a safety-first approach while moving ahead with the harvest as quickly as possible. It remains unclear the extent to which our grower partners have been affected by the state's fires, and our thoughts are with our partners and everyone impacted by these events.
Tuesday, October 10, 2017
October 10, 2017 | 4:04 PM

CAWG Statement on Wine Country Wildfires

SACRAMENTO, October 10, 2017 – The California Association of Winegrape Growers (CAWG) is saddened by the loss of lives, structures and property due to wildfires in Napa, Sonoma and Mendocino counties.

We share our deepest sympathies with the thousands of people who have been and will be affected by this tragedy. We are grateful to the firefighters, first responders and community members who are helping to protect lives and property.

"In the coming days, we will have a clearer picture of the extent of damage that has occurred to vineyards and wineries and the response needed to aid recovery," CAWG President John Aguirre said. "Until then, our thoughts and prayers go to all of those impacted by this unfolding disaster and to the men and women who are bravely battling these fires."

CAWG will work with members of the California congressional delegation, key federal officials and other wine industry organizations to ensure adequate resources are provided for disaster response and recovery efforts.

October 10, 2017 | 3:41 PM

JACKSON FAMILY WINES RELEASES STATEMENT ON NORTHERN CALIFORNIA FIRES

"In response to the devastating fires in Sonoma and Napa, our priority has been and remains the safety of our Jackson Family Wines family, friends and colleagues.

Today, we have suspended all farming and harvest activities in the north coast while we focus on our people. The main office is working with limited staffing and electrical power to meet basic operational needs.

Currently there appears to be no damage to any of our facilities but we are monitoring the situation closely. Our thoughts are with everyone in our community who has been affected." -- Rick Tigner, President and CEO of Jackson Family Wines

At this point no one from Jackson Family Wines is available for additional interviews.


October 10, 2017 | 10:56 AM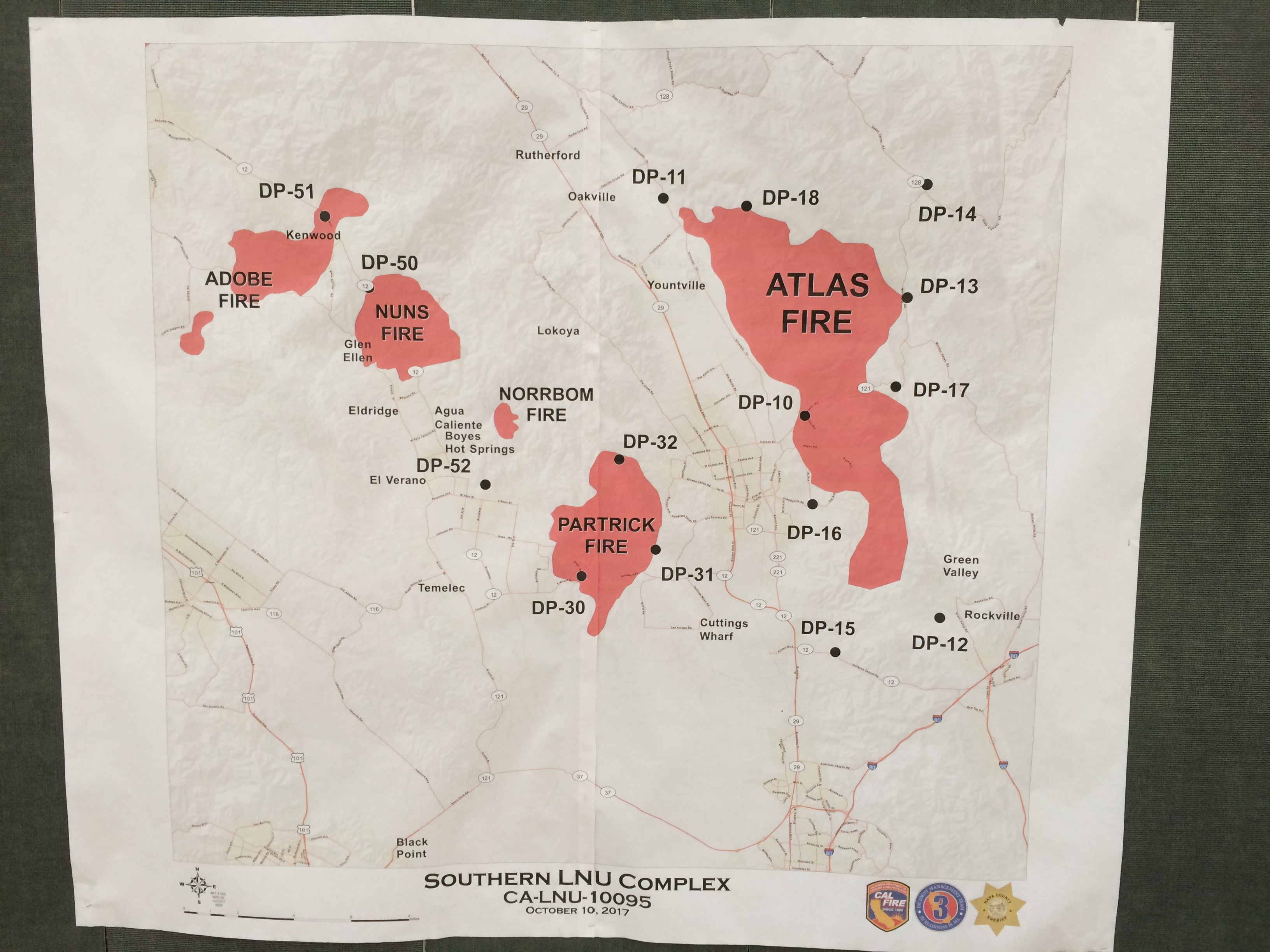 At Least three wineries in the Napa Sonoma area had been confirmed destroyed by fires by mid-day Tuesday.
Signorello Estate in Napa and Paradise Ridge in Santa Rosa are confirmed as having burned down.
Nathan Frey of Frey Vineyards told Wine Spectator his family's winery is gone.
There were unconfirmed reports of damage at many other wineries
The Napa Valley Vintners said preliminary reports indicated 4 physical wineries belonging to NVV members in Napa Valley suffered total or very significant losses due to the fire.
Cal Fire reported on Tuesday that there is extensive damage to vineyards in Atlas Peak.
It was difficult to come by verifiable information on vineyard acreage and or winery buildings burned early Tuesday. Wineries and other businesses were closed amid evacuation orders, power outages, and in concern for worker safety.
We will have updates as verifiable information is available. (email us via editor@winebusiness.com).
Some of the best early reports came via social media:
In some cases, preliminary reports were overblown.

Nicholson Ranch was in the path of the fire but escaped being engulfed by the flames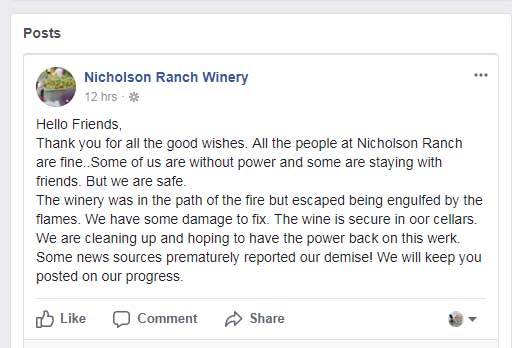 William Hill Estate Winery did not see major damage, though there were reports that it did and homes in the immediate vicinity burned down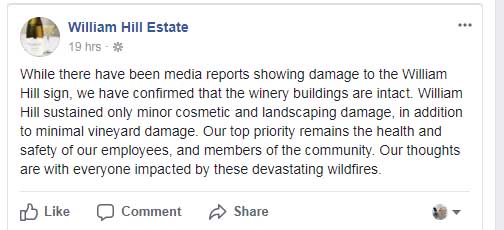 Fire continued to range at Gundlach Bundschu Winery in Sonoma, and the Bundschu residence on the property was reportedly destroyed but the fire had not reached the winery ...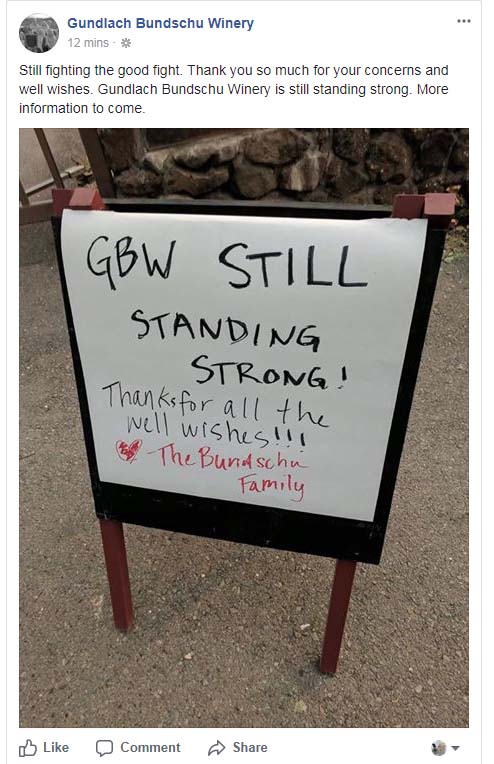 Paradise Ridge Winery was destroyed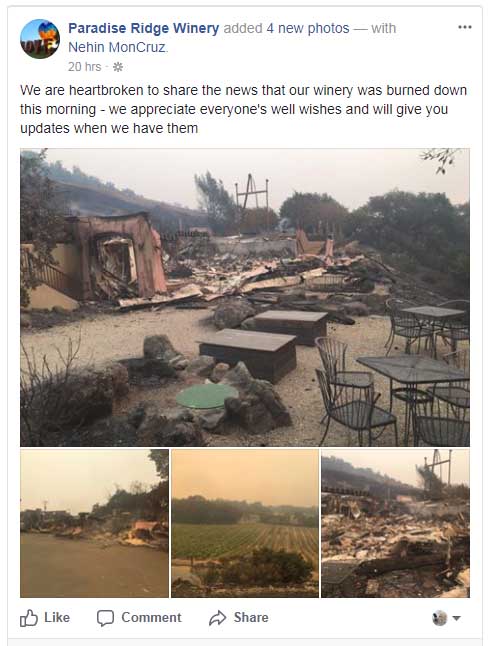 There were conflicting reports of damage at Chateau St Jean but no immediate confirmation from Treasury Wine Estates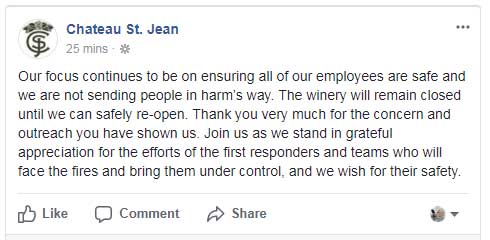 October 10, 2017 | 9:57 AM


Statement from Karissa Kruse, president of Sonoma County Winegrowers:

"It has been a devastating fire. At this time, we are still assessing the specific damage to Sonoma County vineyards as well as to our communities and neighbors. Reports of fire damage to wineries, businesses and homes continues to grow. While 90% of the winegrapes have been harvested, there were still grapes in the vineyards that were scheduled to be picked in the next ten days. At this time we have no information on specific crop damage. Our top priority right now is the health and safety of our first responders, families, employees, volunteers and everyone impacted by these wildfires. We are continuing to closely monitor the situation, but we are very proud of how our community is already coming together to support each other in this time of crisis."


October 10, 2017 | 9:40 AM

Signorello Estate burned to the ground Sunday night in the Atlas Peak Fire.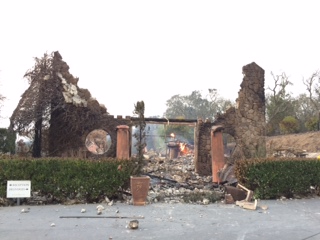 Napa County Sheriff's Sgt. Mike Bartlett on Monday greets goats at a burned house off Soda Canyon Road. The goat and another were transported to the animal shelter.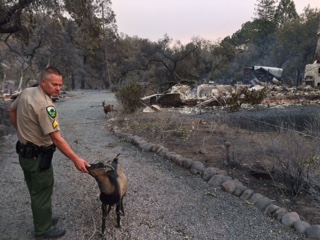 The fire scorched palm trees at Darioush winery off the Silverado Trail.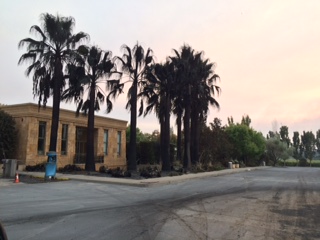 The fire burned hundreds of acres along Soda Canyon Road.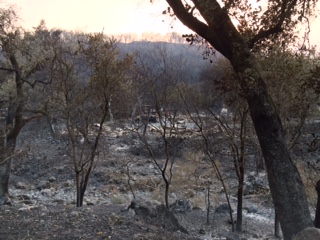 The Atlas Peak Fire burned dozens of houses and cars near Napa.
The Atlas Peak Fire continued to burn Monday afternoon along the Silverado Trail.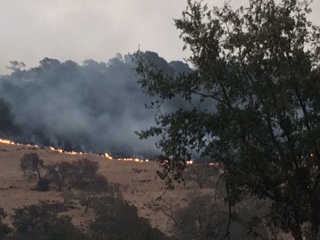 Wineries, including Trefethen off the Silverado Trail, were closed to the public Monday.
Wednesday, October 4, 2017
by Eric Jorgensen | October 4, 2017 | 10:15 AM

Napa Valley's Ashes & Diamonds Winery wrapped up their Series of Conversations between Leaders and Conspirators Friday night with legendary winemaker Paul Draper. More than 100 people attended the event held at the winery. Draper, who recently retired after 47 years of winemaking at Ridge Vineyards was interviewed by Ashes & Diamonds winemaker Diana Snowden Seysses.
Paul has been a leader in minimal intervention winemaking. He also changed California winemaking by focusing on single-vineyard bottlings and by championing the potential of Zinfandel grapes to produce world-class wines. Draper's wines have inspired Ashes & Diamonds winemakers Steve Matthiasson and Seysses.
What follows is a summary of the Q&A with Draper.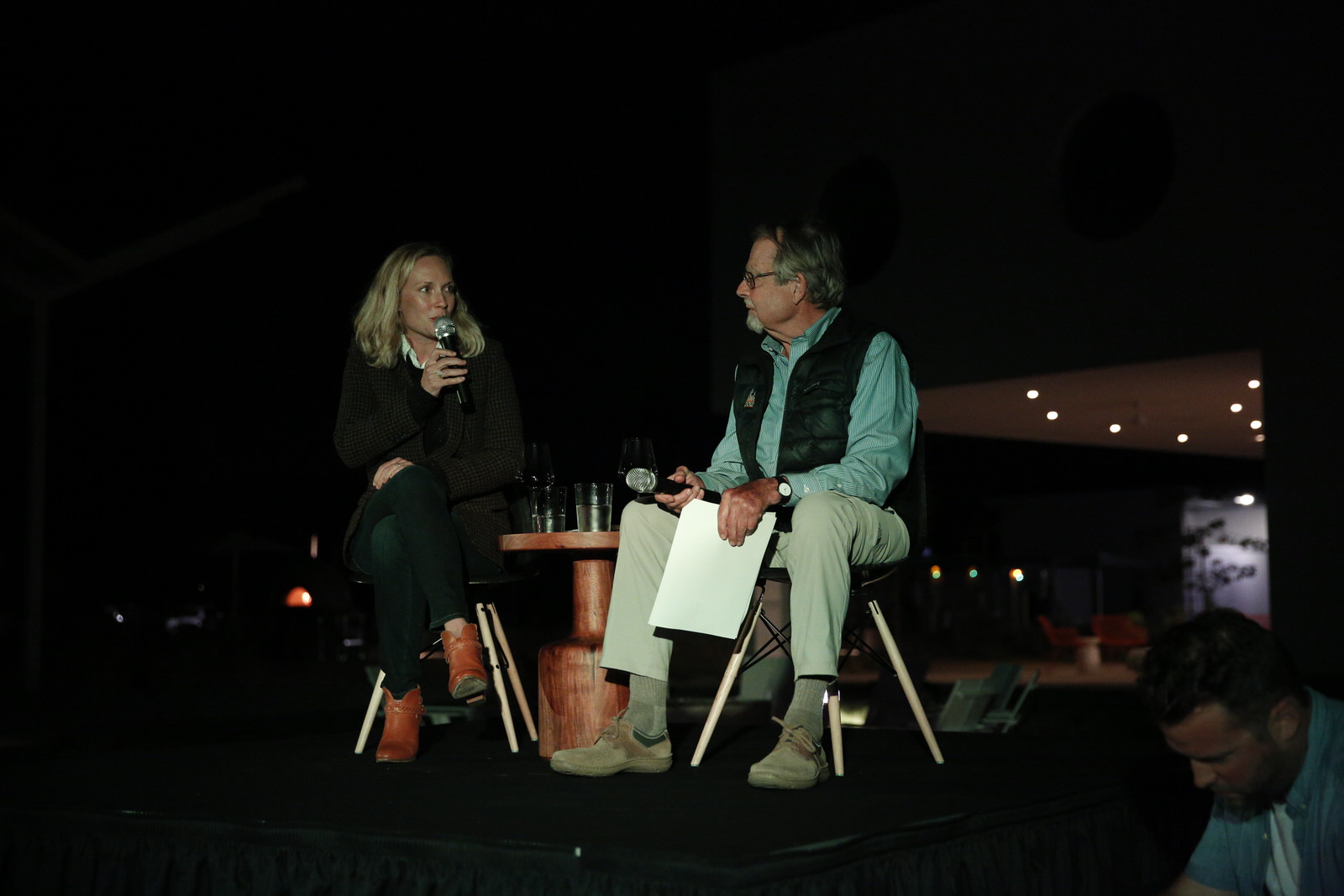 Diana Snowden Seysses and Paul Draper speak at the Series of Conversations between Leaders and Conspirators event Friday, September 29. (Photo by Mark Hunter)

Natural Yeast
Draper uses only natural yeasts in his wines -- he avoids the addition of commercial yeasts and enzymes. Draper believes the use of natural yeasts lead to healthier fermentations and more complex wines. Draper worked closely with Robert K. Mortimer, professor emeritus of molecular and cell biology at UC Berkeley to ascertain that the yeasts fermenting Ridge wines came from the Ridge vineyards.
American Oak
Draper indicated that he decided to use American oak barrels for his wines after reading two studies conducted with Bordeaux First Growths in which wines aged in American oak barrels were preferred to wines aged in French oak barrels.
Zinfandel
Draper has been at least partially responsible for the resurgence of old vine Zinfandel. He has made wine from more than 110 Zinfandel vineyards.
Vineyard Practices
Draper never replants vineyards; he only replaces individual vines. The challenge is how to establish new vines in an old vineyard. A couple of things they have learned are:
As much as possible, get the roots of the old vine out
Make sure the new vines get enough water. To this end he drip irrigates the new vines. The old vines in the vineyard are dry farmed.
Paul credited his vineyard manager at Ridge, David Gates, for figuring out best practices for establishing new vines in an old vineyard.
To make a great evening even more special, guests were served a 1985 Ridge Vineyards Cabernet Sauvignon.
About Ashes & Diamonds
Opened in August 2017, Ashes & Diamonds Winery is the ultimate convergence of modern and old-school flavors. Committed to offering a wide-ranging group of wines, Ashes & Diamonds chose to hire two separate winemakers, each focusing on their own projects, as a way to increase production while maintaining quality.
Winemakers Steve Matthiasson and Diana Snowden Seysses, with proprietor Kashy Khaledi, adhere to an ethos of light-handed winemaking and transparency of terroir as a guiding light for all of the wines they produce—a Burgundian approach to Bordeaux varietals. A community of like-minded, legendary winegrowers has quickly taken shape, journeying from Bart and Daphne Araujo's biodynamic sites Red Hen Vineyard (Oak Knoll District of Napa Valley) and Rancho Pequeño Vineyard (Oakville), to Jack Bates's Bates Ranch in the Santa Cruz Mountains, and back to A&D Vineyard's own organically-farmed 30-year-old vines.

Friday, September 29, 2017
by John Intardonato | September 29, 2017 | 2:48 PM

The queen is dead, long live the queen. A cryptic phrase: Sad, and, yet an apt and boyant one, as well. It lauds the past, while keeping its focus on the future. A celebration of spirt and continuity both past and present. And this appeared true in the case of the 52nd blessing of the grapes at the Robert Mondavi Winery last Thursday in Oakville, CA.
Last year's historic, 51st anniversary was saddened by the death of Margrit Mondavi on September 2, just as the Napa Valley harvest was moving into gear. The last of the Mondavi link was gone. The grace, charm, and talents of such an inimitable individual can now only be envisioned in memories. Her accomplishments and her contributions will, hopefully, always be noted.
The mood at this year's blessing was, indeed, still a bit somber. Afterall, how do you replace an icon? And, therefore, fond memories of Margrit were shared along with the purpose of the event-- to give thanks to the harvest and see to its future.
A bit ill at ease, Genvieve Janssens, director of winemaking at RMW, was now holding the mike: now doing what Robert had done for so many years, beginning in 1966, when the winery was founded. Then, when Robert was no longer able, and for more than a dozen years, Margrit took over the role. While appearing a bit nervous, and an unwilling spokesperson, Janssens performed assuredly and expertly: perfectly.
Janssens began with a warm smile and quiet demur, and spoke with a depth of knowledge that her flawless background in wine conveys. She spoke, of course, of the present, highly unusual harvest, and also of past memories. She said it is hard to be in the vineyards and to not also think of Robert and Margrit. "I had been working with them for so many years. Sharing their thoughts, their ideas. Their spirits are always in my heart," she said.
According to Janssens, the 2017 harvest was, in fact two harvests for the winery. "We had to deal first with a hail storm that caused leaf and berry damage, and then temperatures that went to 112 degrees for three days." She added that they are very fortunate to have plenty of labor to pick almost all the pinot noir and chardonnay prior to the heat wave that hit the valley in late August. The Bordeaux reds weathered the heat very well, she said. "It took the cabernet two weeks to adjust, but they are excellent; the color is exceptional, and very intense flavor."
Voila: A Star is born. Clearly, Janssens shows that the Mondavi link continues, and the winery has "une Princesse," and future queen.
Janssens is clearly an amazingly complex and talented woman who was knighted by her country of birth, France; nominated winemaker of the year, by her adopted homeland; successfuly launched her two children in both academic and professional pursuits; and spends countless hours along with her husband building hospitals and schools to assist the war torn people of laos.
Her wine back ground is probably unequaled: Born in North Africa where her parents owned vineyards, they returned to France following the loss of French Morocco and Algeria during the turbulent 1950s and 1960s. The family remained in the wine business where they have vineyards and and a winery in France and the island of Corsica.
Janssens has been schooled by the legends of wine: In France she attended the Institut d'Oenologie, at the University of Bordeaux. There, she took course work from two legends in the world of wine: Jean Ribereau-Gayon, considered the father of modern wine science, and Emile Peynaud, who revolutionized the wine growing and wine making process, and is most responsible for the wine style and consultants that have emerged over the past 30 years.
After graduating in 1974, Janssens spent three years in her father's vineyards, and then became a consultant. In 1978 she made a special trip to California, specifically to visit the Robert Mondavi winery, and to, hopefully meet its winemaker, at that time, Zelma Long, one of the first woman winemakers at a large, major winery. Impressed with Janssens' background, Long ultimately offered her a position as a lab assistant. Her Mondavi link began. Her new tutors, along with Ms. Long, now were Robert, Margrit, and Tim Mondavi. And she was a great student.
While wine was her forte, family was her absolute. In 1979 Janssens met and married her husband, Luc Janssens, an artist and pilot born and schooled in Brussels. He was teaching at a small college in the central valley, and she spent the next nine years raising her two children, Georges and Gabrielle, there. She also worked as a consultant for the new wineries springing up in the Sierra foothills.
Repeatedly being enticed back to the Robert Mondavi Winery by Tim, she finally agreed to return in 1989, and after her husband found a position at an East Bay school. Because of her extensive knowledge of French wine, she played a leading role in coordinating the historic union between Robert Mondavi and the Baron Phillipe de Rothschild, and the creation of Opus One. Rothschild, like Mondavi, was a revolutionary in wine. He was able to change his second growth winery, Chateau Mouton-Rothschild, to a first growth. No other winery has been able to change its status since the tiered system was created in France back in 1855.
For her work in wine, the French Government has awarded her L'Ordre national du Merite, Agricole. It is an award second only to the Legion d'Honnour. It is an honor similar to the knighthood bestowed in Britain. The award has gone back, at least, to the Third Republic. A similar award was given to Louis Pasteur and Jacques Cousteau. In 2010 Wine Enthusiast made her their winemaker of the year.
She and her husband have a small, bonded winery, where they make a limited quantity of a Bordeaux blend called, Portfolio. The wine is instrumental in raising funds for their on-going project to benefit the people of Laos. A program Luc began while working on his PhD shortly after the Vietnam War. Their foundation through wine sales, auctions, and generous contributions has, raised well over $1 million. The Janssens have been able, with volunteers, to build three schools and two clinics in remote villages. They scour used equipment for these facilities, train nurses, and recruit volunteer doctor to treat illnesses. Surgery from cataracts to cleft-palates are performed.
Genevieve Janssens. A truly complete individual. A truly complete winemaker.
Salut, La Madame, Genevieve. une icone nouveau. And the beat goes on.
Wednesday, September 27, 2017
September 27, 2017 | 7:41 AM

On Tuesday, September 26th at 9 AM PDT, the Napa Valley Grapegrowers (NVG) hosted an up-to-date report on the 2017 harvest in Napa Valley, along with details from the growing season via its annual Harvest Press Conference, streamed live.
The 2017 Harvest Press Conference member speaker panel included:
• Meaghan Becker, General Manager at Quintessa;
• Rory Williams, Assistant Vineyard Manager & Assistant Winemaker at Frog's Leap Winery;
• Oscar Renteria, CEO and Owner at Renteria Vineyard Management and Renteria Family Wines;
• and moderated by Jennifer Putnam, CEO and Executive Director at Napa Valley Grapegrowers.