WBM contributing editor and winemaker Lance Cutler will lead a special Comparative Tasting of Red Blends at WiVi Central Coast featuring wines from Washington state, Napa Valley and Paso Robles. As an attendee, you'll hear each winemaker talk about his style and what he does to achieve that style. Then you will taste all nine wines along with winemakers as they make their comments.
When choosing wines from each of the three regions, Lance said he looked for these qualities: first, someone who represented an important iconic wine for the area and the variety; second, a modern, hotshot kind of person doing really well; and third, someone very solid and consistent.
We'll be featuring each here, beginning with Justin Vineyards & Winery from Paso Robles. Lance said:
"In Paso, Justin Baldwin was one of the very first to see Paso Robles as an area for blended reds. He's my original, iconic guy."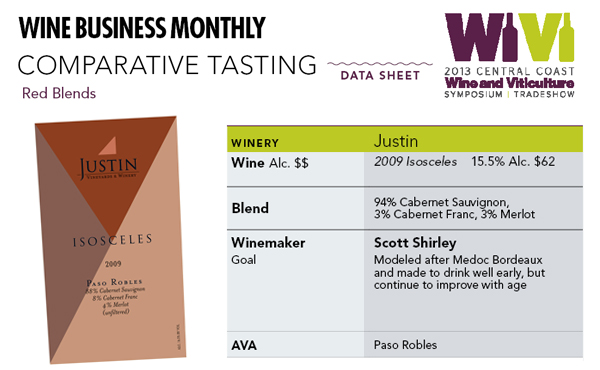 Justin 2009 Isosceles
From Justin's website: Isosceles is the embodiment of Justin Baldwin's dream to produce a Paso Robles wine in the style of the legendary chateaux of the Medoc area of Bordeaux. A predominantly Cabernet Sauvignon blend, with Cabernet Franc and Merlot typically forming the other two sides of the triangle, Isosceles has become an iconic wine over the last 20 years by showing the quality, complexity, and age-worthy character of the wines it is styled after.

Winemaker Scott Shirley will be on the panel.
For registation information, please go here.