For the tenth year, Wine Business Monthly has compiled its list of the Top 10 Hot Brands.
The Hot Brands list is our chance to honor wineries that are innovative, curious, adventurous and, of course, delicious. These winemakers can be trailblazers or traditionalists (and are often both), but most of all, these are people who have dedicated themselves to crafting the best wines possible from their unique sites.
We've found ourselves quite taken with each of these brands this year. These are, as we like to say, wines that we'd serve to winemakers.
This year, we are releasing the Top 10 Hot Brands in alphabetical order.
Wine Business Monthly will be serving these wines to winemakers, grape growers and industry members at our annual gathering Bottle Bash during the Unified Wine & Grape Symposium. Tuesday, Jan. 29, 5:00-8:30pm at the Pyramid Alehouse in Sacramento.


Tinhorn Creek
2011 2Bench Rosé, Okanagan Valley, British Columbia, Canada
Adaptability Guides Customer-focused British Columbia Wine Leader
For Tinhorn Creek, a nearly 20-year-old winery in Oliver, British Columbia, Canada, building loyalty and maintaining relevancy with consumers has always meant being a little different. From the varieties grown to the entertainment options offered, the winery's relaxed, approachable attitude, quality wines and frequent use of social media have attracted plenty of fans.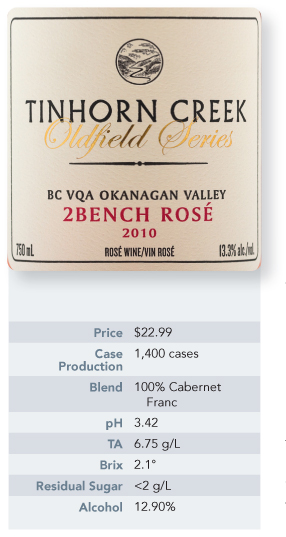 "With our brand and where we've tried to go for the last 18 years, we always use our estate fruit, but we're also trying to keep changing all the time," said Sandra Oldfield, winemaker, president and CEO of the winery. She indicated that changes, such as using Stelvin closures or adopting social media practices, help them stay relevant with their customers. But while solid and well-crafted wines are vital for the winery's success, she believes consumers really become loyal because of how they view the personalities behind the wines. "What I think people identify with in our brand is the personal connection they have with us. We've always had that non-snooty attitude of 'the customers are what make you.' They are basically king at the end of the day."
Oldfield is a California native who got her start in the wine industry by working in the tasting room at Rodney Strong Vineyards. While studying for her masters in enology at University of California, Davis, she met Canadian viticulture student Kenn Oldfield. The pair married and moved to Canada, founding the winery together with their friends and business partners Bob and Barb Shaunessy in 1994.
From the very beginning, they wanted Tinhorn Creek to set itself apart. When they purchased the winery property, it had just 20 acres under vine. Over the first five years, an additional 110 acres were planted. "The big varieties at the time we came in were Riesling, Pinot Blanc and Pinot Noir," said Oldfield. "But a lot of the Bordeaux reds, like Merlot, Cabernet Sauvignon and Cabernet Franc, they were just starting to be planted. Back then we were choosing some varieties that we felt were outside the box, but now most of the varieties we choose are kind of the mainstays of the Okanagan Valley."
They anchored their vineyards with Merlot and also devoted significant space to Cabernet Franc rather than Cabernet Sauvignon. With whites, they planted Chardonnay, Pinot Gris and opted for Gewürztraminer over Pinot Blanc, a choice made in large part to satisfy Oldfield's mother, who prefers off-dry wines. "It is still pretty well the only wine my mother drinks," laughed Oldfield.
---
The full story on Tinhorn Creek ~ and all our Hot Brands ~ will be available in our February 2013 issue of Wine Business Monthly. You can find it here starting Feb-1st. Or come by our booth #1324 to get your FREE copy.