For the tenth year, Wine Business Monthly has compiled its list of the Top 10 Hot Brands.
The Hot Brands list is our chance to honor wineries that are innovative, curious, adventurous and, of course, delicious. These winemakers can be trailblazers or traditionalists (and are often both), but most of all, these are people who have dedicated themselves to crafting the best wines possible from their unique sites.
We've found ourselves quite taken with each of these brands this year. These are, as we like to say, wines that we'd serve to winemakers.
This year, we are releasing the Top 10 Hot Brands in alphabetical order.
Wine Business Monthly will be serving these wines to winemakers, grape growers and industry members at our annual gathering Bottle Bash during the Unified Wine & Grape Symposium. Tuesday, Jan. 29, 5:00-8:30pm at the Pyramid Alehouse in Sacramento.
Kunin Wines
2007 Santa Barbara County Syrah, Central Coast, California
Committed to Elegant, Cool-climate Rhône Wines Sourced from Exceptional Central Coast Sites
For Seth Kunin, winemaker for his eponymous brand Kunin Wines, being chosen as one of Wine Business Monthly's Hot Brands was surprising, not because he didn't believe in his graceful, cool-climate wines, but because he has seen recent press reports decrying the state of Syrah sales and the marketplace malaise toward Rhône varieties.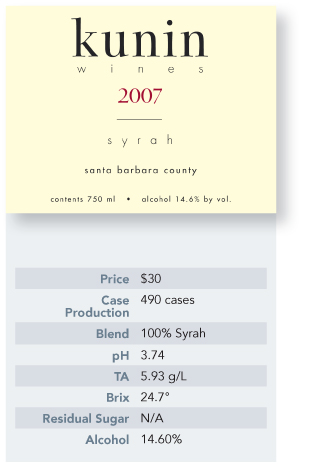 As a 15-year-old Central Coast winery known for elegant Syrah and other Rhône varietals, it never occurred that he might be considered hot. "We're small and we are still under the radar for a lot of people," said Kunin. "But I'm thrilled to be included and maybe get people to re-think small-production Rhône varietals in California."
Kunin, a New York native who moved to Los Angeles and then Santa Barbara to work in high-end restaurants, was drawn to the wine industry in the mid-1990s. After a few years in the cellar at Gainey Winery in the Santa Ynez Valley, he launched his own brand.
His wine choices, though, immediately set him apart. "Most of the people at that time in Santa Barbara were focusing on Pinot Noir or Chardonnay, what this area was known for originally. I felt like I'd just be one more of the masses if I jumped in on that bandwagon," said Kunin.
"I started searching for vineyard sites that I thought would allow me to make the kind of wines I wanted to make," he said. "At the time, it was very en vogue to make these ginormous, big, fruit-forward wines. [Critics] were focused on big Barossa Valley Shirazes and big extracted wines from the North Coast of California. In my mind, I had this benchmark of these Northern Rhône Syrahs and more elegant wines. So I was searching for cooler climate sites for Syrah, and Syrah in Santa Barbra County was just being developed."
While Kunin was finding high-quality Syrah sites from several vineyards in the region, he knew from his restaurant experience that he would have to be focused in his approach. "Nobody's going to put four different Syrahs from the same producer on a wine list, probably," he said. He opted for a Santa Barbara County Syrah blend and one vineyard-designated Syrah. "I realized at the level I was, it was okay if the mass market was still focused on these bigger wines. For me, as long as enough people got what I was doing and shared my appreciation for that elegant balance, Old World-style wine, there was a spot for them."
---
The full story on Kunin Wines ~ and all our Hot Brands ~ will be available in our February 2013 issue of Wine Business Monthly. You can find it here starting Feb-1st. Or come by our booth #1324 to get your FREE copy.