For the tenth year, Wine Business Monthly has compiled its list of the Top 10 Hot Brands.
The Hot Brands list is our chance to honor wineries that are innovative, curious, adventurous and, of course, delicious. These winemakers can be trailblazers or traditionalists (and are often both), but most of all, these are people who have dedicated themselves to crafting the best wines possible from their unique sites.
We've found ourselves quite taken with each of these brands this year. These are, as we like to say, wines that we'd serve to winemakers.
This year, we are releasing the Top 10 Hot Brands in alphabetical order.
Wine Business Monthly will be serving these wines to winemakers, grape growers and industry members at our annual gathering Bottle Bash during the Unified Wine & Grape Symposium. Tuesday, Jan. 29, 5:00-8:30pm at the Pyramid Alehouse in Sacramento.
Ca' Momi 2010 ROSSO DI NAPA, NAPA, CALIFORNIA
Affordable Napa Table Wine Produced with Italian Sensibilities
"If you think about the Italian sensibility, they think about wine about as much as I think about water. Wine is so integrated into their lifestyle. Wine is part of life," said Jimmy Smith, national sales manager at Ca' Momi.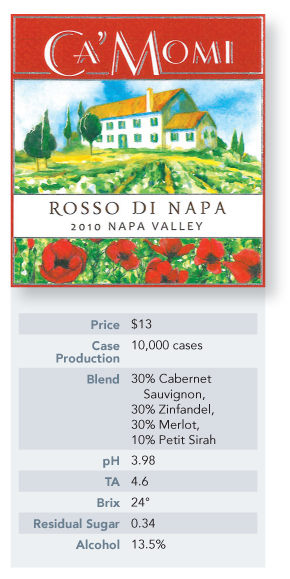 Italian heritage and sensibilities permeate through Ca' Momi winery, which was founded by Italian natives Dario de Conti, Valentina Guolo-Migotto and Stefano Migotto. From the name of the winery to the structure of the company and the winemaking choices, the aim is to provide a more Italian experience. Chiefly, in Italy, the idea of pairing an affordable, everyday wine with food is not so much a challenge as a way of life. It is this sense of approachability that has become more of an overriding mission statement for the company than anything else.
"We come from Italy, so for us the wine has the meaning of a commodity drink because in Europe and Italy it's the traditional way to see it," said de Conti. "The idea was to create a wine that comes from this beautiful Napa Valley here, where grapes grow perfectly, and make a wine that was still the same level of quality, but that is still affordable for people. That's why we are trying to create a wine that still delivers the juice; it still has the fruitiness and power of the Napa Valley but at a price that you don't need to get a loan to get a bottle."
The company's name and label image (of an Italian villa on a hill) are derived from the same source: their house and vineyards in Veneto, Italy, which were originally owned by a man named Momi dea Bionda. He was famous in the village for patrolling the property on his motorcycle, his dog alongside in a sidecar and a rifle on his lap to scare away intruders. The villagers took to calling the property Ca' Momi, meaning literally, "House of Momi." The three wanted to honor his memory and their heritage with their winery name.
Ca' Momi is not the trio's first business venture together. The three also own and run the Napa-based mobile filtration service company Winetech. That company was founded in the late 1990s by Migotto, a trained winemaker, and Guolo-Migotto. In 2003, de Conti was hired when he moved to the United States. He is also a trained winemaker and a longtime friend of Migotto's. In 2006, the group founded Ca' Momi winery. They also manage a bulk wine and custom winemaking company called Fior di Sole.
Rather than building a winery and tasting room (the wines are made at a 40,000-square-foot warehouse in an office park in southern Napa), they opted to open a restaurant and pizzeria at the Oxbow Public Market in downtown Napa. It was a natural extension for de Conti, who for 10 years worked his way through school by making pizza at night. "Food and wine for us is one of the key points," he said. "We try to keep the wine at a not very high alcohol, so in that way they go perfectly with food. For us, that's very important. That is also why we have the restaurant in Napa. That comes from our heritage in Italy. All the winemaking goes toward keeping the wine low in alcohol. We go through the malolactic, but we keep a bit of acidity at the end because the wine needs to go perfectly with food."
---
The full story on Ca' Momi ~ and all our Hot Brands ~ will be available in our February 2013 issue of Wine Business Monthly. You can find it here starting Feb-1st.