Broadcasting live from Silicon Valley Bank's studios in Santa Clara, Calif., Silicon Valley Bank presented its State of the Wine Industry 2013 report this morning. SVB's Rob McMillan was joined in the studio by Mary Jo Dale, DTC expert with KLH Consulting; Tony Correia, appraiser of wineries and wine properties and Paul Mabray, founder of VinTank.
You can read a wrap-up of the report by McMillan, who called 2013 "another good-news, bad-news year in fine wine."
McMillan noted that wineries are "feeling good about their businesses and even expect to raise bottle prices slightly this year" but added a "combination of events will continue to hold back robust growth in 2013, and we think raising bottle prices, for example, is going to be tough."
McMillan points to economic uncertainty, slowing domestic GDP, lack of economic leadership worldwide, aging Boomers, and a heavy 2012 harvest providing headwinds against forecasting higher growth. He reported:
"We're forecasting 4-8% sales growth which is a lower rate than the previous three years. Forces helping consumer demand start with improved hiring and better housing markets, which are critical to accelerating aspiring and mass-affluent consumer purchases. The first half of 2013 will prove more difficult than most expect, but the back half of the year should see improvement."
Among key findings in the report's executive summary:
* SVB's prediction of sales growth in fine wine will drop for the fourth consecutive year to a range of 4 to 8 percent, but it's still growth.
* Massive bulk imports will continue to dominate the lowest price point wine categories.
Below are two slides Wine Business Monthly would like to draw your attention to, beginning with Wine Industry Financial Performance.
Each year, SVB looks at the financial condition of wineries, reviews historical trends and forecasts a sales growth band for the fine wine segment, defined as wines over $20 retail. Last year in 2012 they predicted sales growth of 8-11 percent and expected to end in the lower end of the range. This year, SVB predicts the forecast will drop -- citing that the financial performance of wineries was "okay... There was positive sales growth but the rate of growth was lower, the trend is down, and there was no improvement in profitability." In particular, the report notes:
"Fine wine producers were unable to pass on higher costs to consumers or recover higher pricing established in prior periods."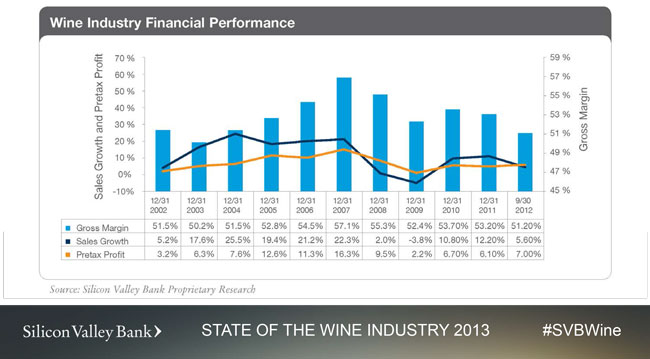 Bulk Wine Imports: The report quotes Jon Fredrikson of Gomberg, Fredrikson & Associates as crediting recent short supplies as the major factor for 2012 bulk wine increases, explaining the situation as follows:
"Bulk wine imports to the U.S. more than doubled this last year, soaring from 13.7 million cases, to 31.5 million cases, and totaling over 40 million cases in the past 12 months."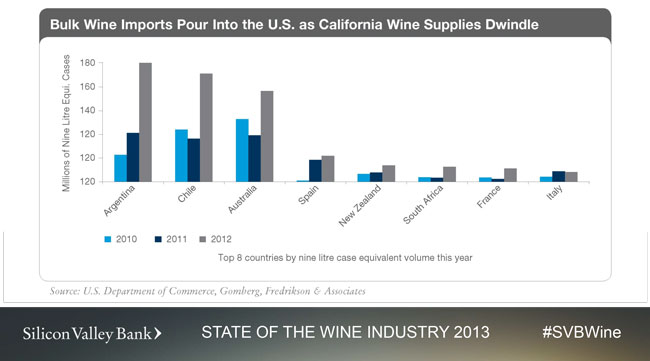 In regard to discussion about the grape shortage in the US and California heard last year, McMillan said, "In the last decade, we haven't been planting enough to replace existing inventory and that is what is driving the shortage." He pointed to the relationship between vineyard values and grape prices in California's Central Valley, in particular, which last year saw rising land values that were not in line with grape prices -- citing a "quantum leap" when a Chardonnay vineyard sold for $20,000 per acre.
"Can winegrape growers make it today in the Central Valley?" he asked.
Tony Correia said:
"I'm a Central Valley boy, born and raised there, and we should promote it better. But the question is: will the consumer pay the extra price for a wine made in California versus one that is just generic and came from Argentina? With the perceived shortage, a lot of wineries are out dancing with the growers offering them contracts to plant new vines to supply them for the future. We struggle with two things: water, and with land value and developing and operating costs. It's questionable if grape prices can get strong enough to return a decent profit to the grower."
During the broadcast, questions from across the country appeared on a chat panel next to the video screen. Below, Wine Business Monthly editor Cyril Penn listens to the report and watches the chat action from the company's conference room in Sonoma.