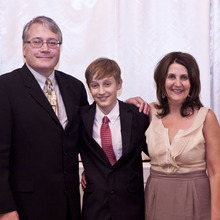 The talented wine-writing couple Tim Fish and Peg Melnik have apparently raised an equally-talented son. Their son Tucker Fish has created a candy bar called the "College Bound Bar" to raise money for college and to help others kids with their tuition costs, too.
His parents sponsored the candy bar project to qualify for Kickstarter; check out the video below to learn all about it, including Tucker's yen to invent from a very early age. He also shares most of the candy bar's ingredients, but don't expect to learn the recipe. Some secrets, even a kid can keep.
Being a 13-year-old enterpreneur, Tucker has also been getting some press, including the Huffington Post, Santa Rosa Press Democrat and SF Gate. Plus he captured the attention of two successful entreprenurs – and that's not easy. Celebrity chef Guy Fieri, host of the Food Network's "Diners, Drive-Ins and Dives," told Tucker he was impressed with his drive. David Klein, Jelly Belly Jelly Bean inventor, has offered to mentor him. And there are marketing and packaging experts who'll help him take it to the next step.
It's kind of impressive that Tucker's just an eighth grader and is talking about his "own brand." Following a failed candy cart invention from the sixth grade, Tucker told SF Gate:
"Then it came to me like an epiphany. If I came up with my own brand, I might actually make money."
But beyond that, what do we love most about what Tucker Fish is doing?
In Tucker's words:
"The more you help me, the closer I am to helping someone else."
There are still a few more days to donate to Tucker's candy bar campaign. According to Kickstarter, this project will be funded on Monday, Jan. 21.