It's great to hear from wineries throughout the U.S. Erin Rafalowski, the marketing and PR manager for Heron Hill Winery, reports from the Finger Lakes region of Western New York, where the winery has grown cold-climate Riesling and Chardonnay grapes for 35 years: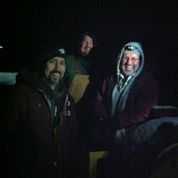 A team of 11 people hand-picked nearly one ton of Riesling grapes from 3 a.m. to 6:30 a.m. on the morning of January 3, marking the official close to the 2012 harvest (based on the growing season year). The Arctic Clone Riesling grapes were naturally frozen on the vine below 17°F for at least three days at the sustainably farmed site of Ingle Vineyard, situated on the west bank of Canandaigua Lake.
Bernard Cannac, Heron Hill's winemaker since 2009, said:
"An Icewine's ethereal sweetness makes it special and it's exciting because nature doesn't allow for it to happen every year. Also the experience of harvesting at night in the snow can be surprisingly fun and builds comradery."
In the spring, Heron Hill Winery will release an Ingle Vineyard Riesling Icewine from 2010. The early cold weather in 2010 made picking icewine grapes prime on December 3rd that year, the concentrated low yield resulted in just 30 cases produced.
The winery is owned by John and Jo Ingle. In John's words:
"I'm a pioneer for living and farming in a sustainable fashion, including the use of biodegradable resources, strict soil and water conservation and bearing a low carbon footprint."
Below: Some images from the harvest