The mercury.com.au reports the certified organic Yaxley Estate Vineyard has been "tragically downsized" due to the fires ripping across southern Tasmania. John Yaxley (pictured below) stands in front of the remains of his parents' home at Copping. About three quarters of the Yaxley Estate Vineyard was lost in the fires. (Photo by Sam Rosewarne)
John Yaxley said:
"It was the best crop we'd ever had."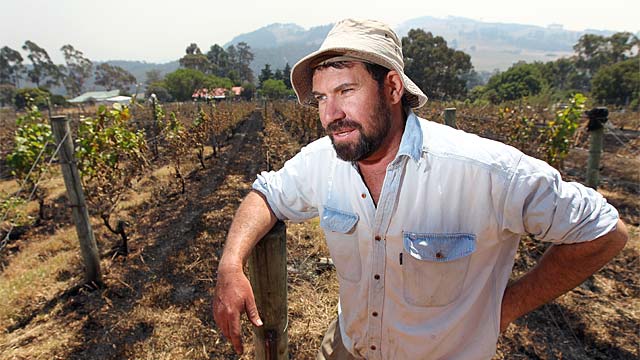 Read more: Flames Wipe Out Vineyard
A Jan. 7 story from BBC News reports that Australia faces wildfires each year as temperatures climb. New South Wales State Premier Barry O'Farrell said:
"Tomorrow is not going to be just another ordinary day. Tomorrow will be perhaps the worst fire danger day this state has ever faced."
Meanwhile, if you're interested in reading about Australia's climate and an analysis of the factors that influence it, the CSIRO and Australian Bureau of Meteorology recently released this paper: State of the Climate - 2012.
Amongs it findings, the report states that weather associated with high fire danger has shown a rapid increase in the late 1990s to early 2000s at many locations in southeastern Australia.
Key points related to future changes:
Australian average temperatures are projected to rise by 1.0 to 5.0°C by 2070 when compared with the climate of recent decades.

An increase in the number of droughts is expected in southern Australia but it also is likely that there will be an increase in intense rainfall events in many areas