Mendocino county grape growers and wine producers Charles and Martha Barra announced that the Barra family has hired Jason Welch to oversee all winemaking duties for their 2.5 million gallon custom crush facility, Redwood Valley Cellars, located just north of Ukiah in Redwood Valley, CA. In addition to providing winemaking services to custom crush clients, Mr. Welch will also be responsible for the family's own estate grown, certified organic wine brands, BARRA of Mendocino and Girasole Vineyards.

"As a producer of our own wines, as well as a respected partner of both grape growers and bulk wine customers alike, we are continually striving to provide best-of-class wine products and services," says Shawn Harmon, VP of Operations for the Barra family. "Jason's customer-focused experience at both large wine facilities as well as small, family-owned wineries is the perfect match for our operation."

Mr. Welch's career spans over a decade of wine experience in the Carmel, Napa, and Sonoma Valleys. His first start in the wine business was from the ground up, working in the cellar for Heller Estates in Carmel Valley. He then moved on to Assistant Winemaker for Lewis Cellars, Swing Shift Winemaker at Charles Krug and most recently, he was Staff Winemaker at The Ranch.

"I am thrilled to be joining the Barra team in their family-owned operations," says Welch. "My dream has always been to work in an environment where there is a deep sense of history—of roots. The Barra family's 60 plus years of grape growing history in Mendocino County plays an integral part in both their wine brands and the services they provide at Redwood Valley Cellars."

Also new to the team at Redwood Valley Cellars and BARRA of Mendocino/Girasole Vineyards is Jason's four-year old Golden Retriever, Quisha. Originally trained as a service dog to help guide the handicapped, her disposition was a bit too shy for the task, so Quisha now spends her days shadowing Jason and exploring her new home. "We have our first ever winery dog", said owner Martha Barra. "I actually look forward to seeing Quisha each morning!"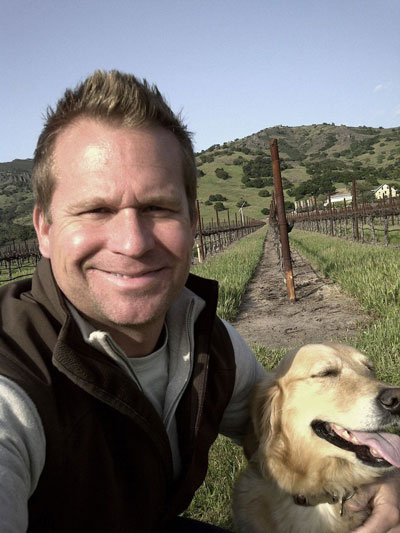 About the Barra family
Charlie Barra began farming in Mendocino County on leased land in 1945. The Barra family now owns over 200 acres of certified organic vineyard, two certified organic wine brands (BARRA of Mendocino and Girasole Vineyards), and a certified organic crushing/storage facility, Redwood Valley Cellars.

For more information on the Barra family, visit www.barraofmendocino.com and www.girasolevineyards.com. For more information on Redwood Valley Cellars, visit www.redwoodvalleycellars.com.
Copyright© 1994-2013 by Wine Communications Group. All Rights Reserved. Copyright protection extends to all written material, graphics, backgrounds and layouts. None of this material may be reproduced for any reason without written permission of the Publisher. Wine Business Insider, Wine Business Monthly, Grower & Cellar News and Wine Market News are all trademarks of Wine Communications Group and will be protected to the fullest extent of the law.