T. Edward Wines is pleased to announce the appointment of Scott Rosenbaum as Spirit Strategist. Equipped with a MA in Food Studies from New York University, Scott simultaneously earned his Diploma from the Wine and Spirits Education Trust (WSET), while serving as the Director of Operations at the International Wine Center from 2005 to 2010. As a consultant at DrinkUpNY.com for six years, and as an Adjunct Instructor in the Hospitality Program at the New York Institute of Technology, Scott also teaches WSET Diploma Program classes.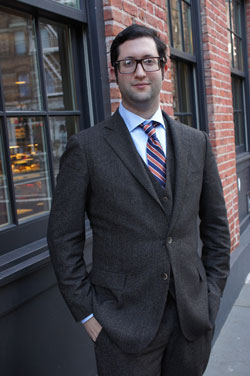 Coming to T. Edward Wines with an incredible amount of passion, knowledge and exposure, Scott is well versed in the needs and growth of the domestic market. Over the past few years, there has been an ecological and social evolution with farmers and fermenters, with buyers and consumers seeking transparency in what they drink. Long ago, TEW planted the seeds of this change with producers like Robert Sinskey and ZD Wines– organic producers who where then ahead of their times. As TEW seeks to lay the foundation of their Spirits Program, there will be no inclusion of spirits produced as an afterthought to supplement one's main passion. "There's a class of MBA spirits that is made by folks who focus on placement and packaging," said Scott. "I want to sell fine sourced, honest distillers."
"We source and represent wines from responsible farmers who produce top quality wines with a sense of purity and place–wineries who have a story to tell," says Peter Cassell, the Director of Operations at TEW. "In our soon-to launch Spirits Program, we have the same philosophy. We want purity, complexity and a sense of place, and what we are finding in many cases is that these distillers have a family history in distilling that goes back over many generations. They spare no effort in their quest for purity and complexity in their distilled products."
Recognizing that spirits cannot and should not be acquired and marketed like wine, "We will not accept," says Scott, "the tired dogma that simply because something is small or artisan, it is good." Using as guidelines, integrity, transparency, innovativeness and taste, TEW will assess–as they do with wine– both production and product. "We certainly won't be the biggest," said Scott, "but we do aim to the boldest and best."
Copyright© 1994-2014 by Wine Communications Group. All Rights Reserved. Copyright protection extends to all written material, graphics, backgrounds and layouts. None of this material may be reproduced for any reason without written permission of the Publisher. Wine Business Insider, Wine Business Monthly, Grower & Cellar News and Wine Market News are all trademarks of Wine Communications Group and will be protected to the fullest extent of the law.