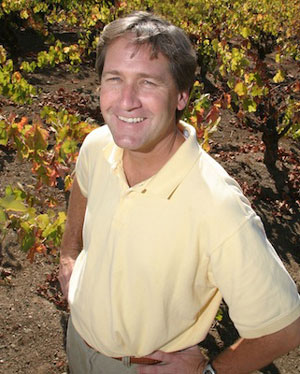 Jessup Cellars and Handwritten Wines, co-owned by the Blue, Eisiminger and Thompson families, have hired Judd Wallenbrock as general manager. Wallenbrock's vision is to bring forward the unique and powerful stories of the families behind the success of the wineries, to mature each winery as a must-visit destination in the Napa Valley, and to give back to the community by supporting the arts through outreach initiatives and special events. Wallenbrock is a former executive for Robert Mondavi, De Loach and Michel-Schlumberger.
"When I first met the families and passionate staff here, I knew I was home," said Wallenbrock. "And the wines created by winemaker Rob Lloyd speak for themselves. With these key factors already in place, and with each winery having a distinctive venue for hosting and entertaining guests, my job is this: to provide inspiring and strategic leadership, bring forward our true message, to be an important partner in the community, and to present experiences that are exceptional every time."
Wallenbrock is a 32-year veteran of the wine business. He launched his career in the 80s, learning the ropes as a wine retailer, restaurateur, broker, and wine educator for nine years. After a break to earn his MBA, he spent four years at Nestle, forging a marketing discipline in consumer-packaged goods. His desire to bring that discipline back to the wine industry led him to tenure of eight-plus years as a vice president with Robert Mondavi. He then served as COO of De Loach Vineyards and spent nearly six more years as the president of Michel-Schlumberger Estate. Wallenbrock has also experienced the thrill of the entrepreneurial world as proprietor of his own winery, Humanitas.
"Certainly, when you look for someone to lead your wineries, experience, leadership, vision, fiscal responsibility and strategic thinking are all qualities you seek," said Dr. Vance Thompson, who is a co-owner with his wife Jana. "What makes Judd special is that he possesses all of these abilities, along with a relentless drive for success, bold creativity, and a very positive outlook. We are all very excited to have him at the helm as we continue our pursuit of excellence."
Copyright© 1994-2014 by Wine Communications Group. All Rights Reserved. Copyright protection extends to all written material, graphics, backgrounds and layouts. None of this material may be reproduced for any reason without written permission of the Publisher. Wine Business Insider, Wine Business Monthly, Grower & Cellar News and Wine Market News are all trademarks of Wine Communications Group and will be protected to the fullest extent of the law.