Saint-Gobain Performance Plastics (SGPPL) has announced the appointment of Iuliana Nita to the position of Global Marketing Manager, Food and Beverage, Process Systems Division.
Nita will be responsible for developing and coordinating strategies to meet the changing needs of the global food and beverage industry. In this position, she works with customers to provide solutions that enhance the safety, performance and brand assurance of their processes, operations, and products. Through technical leadership and market expertise, SGPPL is committed to understanding consumer needs while taking into account the rigorous standards and the outlook for the entire food and beverage Industry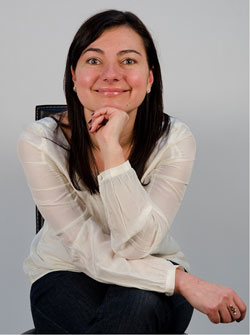 "I'm excited to be a part of Saint-Gobain Performance Plastics," said Nita, "As Global Marketing Manager; I intend to connect our customers to the high-performance solutions that address their unique challenges."
Nita has more than twelve years of experience in marketing and business development, primarily in the polymer industry. Dedicated to innovation and technology she holds a PhD in Polymer Science from Manchester Metropolitan University, an MBA in Marketing from the University of Akron and a Bachelor of Science in Chemistry from the Polytechnic University of Bucharest. Her knowledge of the technical aspects and complex compliance standards of the food and beverage industry make her a valuable resource to customers in those sectors.
"Iuliana Nita is an excellent addition to the food and beverage team," said Raymond Pace, Worldwide Marketing Director for Saint-Gobain Performance Plastics. "We are thrilled to have her expertise guide our brand."
Within the food and beverage industries, SGPPL offers product transfer and dispensing solutions to help customers increase productivity and protect the integrity of their operations and products. These technologies ensure high output and high standards of food quality and safety, which are of primary concern in all direct and indirect food applications for consumers and processors alike. Food and beverage applications addressed by the Process Systems division of SGPPL include:
Beverage Dispensing –protecting consistency of flavor during beverage dispensing
Dairy Fluid Transfer Systems – safely transferring product from dairy farms through every step of processing, transporting to tanker trucks and within the plant
Food & Beverage Processing – providing optimum performance hoses and fittings for use under high pressure and temperature
Housewares Components – supplying retailers with finished consumer products and manufacturers with components
About Saint-Gobain Performance Plastics
Saint-Gobain Performance Plastics (SGPPL) is a subsidiary of Saint-Gobain Corporation, one of the top 100 industrial companies in the world and a leading producer of construction products, flat glass, high-performance materials and packaging. Saint-Gobain Performance Plastics produces critical connections through a broad range of customized material solutions and capabilities to help customers achieve safety, performance and brand assurance in the aerospace, chemical and food & beverage industries. For more information, visit http://www.plastics.saint-gobain.com

Copyright© 1994-2014 by Wine Communications Group. All Rights Reserved. Copyright protection extends to all written material, graphics, backgrounds and layouts. None of this material may be reproduced for any reason without written permission of the Publisher. Wine Business Insider, Wine Business Monthly, Grower & Cellar News and Wine Market News are all trademarks of Wine Communications Group and will be protected to the fullest extent of the law.