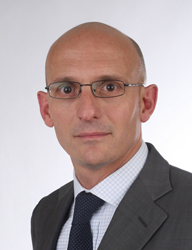 In agreement with Baron Philippe de Rothschild, SA and Constellation Brands, Inc, partners and co-owners of Opus One, the Winery's CEO David Pearson announced today the appointment of Laurent Delassus as vice president of international sales and marketing. Responsible for all sales of Opus One outside the U.S., Mr. Delassus will maintain an office in Bordeaux and oversee regional sales managers in Tokyo and Hong Kong.
The opening of the Bordeaux office is another key step in Opus One's strategic plan for international sales. Since 2004, Opus One has been distributed outside the U.S. solely by selected Bordeaux negociants — the only California wine to be so represented. Through these preeminent negociants, Opus One is offered in Europe, Asia and emerging fine wine markets around the world.
Having recently served as export managing director for the Bordeaux negociant firm Veyret-Latour, Mr. Delassus was previously export director for Mahler-Besse, S.A., a negociant also based in Bordeaux. In these roles, he was directly involved in developing fine wine markets, notably in Asia, Russia and Australia.
Said Mr. Pearson, "We are especially pleased to bring in Laurent Delassus, whose keen managerial skills and expertise in international markets make him an ideal fit for Opus One. Laurent's exceptional understanding of the negociant network will strengthen Opus One's trade relationships throughout the world."
Opus One produces ultra-premium wines at its Napa Valley winery in Oakville, Calif. The 2009 vintage of Opus One is distributed in all 50 U.S. states and 65 countries worldwide.
Copyright© 1994-2014 by Wine Communications Group. All Rights Reserved. Copyright protection extends to all written material, graphics, backgrounds and layouts. None of this material may be reproduced for any reason without written permission of the Publisher. Wine Business Insider, Wine Business Monthly, Grower & Cellar News and Wine Market News are all trademarks of Wine Communications Group and will be protected to the fullest extent of the law.