Sue Straight joined Martin Ray Winery as VP of Direct Sales on June 1, 2012. She is currently implementing new DTC programs, managing all wine club and tasting room activities and updating and managing all social media programs. She is also rewriting label and tech sheet text and creating new website content.
Straight brings with her several years of diverse wine industry experience, having worked for a handful of wineries, including Windsor Vineyards, Lambert Bridge, Limerick Lane, Hop Kiln and J. Rickards. Straight is also a professional wine writer and wine judge. She helped create and provided content for the San Diego Union Tribune's online wine guide for many years. She also contributes editorial content to www.winecountrythisweek.com and her own website, www.wine-wench.com.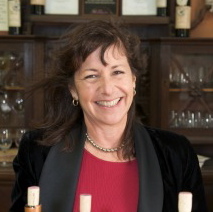 About Martin Ray Winery
Proprietor Courtney Benham purchased the Martin Ray label in 1990 and acquired the historic Martini & Prati winery in July 2003, which is now the home of Martin Ray Winery. Since he acquired the winery, it has undergone massive upgrades (and the work continues!) and is quickly becoming a popular tourist destination in the Russian River Valley.
As VP of Direct Sales, Straight's goal is to apply her experience and expertise to successfully grow all DTC aspects of Martin Ray Winery (an incredibly dynamic company) and to have a great time doing it. Stop by the winery for a visit, say hello to Sue and the hospitality team and experience the alchemy of great wines, wonderful people and fabulous Russian River Valley location that is Martin Ray Winery.
Copyright© 1994-2014 by Wine Communications Group. All Rights Reserved. Copyright protection extends to all written material, graphics, backgrounds and layouts. None of this material may be reproduced for any reason without written permission of the Publisher. Wine Business Insider, Wine Business Monthly, Grower & Cellar News and Wine Market News are all trademarks of Wine Communications Group and will be protected to the fullest extent of the law.