Report: Steady Increases in Recycling Rates for ACH Foam Technologies & EPS Industry
Posted on January 23, 2012

The recently released 2010 EPS Recycling Rate Report conducted by the Alliance of Foam Packaging Recyclers (AFPR) demonstrates incremental growth in the amount of EPS (expanded polystyrene) recycling since the 1990s. The Alliance of Foam Packaging Recyclers releases recycling rates every 2 years. Total EPS recycling increased to 71.3 million pounds in 2010. A total of 28% of all post-consumer and post-commercial EPS was recycled in 2010, an increase of 3.5 million pounds over the 19.5% recycling rate in 2008 – one of the highest recycling rates among all plastics products.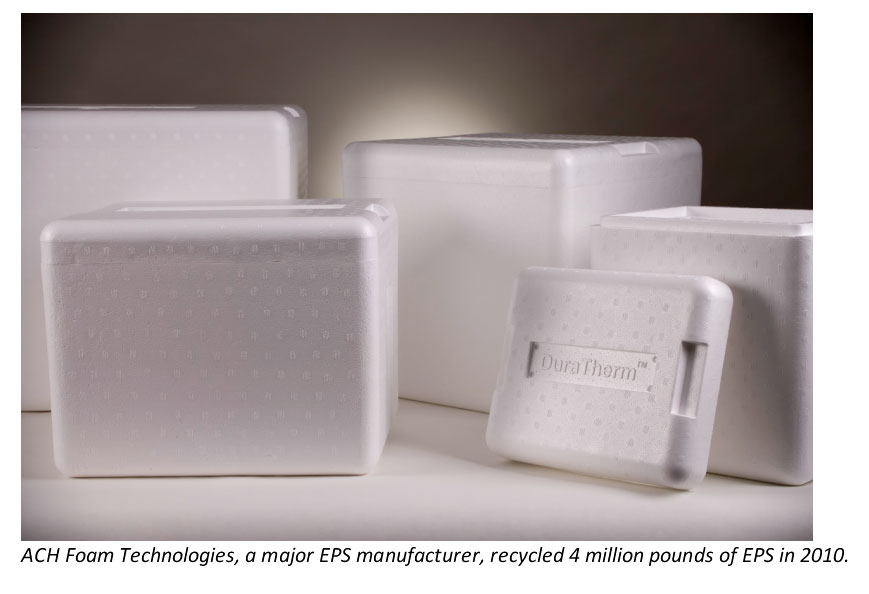 Post-commercial and post-consumer packaging is any material that is recycled after its intended end-use. Post-industrial material is any scrap generated during the manufacturing process that is recycled but never served its end-use. 2010 marks the highest post-consumer & post-commercial recycling rate for the EPS industry since the inception of the recycling rate report in 1990. The report illustrates that EPS recycling has reached a stable baseline of incremental growth and steady end-use market developments.
"ACH Foam Technologies alone recycled about 4 million pounds of both post-industrial and post-consumer EPS in 2010," said Todd Huempfner, VP of Operations. "Considering that EPS is 98% air, this is a huge volume of material." ACH Foam Technologies has become actively involved in assisting companies with their recycling needs, as reflected in the company's large volume of recycled material.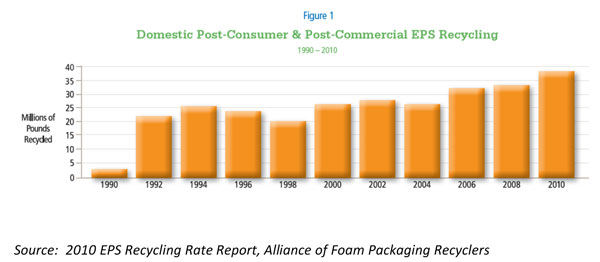 ACH Foam Technologies, a major EPS manufacturer, uses a closed loop manufacturing model in the production of its EPS products. ACH manufactures EPS for packaging, construction and OEM applications in 8 plants across the US.
"We have taken an holistic approach to servicing our customers by not only offering our recycling capabilities but also serving as a valuable recycling resource. We provide them with information about how to locate a large volume recycler when we are not able to accommodate their needs," said Erich Brandt, Senior VP Sales & Marketing. "In addition, ACH Foam also provides training and resources to encourage our customers to set up their own collection process and will connect them with EPS recycling equipment manufacturers." ACH Foam Technologies has been working with the Alliance of Foam Packaging Recyclers, which has put together a comprehensive sustainable packaging program that provides a step-by-step tool kit containing recycling resources. Information for packaging & OEM customers about how to set up their own recycling program is included. The AFPR program has assisted companies such as Ethan Allen, GM, Crate & Barrel, NASA and NSA by providing them with recycling information and resources.
Companies such as sanofi pasteur have partnered with AFPR to develop successful collaborative EPS recycling programs. EPS, which has been criticized for its environmental impact, has proved to be a sound material choice, according to Bill Tarabek, director, U.S. distribution for sanofi pasteur, the Lyon, France-based vaccines division of the Sanofi-Aventis Group. "EPS is not environmentally unfriendly—it's just the opposite," Tarabek contends.
"Unlike other material such as paper, EPS does not degrade and will not leach any substances into groundwater, nor will it form harmful gases," he adds. "So although EPS can be safely disposed in today's landfills, sanofi pasteur developed a Return and Recycle Program for our customers who prefer to recycle." Since January 2008, sanofi pasteur has offered its U.S. customers a prepaid mail-back recycling program that works through its partnership with AFPR.
Sanofi pasteur's customers—physician's offices, hospitals, and healthcare providers— who receive EPS shippers containing their medical supplies, are provided with tape strips and a recyclable shipping label. They simply empty the EPS container, tape the lid closed, apply the label to the container and give it to their courier for shipment to a recycler.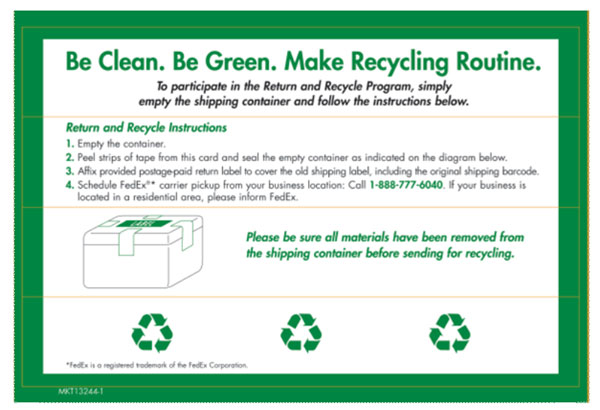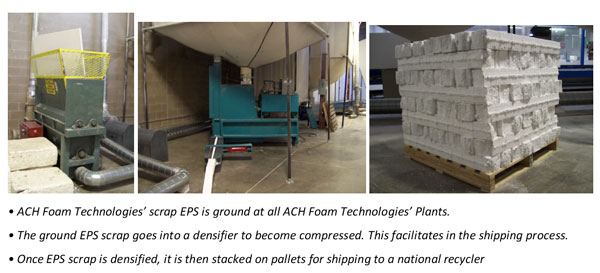 The manufacturing process for EPS is very clean. First, the original polystyrene beads are expanded with the use of steam. The pentane-loaded bead is exposed to pressurized steam that causes the polystyrene to expand and mold into the desired shape and density needed. Manufacturing EPS does not involve the use of ozone depleting CFCs, HFCs or HCFCs. The final product is a moisture resistant closed-cell structure that is comprised of 98 percent air. Despite its light weight, this plastic can possess a compressive strength of up to 60 psi.
EPS is renowned for its superior performance properties, which make it one of the most efficient packaging and insulating materials. The use of EPS packaging offsets millions of gallons of gas and emissions (EPS weighs half as much as comparable coated paperboard products), and is the most protective of the products being shipped, which reduces waste due to product breakage in transit. EPS also has superior insulating qualities, which protect perishables during transit.
ACH Foam Technologies' plants are drop-off facilities for smaller quantities of post-consumer EPS packaging from any clean (non-food contaminated) source. Those who don't have access to a drop-off site are using different methods of recycling their EPS packaging, such as the mail-back program.
For more information on ACH Foam Technologies visit www.achfoam.com. For more information about the Alliance of Foam Packaging Recyclers or to download the 2010 Recycling Rate Report visit www.epspackaging.org.
Website:
www.achfoam.com