SolarCraft Expands Solar for Hafner Vineyard
Posted on February 16, 2011

Novato and Sonoma-based SolarCraft announced the completion of a 17.3 kW solar electric installation addition at Hafner Vineyard in Healdsburg, CA. The 17.3 kW addition combined with the existing 4.2 kW system bring Hafner's solar production to 21.5 kW.
Hafner originally installed at 4.2 kW system in 2002 and recently decided to expand the winery's solar productivity to further reduce their carbon footprint and increase their utility savings.
The system addition consists of 1,298 square feet of Sharp 235 watt solar panels. Each pair of panels is controlled by an individual micro-inverter manufactured by Enphase Energy of Petaluma, CA. Unlike
more conventional solar electric systems, the micro-inverters will allow the rest of the solar modules to produce at full capacity no matter how many panels are shaded, and greatly increase the overall system efficiency.
The system's photovoltaic panels convert sunlight directly into electricity and will generate approximately 21,233 kilowatt hours of energy annually, offsetting the winery's yearly energy consumption by more than 30%. It will spare the air nearly 19 tons of harmful greenhouse gases annually. Over the next 30 years, the air pollution saved will be equivalent to eliminating over 1.3 million miles of driving.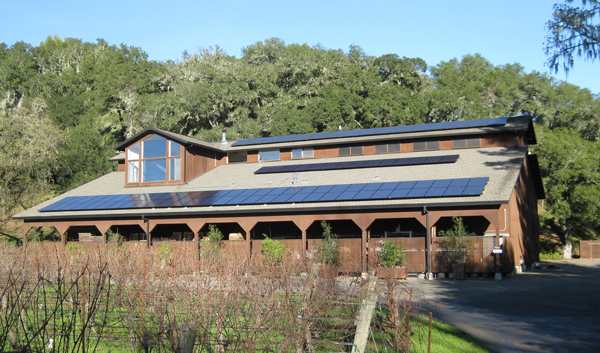 About Hafner Vineyard
Hafner Vineyard is a small family winery tucked away in Sonoma County's Alexander Valley. For 28 years they have been making Cabernet Sauvignon and Chardonnay only from grapes grown at their winery. Hafner wines are sold directly to patrons and to leading California restaurants, but not in any stores.
For 43 years Dick and Mary Hafner have worked together to create this family vineyard and winery.
They are small and intend to remain that way. No advertising, no phone menus, no bar codes. Just great wine and friendly, dependable service.
SolarCraft is one of the most experienced solar energy contractors in California. For more than 26 years this certified Green Business has been providing Solar Electric, Solar Pool and Solar Water Heating services including consultation, design, installation, monitoring and maintenance. SolarCraft is a full-service solar contractor, employing licensed and certified solar installers who are experts in their field. Since 1984 SolarCraft has installed more than 4,500 solar energy systems in California with over 1.3 million square feet of solar collector surface area, saving customers more than $7 million annually and eliminating the production of more than 28,000 tons of greenhouse gases every year.

Website:
www.solarcraft.com