Transforming Communication Between Wineries and Growers:
Posted on August 21, 2011

New Tool Helps Winemakers and Grape Growers Organize, Share and Analyze Harvest Sample Data Online
By Cyril Penn
It's that time of year again. Timing when to pick is one of the most important decisions to be made. The process gets tricky - sometimes downright chaotic - when there are multiple sites to monitor and manage. Winemakers are out and about checking on how grapes are progressing. There's a lot of communication involved - whether via the phone, email, or fax. Most winemakers and growers use an ad hoc means of recording and tracking data, starting with that all-important technical tool we call a notebook.
Managing the logistics of getting the grapes to the winery is no small matter either.
This process leading up to harvest is challenging for growers too. Many take samples and need to communicate lab results to winery clients.
Often a grower will just wait for the winery to call to say the grapes are ready to pick. Other growers are more involved in the process though. Often the growers keep the winemakers up to date on how the grapes are progressing, emailing portions of spreadsheets with data on Brix, pH, and TA. This is a cumbersome process, especially if multiple vineyard blocks and/or multiple wineries are involved.

Making sure everyone gets the data in a timely manner is no small effort. Analyzing it for meaningful trends is another task.
Enter a new tool that has been in beta testing that's now at the stage of soft launch: While there are many viticulture and winemaking software packages that enable companies to track their own information, Brixmark is the first in the wine industry created to facilitate communication between grapegrower and winery partners.
It's a software as service tool that allows winemakers and growers to organize, share and analyze harvest sample data. The tool makes it easier to stay on top of ripening with charts, custom alerts, and a daily email recap of sample activity.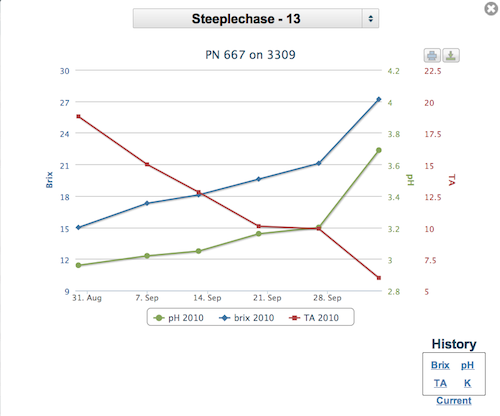 Posting to the system and viewing a partner's data is free. Entering data is free if it involves ten or fewer harvest maturity samples per month. The premium service is $249 a season.
"I'm hoping it helps us pick the grapes in a more timely and accurate fashion," James Hall of Patz & Hall winery told winebusiness.com. "It's the most important decision I make every year as a winemaker."
Hall, who works with more than 30 growers, is among the first to use the system for the 2011 harvest.
Another early user of the system is Monterey Pacific, which farms about 7,000 acres of wine grapes on about 40 properties, working with nearly 100 wineries. As one can imagine, there's a lot of data and communication involved leading up to picking grapes at Monterey Pacific.
"This is going to organize it into a web-based environment so everyone's working from the same dashboard in effect," Monterey Pacific vineyard manager and technical director Doug Beck said. "I think is going to organize not only our picking schedule and communication lines, but it's going to bring the grower into the decision a bit more. What often happens is the grower sits and waits for the winery to give them a call that those grapes are ready to pick and they don't have much sense of the current situation – they just know it's not time to pick."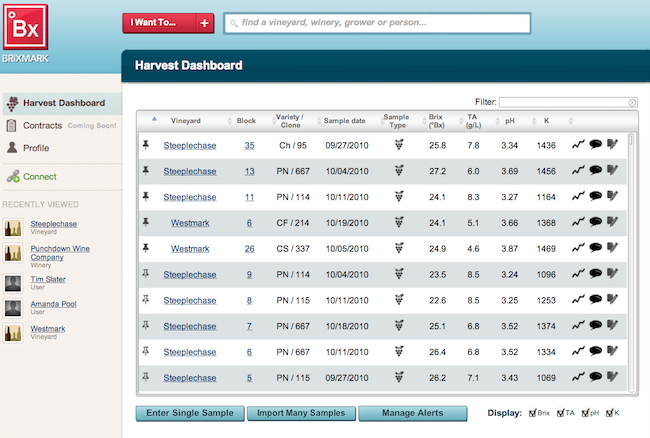 Managing Inventory: More to Come
As one might expect, new features and enhancements are already in the works as the system launches. Brixmark chairman Ian Malone said he's in discussions with labs that do sample analysis to establish automated imports of sample data, which would greatly improve speed and efficiency. CEO Chris Farkus said additional functionality is planned for tracking key phenology dates, forecasting yields, and for harvest logistics management, in addition to a contract management solution.
A "contract management dashboard" will enable growers and wineries to manage contracts, and forecast revenue or cost of grapes.
The contract management dashboard will help growers with inventory management – what's available and what is contracted. Growers and winemakers will be able to enter the terms of their contracts, including pricing and so on, so that when they start entering yield forecasts, Brixmark can automatically provide revenue and cost of grapes projections on an ongoing basis based on specific contract terms.
"We don't own any vineyards, so grape contract management is an ongoing issue for us," Hall said. "There are all sorts of little wrinkles with contracts – not only in pricing and terms, but in how to balance the portfolio, when renewal should happen, and what the blended grape costs are in some of our wines. This will give us a lot of control over those aspects of fruit sourcing and allow us to build a little stronger contract knowledge base."
"At the end, it could potentially have a marketplace function where if you do your contract analysis and discover you're ten tons of chardonnay short, the sooner you know that the better," Hall said. "It's an empowerment tool with better ways to look at your contracts, and of course, growers will be able to handle some of their contracts a little more efficiently."
Beck is excited about the potential benefits of the contract management function and said it stands to greatly improve communication between wineries and growers. "The better organized we are and the more things are transparent, the better," he said. "In theory, this is the tip of the iceberg."
Contacts:
Co-Founders
Chris Farkas, CEO – chris@brixmark.com - 707.347.9722
Ian Malone, Chairman – ian@brixmark.com - 415.215.5350
Elisha Klein, CTO – Elisha@brixmark.com
Michael Savaiano, Director of Sales – michael@brixmark.com - 310.658.0749

Website:
http://www.brixmark.com
Video URL:
http://www.youtube.com/user/BrixmarkWine