Carneros Vintners, Della Toffola & Winesecrets Announce the Introduction of Thermoflash Technology in Sonoma
Posted on November 02, 2010

Sonoma, CA -- October 28, 2010 -- for immediate release:
Carneros Vintners announced the availability of an artisan-scale version of Della Toffola's Thermoflash system at their facility in Sonoma, CA. Thermoflash technology was developed to improve extraction of color and to reduce unripe flavor characteristics prior to the fermentation of red wines. Treatment by thermoflash may prove beneficial for grapes whose maturity has been set back by recent rains, as it may boost the brix of treated must.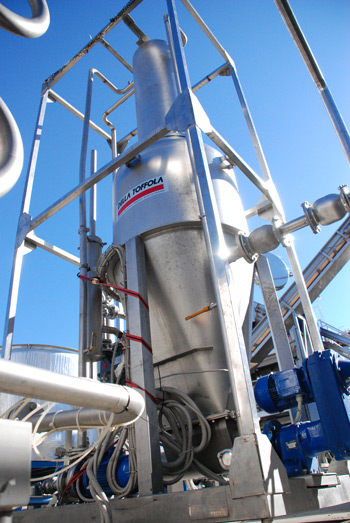 Thermoflash streamlines red maceration by rapidly heating must and then cooling it instantaneously in a vacuum chamber. The treatment results in the rupturing of cell walls initiating an efficient breakdown of the structure of the berry. The mobile Thermoflash unit is capable of processing up to 1.5 tons per hour of must. It will be sited at the Carneros Vintners facility during the remainder of this harvest season. Della Toffola's full-sized system, newly installed at Lodi Vintners, is designed to treat 35 tons of must per hour.
"A whole new dimension of winemaking" says veteran winemaker Barry Gnekow. "Flash technology may redefine our view of terroir. It may reveal that 'air-oir' eclipses 'terroir' for flavor expression".
"Thermoflash has key advantages over standard maceration," said Maria Angela Guarienti CEO of Della Toffola, USA. "The system maximizes phenolic extraction while flashing off the pyrazines and denaturing damaging enzymes such as polyphenol oxidase and laccase. Thermoflash reduces skin contact time, improving efficiency during harvest," added Guarienti.

The mobile system at Carneros Vintners is being operated by Winesecrets, who recently operated the unit in Eastern Canada. "Thermoflash appears to be an exciting tool for improving wine quality," said Eric Dahlberg, Winesecrets Founder and President. "We have it on wheels."
The Della Toffola Group (Della Toffola S.p.A.) is based in Treviso, Italy with subsidiaries in France, Spain, Australia, Chile, Argentina and Windsor, CA. The company has been supplying process equipment to the wine industry for over 40 years.

Carneros Vintners, opened in 2009, is part of the Vintners Group, which also operates Lodi Vintners near Woodbridge, CA.
To schedule grapes for processing with the artisan-scale Thermoflash, please call Caneros Vintners winemaker Dave Dobson at 707-933-9349. To schedule full production-sized lots at Lodi Vintners, please call Tyson Rippey at 209-368-5338.
To learn more about Thermoflash or how this technology can streamline harvest operations, please contact Rick Jones at 707-319-1376, or via email at rick@winesecrets.com. Visit Winesecrets on the web at www.winesecrets.com.