Amorim Announces Rutherford Wine Company First to Use End Branded Recycling Logo
Posted on December 14, 2009

Amorim Cork America, the U.S. sales agent for Amorim of Portugal, announced the introduction of a new branding service to promote natural cork recycling and sustainable packaging, thanks to the lead of the Rutherford Wine Company.

Daryl Eklund, General Manager for Amorim's Napa operations, says the end branding idea was the inspiration of Mark Dolin, Director of Marketing at Rutherford Wine Company. "Mark was looking for a way to emphasize the sustainable merits of his Lander-Jenkins Vineyards brand in a factual, creative way," said Eklund. "We started with the use of our new environmentally friendly closure called Acquamark®, and then added the international recycling symbol to the end of the cork. It was an elegant and straightforward solution, and Mark encouraged us to share the idea with all our customers."

"By including the recycling symbol on our corks, we hope to make people connect our wines to a sustainable natural process. It quickly helps define our values and commitment to the environment," says Dolin. "It's also important that our customers know these corks, like all natural corks, can be recycled and should be considered for reuse as part of a larger recycling effort. Our plan is to ultimately include the recycling symbol on all of our brands that use natural cork."

Rutherford Wine Company includes Rutherford Ranch Winery, Round Hill, Scott Family Estates and Lander-Jenkins Vineyards. The company has been practicing sustainable agriculture for three generations and views sustainable practices as fundamental to their survival as a family business.

End-branded Acquamark corks are currently being used on Lander-Jenkins 2008 Chardonnay and 2007 Cabernet Sauvignon. For end brand pricing information and Acquamark product specifications, call 707-224-6000 or visit Amorim Cork America at www.amorimca.com.

For more information about the Rutherford Wine Company, visit www.rutherfordwine.com.

Amorim Cork America is a U.S. sales affiliate for Amorim of Portugal and is a sponsor of ReCORK America, a natural cork recycling program. Information about ReCORK America can be found at www.recorkamerica.com.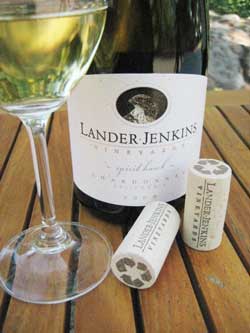 Website:
www.rutherfordwine.com