Vinitech-Sifel Innovation Awards Announced
Posted on September 14, 2016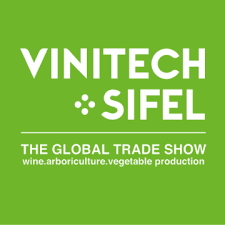 20th Vinitech-Sifel Innovation Awards Prize List!
From 29th November to 1st December in Bordeaux, the 20th edition of "Vinitech-Sifel", the international show dedicated to the wine, arboriculture and fruit & vegetable industries, will host 850 exhibitors across 65,000m². As part of the Innovation Awards, this show, held every-other-year, shines the spotlight on the equipment, processes and techniques that best illustrate the latest advances in these industries and the enterprising philosophy of manufacturers. This Friday 2nd September, out of the 57 applications examined, the show's Scientific and Technical Committee awarded: 1 Special Jury Prize, 2 Gold Awards, 3 Silver Awards, 4 Bronze Awards and 11 citations.
According to both presidents of the Vinitech-Sifel Awards' Scientific and Technical Committee, Jean-Luc Berger, OIV expert and former National Technical Director of the IFV, and Pierre Gaillard, Director of the Ciref (strawberry variety innovation) responsible for the coordination of Fruit & Vegetables R&D for Propulso: "These 20th Innovation Awards confirm the industries' commitment to sustainable agriculture, particularly with the development of innovations relying on agroecology, precision techniques and competitiveness."
The 2 presidents of the jury, Jean-Luc Berger and Pierre Gaillard, highlighted several trends that emerged from these awards:
"Agroecology stands out thanks to BioPose, a system of drone-installed solutions for the biological control of codling moths in chestnuts, and to Ted, the electric straddling robot for winemakers.

Precision techniques are highlighted with Winflow, the smart meter for irrigation management, Earn, an automatic vine-yield estimation tool using built-in imaging, Fokal, a cellar control, supervision and traceability console, and Lowbox, a mobile in-cellar supervision and monitoring solution.

Competitiveness is strengthened by BM116, the high-speed vine-rootstock-preparation machine, and by Top Tube, which provides an automated solution.
The improvement of wine quality is an important constant in the industry with NDTech, cutting-edge technology in the fight against TCA, and GAI MLE, the isobarometric bottling machine with spouts that reduce oxygen intake."
The Special Jury Prize
The Special Jury Prize is awarded to Invenio, the Nouvelle-Aquitaine Fruit & Vegetable Producers' Centre for Experimentation, for its "BioPose" process, an innovative technical solution for the large-scale installation of diffusers of sexual confusion on trees, particularly in chestnut orchards, where codling moth control is necessary. It consists in using drones to position a flexible ring-shaped hormone diffuser in the top third of trees – an absolute prerequisite for efficiency. The overall process is currently being finalised, with a view to becoming available to producers in the next 2 to 3 years. It will enable professionals to protect their orchards using 100% biological control in conjunction with the use of Torymus against gall wasps, another plague detrimental to the production of chestnuts.
Gold for a TCA-fighting process and a rootstock-cutting tool
• NDTech, cutting-edge technology in the fight against TCA proposed by Amorim. The process, based on a rapid chromatographic analysis, helps produce individually guaranteed corks with a leachable TCA content below detection levels.
• BM emballage for "BM 116", a high-speed vine-rootstock-preparation machine. Traditionally carried out by hand, this task is slow, repetitive and likely to cause tendonitis. The machine, equipped with a touchscreen to input different parameters, helps increase speed (7 to 10 times faster than a single person), decrease the number of repetitive strain injuries, and finally improve the consumption of raw material through an assessment of the optimal cutting position.
Silver for bottling, irrigation and robotics
• GAI MLE, an isobarometric bottling machine proposed by GAI FRANCE. Its specific UNICA spouts allow for greater precision when filling and an efficient reduction of the intake of dissolved oxygen.
• ITK for "Winflow", a smart meter for irrigation management. It helps easily and remotely read the water really used. Associated with a low-speed communication unit, it allows information to be sent to a supervision site.
• Naïo Technologies for "Ted", the electric straddling robot for winemakers. It assists the winemaker in various tasks: its first application is mechanical weeding, which should later be followed by mowing, pruning and spraying, as well as data collection.
4 Bronze Awards for vines, cellars and wine vats
• Aquitaine Science Transfert for "Earn", an image acquisition system linked to a piece of software that allows the estimation of vine yield by counting the number of viewed berries per linear metre.
• Fokal, a cellar control, supervision and traceability console developed by KELZYD, which can trigger and trace various operations such as blending, racking, etc.
• Lambox, a built-in server with which a standard terminal such as a smartphone or tablet can monitor and trace various in-cellar operations. Lamouroux offers an associated range of smart devices and an autonomous and original power supply.
• Top Tube by Parsec, provides an elegant solution to ullage in vats thanks to a stainless steel chamber and neutral gas protection. The system can be automated, which frees winemakers from ullage and racking constraints.
Winners of the 2016 Vinitech-Sifel Innovation Awards
Special Jury Prize
Category: Fruit & Vegetables
INVENIO
Biopose: drone installation of solutions for the biological control of codling moths in chestnuts
33883 Villenave d'Ornon / Emai: f.cogneau@invenio-fl.fr
GOLD AWARDS
Category: Vine and Wine
AMORIM FRANCE
NDTech: technology to fight TCA
33320 Eysines / Email: dpajeau.afr@amorim.com
Category: Cultivation Techniques
BM EMBALLAGE
BM116: High-speed vine-rootstock-preparation machine
31250 Revel / Email: nauriol@sferebm.com
SILVER AWARDS
Category: Vine and Wine
GAI FRANCE
Isobarometric bottling machine with spouts that reduce oxygen intake
83340 Le Cannet des Maures / Email: contact@gaifrance.fr
Category: Cultivation Techniques
ITK
Winflow: smart meter for irrigation management
34830 Clapiers / Email: cyrielle.pinelli@itk.fr
Category: Cultivation Techniques
NAIO TECHNOLOGIES
Ted: electric straddling robot for winemakers
31520 Ramonville Saint-Agne / Email: contact@naio-technologies.com
BRONZE AWARDS
Category: Cultivation Techniques
AQUITAINE SCIENCE TRANSFERT
EARN: automatic vine-yield estimation tool using built-in imaging
33450 Talence / Email: c.massus@ast-innovations.com

Category: Vine and Wine
KELZYD
FOKAL: cellar control, supervision and traceability console
51100 Reims / Email: contact@kelzyd.com
Category: Vine and Wine
LAMOUROUX
Lambox: mobile cellar supervision and monitoring solution
33750 Beychac et Caillau / Email: jean.harpin@lamouroux.com
Category: Vine and Wine
PARSEC
TopTube: automated solution for ullage
33640 Martillac / Email: mdebasquiat@parsecsrl.net
CITATIONS
Category: Vine and Wine
BUCHER VASLIN
Flavy VEGECOLL process: online fining of red and rosé wines
49290 Chalonnes sur Loire / Email: commercial@buchervaslin.com
Category: Vine and Wine
CORK SUPPLY
DS100+: contaminant-free corks guaranteed
Portugal / Email: acardoso@corksupply.pt
Category: Vine and Wine
DIEMME
Open grape: more efficient curshing system
Italy / Email: savini@diemme-enologia.com
Category: Vine and Wine
GD INDUSTRIE
Pneumatic box for automatic wine-tank management
33562 Carbon-Blanc / Email: gd-industries@wanadoo.fr
Category: Vine and Wine
INSTITUT ŒNOLOGIQUE DE CHAMPAGNE
IONYSWFtm: acidifying yeast to rebalance more mature crops
51201 Epernay / Email: cvicet@ioc.eu.com
Category: Vine and Wine
PARSEC
Air Mixing M.I.®: automated gas remontage system
33640 Martillac / Email: mdebasquiat@parsecsrl.net
Category: Vine and Wine
PARSEC
APHROMATE: fermentation monitoring and carbonation ("prise de mousse") in sealed vats
33640 Martillac / Email: mdebasquiat@parsecsrl.net
Category: Cultivation Techniques
PELLENC
"Safe cab" concept to improve user safety
84122 Pertuis / Email: c.grisolle@pellenc.com
Category: Vine and Wine
PERA-PELLENC
SMART PRESS: new range of high-yield pneumatic presses
34510 Florensac / Email: s.cottenceau@pera.fr
Category: Vine and Wine
STILL
iGo neo CX 20: smart order-preparation trolley
77716 Marne-la-Vallée / Email: lise.gerbet@still-fr.com
Category: Cultivation Techniques
TRAKTORENWERK LINDNER
Lintrac 90: highly manoeuvrable and comfortable tractor for specialised crops
Austria / Email: olivier.laurent@lindner-traktoren.at