Summer Wine Shipper Kit Keeps Wine Cool
Posted on May 18, 2012

ACH Foam Technologies has answered market demands with a new Wineloc™ recycled content Summer Wine shipper. ACH developed the new 6- and 12-pack wine shippers to provide a constant stable temperature for approximately 72 hours. This package system, designed to meet ISTA-7E temperature testing profile, protects wine from the harsh high temperatures that often occur in transit during the summer months.
According to Erich Brandt, Senior V.P. Sales & Marketing, high temperatures can degrade the composition of wine. Extreme temperatures can also cause corks to leak and sometimes even pop from the bottle. "These are reasons that most wine makers will stop shipments of club orders during the summer months," explains Brandt.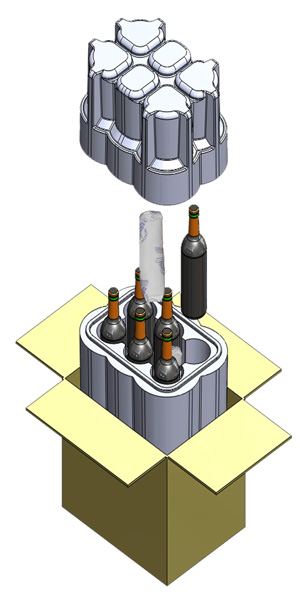 "The wine industry has faced a dilemma for years: wine drinkers still want wine in the summer—no matter how difficult transporting it happens to be. 'To ship or not to ship,' that is the question. ACH took this complex problem to heart, and, after applying design techniques from their DuraTherm brand insulated shipping container products line, developed 6- and 12-pack wine shippers that solve the problem," Brandt adds.
The EPS 6- and 12-pack foam units are contained within a corrugated outer carton and utilize special designed pockets that hold frozen gel refrigerants and allow internal airflow. These refrigerants are designed specifically for the maximum amount of wine possible in the package, keeping the wine at or below 80°F for up to 72 hours. This enables wine makers to ship 2-day and sometimes 3-day shipments to customers during the summer months and have peace of mind that the wine they spent so much time crafting arrives in good condition.
The Wineloc summer wine shipper is made with EcoSixTM reclaimed EPS foam. The first EPS packaging made of 60% or more recycled content; WineLoc offers superior protective performance—making it one of the most efficient packaging materials for the wine industry.
Wineloc's summer wine shippers are now available as a kitted 6- or 12- packs with foam base, lid, and carton. Gel refrigerants are sold separately in case quantities. Wineloc shippers can also be ordered as a foam-only unit, allowing companies to utilize their own logo boxes.
The kitted 6-packs come 30 per bundle, with up to with 36 bundles per truck. The 12- pack kits come 20 per bundle, with up to 28 bundles per truck. Outside shipping carton dimensions are:
6-pack: 17 ¼"L x 12 ¾"W x 18"H
12-pack: 25 3/8"L x 17 ¾"W x 18"H
To order, visit http://www.achfoam.com/Packaging_Products-WineLoc.aspx or call 800-444-9290.
For over four decades ACH Foam Technologies has been an industry leader in EPS manufacturing, providing products for construction, geotechnical, packaging, and industrial applications. With locations throughout the U.S., ACH is positioned to offer convenient, valuable, and complete solutions for its customers. ACH recycles 100% of its post-industrial EPS and is actively involved in recycling post-consumer EPS as well.

For more information on ACH Foam Technologies and its products and services, see http://www.achfoam.com.
Website:
http://www.achfoam.com/Packaging_Products-WineLoc.aspx