Pine Ridge Vineyards Promotes Colleen FitzGerald to Assistant Winemaker
Posted on May 29, 2018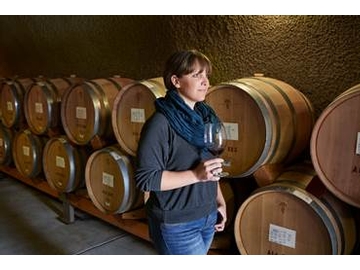 NAPA, Calif. (May 29, 2018) – Pine Ridge Vineyards is pleased to announce the promotion of Colleen FitzGerald to Assistant Winemaker for Pine Ridge Chenin Blanc + Viognier. FitzGerald, who is also the enologist at Pine Ridge Vineyards, will now oversee winemaking for the winery's incredibly popular signature white blend, Chenin Blanc + Viognier.
"Colleen was the perfect candidate to take on the role of Assistant Winemaker for CB+V," says Winemaker Michael Beaulac. "She has a real passion and drive, and a true desire to make great wines like our distinctive Chenin Blanc + Viognier. Her enthusiasm for growing and making great wines is clearly her motivating factor. I expect that our reputation for this unique blend will only continue to increase under her leadership."
In her new role, FitzGerald will lead the vineyard and winery operations under the direction of Michael Beaulac, working with growers in the Clarksburg AVA to make decisions about pruning, vine management, and harvest timing; in the cellar, she sees this wine through fermentation and blending.
"I'm excited to take on this position and I love working with our Clarksburg growers," says FitzGerald. "When you balance the acidity and lemon-lime aromas of Chenin Blanc with the weight and floral character of Viognier, they complement each other for a unique, very food-friendly wine."
FitzGerald earned a biochemistry degree at California Polytechnic State University. She spent several years working harvests in New Zealand, Paso Robles, and Napa before joining the Pine Ridge Vineyards team full-time in 2015. When she's not on the job, FitzGerald can be found outdoors. She enjoys hiking around Point Reyes, eating along the Sonoma cheese trail, and traveling—most recently to Japan, France, and Italy.
For information regarding Pine Ridge Vineyards, visit www.PineRidgeVineyards.com.
About Pine Ridge Vineyards
Established in the Stags Leap District of Napa Valley in 1978, Pine Ridge Vineyards produces classically proportioned, expressive wines that are artfully crafted from the winery's estate vineyards across five renowned appellations: Stags Leap District, Howell Mountain, Oakville, Rutherford, and Carneros. Winemaker Michael Beaulac works with his team to craft exceptional wines that are poised and balanced, yet expressive and speak to their place of origin. For more information, visit www.PineRidgeVineyards.com.
Region:
Napa & Sonoma
Job Function:
Assistant Winemaker