Cleo Pahlmeyer Named President of Family Wine Company
Posted on April 19, 2017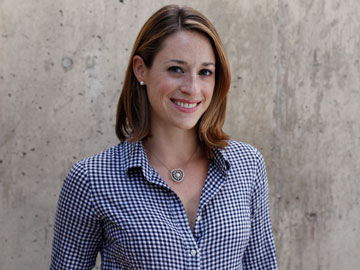 St. Helena, Calif. April 10, 2017—Thirty years after founding his namesake winery, Jayson Pahlmeyer has appointed his daughter Cleo Pahlmeyer as president of Pahlmeyer Winery. Cleo heads the family's collection of wines, including Pahlmeyer, Jayson and Wayfarer, plus their estate vineyards in Napa Valley and the Sonoma Coast.
"This is a wonderful moment in my life as both a vintner and a father," remarks Jayson Pahlmeyer. "Cleo has diligently worked to learn all aspects of the business. She is a tremendous asset to our family company with her poise, professionalism, drive and enthusiasm."
Cleo joined the family business in 2008 in sales and customer service. She moved on to manage direct to consumer sales and marketing, and later directed the company's communications and public relations. Cleo was instrumental in the development and 2014 launch of Wayfarer Pinot Noirs and Chardonnay from their estate vineyard in the Fort Ross-Seaview appellation, planted in 2000.
"My father's vision and passion have driven our success for more than thirty years," said Cleo Pahlmeyer. "With the support of an incredibly talented and dedicated team, I am honored to continue Pahlmeyer's legacy of iconic wines and be a steward to our exceptional estate vineyards."
Pahlmeyer appointed Bibiana González Rave winemaker for Pahlmeyer and Jayson wines in 2016, adding to her role as winemaker and director of winegrowing for Wayfarer, which she took on in 2012. After receiving her education and beginning her winemaking career in France, González Rave came to California in 2008 and joined Pahlmeyer in 2012 to make Wayfarer's first vintage.
The company also expanded the role of two key positions in 2016, promoting Tim Hay to vice president of finance and operations, and Brian Kelleher to vice president of sales and marketing. Both joined Pahlmeyer in 2012 and have been instrumental in the expanding the winery's success over the last several years.
Cleo Pahlmeyer resides in Napa with her husband Jamie Watson and their two children.
About Pahlmeyer
Founded in 1986, Pahlmeyer is an iconic Napa Valley family winery born from Jayson Pahlmeyer's dream to create his own "California Mouton." Initially inspired by the wines of Bordeaux, Pahlmeyer creates limited quantities of world-class wines that are the essence of power and finesse. The portfolio of sought-after wines features the flagship Proprietary Red, complemented by Merlot and Chardonnay, and the Pahlmeyer "Jayson" tier including Chardonnay, Pinot Noir, Cabernet and a Red Blend. Cleo Pahlmeyer launched Wayfarer Pinot Noir and Chardonnay in 2014 from the family's 30-acre Wayfarer Vineyard in the Fort Ross-Seaview appellation of the famed Sonoma Coast.
Region:
Napa & Sonoma
Job Function:
President/Owner/GM