Joseph Phelps Vineyards Appoints Elizabeth Anderson as New York Metro Sales Representative
Posted on April 11, 2011

Joseph Phelps Vineyards is pleased to announce the appointment of Elizabeth Anderson as New York Metro Sales Representative. In this newly created role, Ms. Anderson will represent the Phelps family's two wineries: the iconic Joseph Phelps Vineyards in Napa Valley, and its Sonoma Coast sibling, Freestone Vineyards. A granddaughter of winery founder Joseph Phelps, Elizabeth is the first member of her generation to join the Phelps family's wine business in a full-time capacity. "We are delighted to welcome Elizabeth into the family business. She has shown a keen interest in wine for many years and will be an excellent addition to our team," said Bill Phelps, President of Joseph Phelps Vineyards.
Elizabeth Anderson is a graduate of Lehigh University with a Bachelor's degree in marketing. After graduation, she worked as an event planner in New York City. Elizabeth spent her formative summers at the Phelps winery, culminating in a 2003 internship where she was exposed to all facets of grape growing and developed her love of fine wine. In 2008, Elizabeth traveled to Piedmont, Italy where she worked the harvest for Ceretto Aziende Vitivinicole. Following her return to New York, Elizabeth joined Lauber Imports as a Wine Consultant, where she gained an understanding of the three-tier wine distribution system and sold, among other labels, Joseph Phelps and Freestone Vineyards wines.
In her free time, Elizabeth is a connoisseur of fine food and wine and frequent traveler throughout the world's leading wine regions. She is currently a candidate for the WSET Advanced Certificate.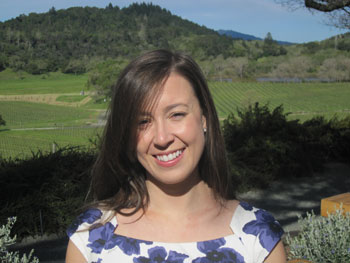 About Joseph Phelps Vineyards and Freestone Vineyards
Joseph Phelps Vineyards is a family-owned Napa Valley winery committed to crafting world class, estate grown wines. Founded in 1973 when Joe Phelps purchased a former cattle ranch in Spring Valley near St. Helena, the winery now controls and farms nearly 375 acres of vines in St. Helena, the Stags Leap District, Oakville, Rutherford, Oak Knoll District and South Napa Valley. Phelps is best known for its flagship blend of red Bordeaux varietals, Insignia, first produced in 1974. Awarded Wine Spectator's "Wine of the Year" in 2005, Insignia is widely regarded as a qualitative benchmark for California winemaking. Annual production at Phelps averages 50,000 cases and includes Insignia, Backus Vineyard Cabernet Sauvignon, Napa Valley Cabernet Sauvignon, Sauvignon Blanc, Eisrébe, Syrah and Viognier.
The Phelps family and management team of Joseph Phelps Vineyards additionally founded Freestone Vineyards in Freestone, CA in 1999. The goal at Freestone is to produce world-class Pinot Noir and Chardonnay that is regionally distinctive and authentically reflects the structure, balance and complexity of Sonoma Coast terroir. For more information about Joseph Phelps Vineyards or Freestone Vineyards, please call 707-963-2745 or visit www.josephphelps.com and www.freestonevineyards.com.
Region:
New York
Job Function:
Sales/Marketing