Phillips Family Named 2011 Napa Valley Grower of the Year
Posted on March 30, 2011

The Napa Valley Grapegrowers (NVG) has announced that the Phillips family, longtime winegrape growers in Oakville, has been selected as the 2011 recipient of the prestigious Napa Valley Grower of the Year award. This is the first time that a family, rather than an individual, has been chosen for this distinction. The Phillips family will be honored for their broad contributions to both Napa Valley agriculture and the community on May 13th at the NVG Annual Event at Chimney Rock Winery.
Bob Phillips was an early president (1984-86) of the NVG and one of the true pioneers of the organization. He participated in a significant way in many foundational industry successes, from the definition of the Napa Valley's appellated structure to the protections afforded Napa County's rich agricultural resources. His wife, Alex, served on the board of the Napa County Farm Bureau, and was instrumental in the founding years and beyond at the di Rosa Preserve. Bruce Phillips, their son, recently completed a two-year term as President of the NVG, during which time he led the NVG in the areas of strategic development, marketing and industry partnerships, which will carry the organization far into the future. Bruce's wife, Heather, is a Napa County Planning Commissioner and chaired the very successful 2009 NVG Harvest STOMP event.
NVG President David Beckstoffer recognized the important role that the entire Phillips family has played, noting "The Phillips family has quietly represented the best of what we as growers hope to be. Their love of the land and dedication to the industry and community is an inspiration to all of us."
Each year, the Past Presidents of the Napa Valley Grapegrowers meet to decide Grower of the Year. They deliberate over nominations submitted by the NVG membership based on: a strong commitment to sustainable practices; recognized leadership in agricultural preservation; dedicated community focus, contributions to the Napa Valley community; and someone who actively promotes Napa's reputation for the highest quality vineyards.
With over 550 members, the Napa Valley Grapegrowers has played a vital role in strengthening Napa Valley's reputation as a world-class winegrowing region for over 36 years. Its mission is to promote and preserve Napa Valley's world-class vineyards.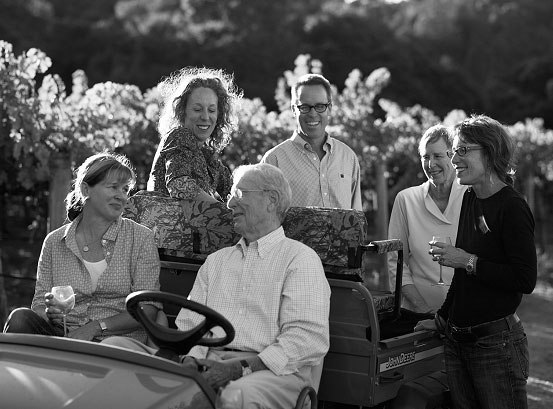 Region:
California, USA